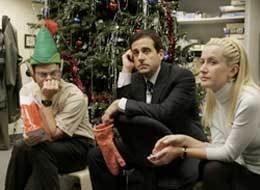 There's so much talk right now about having a green Christmas. There's one camp that says don't buy anything, skip the malls, forget presents. Bah-Humbug, I say! And then there's the totally opposite group that says the holiday season is a time to relax and enjoy life, so buy, buy, buy and wrap, wrap, wrap and consume away. Gross, I say!
The happy medium is to embrace your love for the holiday season, and marry it with your love for the environment. Confused? Here are my pointers to avoid becoming an eco-Scrooge this holiday season.
1. Give gift cards. Uncreative choice, I know. But how many gifts have you gotten that you really didn't need and didn't know where to return? So they end up stashed in the closet or in the basement, only to end-up being tossed in the trash or given to charity months later? Well, if it happens to you, then there's a good chance people who've received gifts from you didn't have a need for them either. Now multiply that by millions of people. What a waste! With a gift card, the recipient can choose exactly what they need and there practically no waste. Choose gift cards from a national retail chain that sells a wide variety of items and package it up in an empty Altoid candy tin as a gift box. It's cute and easy.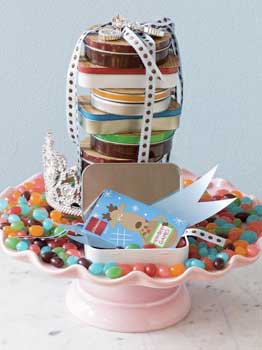 2. Choose a live tree. Believe it or not, I lived on a Christmas tree farm for three years of my life. Even though I didn't work on the farm, I did learn more about evergreen trees than any person should ever really know. The greenest choice when it comes to real vs. fake is choose a live tree. You see, these farms are using land that's unsuitable for most crops, except hardy trees. So they're saving land from development. Plus the trees provide habitat for wildlife and help combat global warming while looking all so charming and idyllic. And unlike a fake tree which is made from petroleum based materials and shipped from overseas, these trees are renewable and easily recyclable. And for those of you say fake trees can last forever, I ask this: if that really is the case, then why do they keep making artificial trees? The cheap-looking trees don't last forever.
3. Ship with the postman. The US Postal Service makes their normal route everyday bringing mail to your home. But they can do more than just send cards and bills; they can ship packages to you and for you, too. By choosing the US Postal service, you avoid using gas-guzzling planes to overnight packages. Since the mailman needs to come to everybody's house anyway, having them ship gifts just makes the most fuel-efficient sense. Oh and one more thing: it's a lot cheaper to ship this way. Eco savings!
4. Booze it up. You know, I think there are lots of people who would prefer to get a great bottle of champagne instead of a questionable sweater as a gift. And with a bottle of champers, you can share it with friends and have a great time, too. Plus the glass bottle is easily recyclable. Bonus points if you can find an organic variety. If you want to give a more elaborate gift, fill a galvanized bucket with champagne, oranges and a wooden citrus reamer. Mimosa gift set!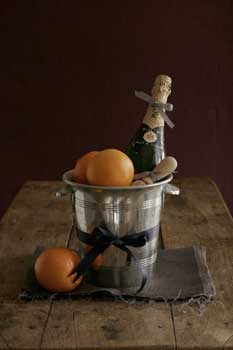 5. Packing Peanuts Reuse. Styrofoam packing peanuts are eco-sins in my book. But they show up anyway...somehow...so you have to deal with them. One thing you can do is to bring them to a Mailboxes, Etc. store to have them reuse them. Or, if you're pressed for time and need a cushy place to sit, you can just recycle them right at home by filling a bean bag cushion with them. Purchase a bean bag chair cover (sans the bean filling) from an online store. And fill up the bag with Styrofoam peanuts. If you need more peanuts, ask friends and family.... you'll find an endless supply.