WASHINGTON -- Senators formally added an amendment on Wednesday that increases border security measures in the "gang of eight" immigration bill, with negotiations continuing on whether additional amendments will go for votes before the full legislation is brought for a vote, likely before the July 4 recess.
The border amendment from Sens. Bob Corker (R-Tenn.) and John Hoeven (R-N.D.) passed in a 69 to 29 vote, with 15 Republicans voting in favor. The Wednesday vote was similar to a 67-27 test vote that took place on Monday, but with the addition of four senators who were not present at the earlier vote.
Republicans who voted for the amendment both times included Sens. Lamar Alexander (Tenn.), Kelly Ayotte (N.H.), Jeff Chiesa (N.J.), Susan Collins (Maine), Bob Corker (Tenn.), Jeff Flake (Ariz.), Lindsey Graham (S.C.), John Hoeven (N.D.), Orrin Hatch (Utah), Dean Heller (Nev.), Mark Kirk (Ill.), John McCain (Ariz.), Lisa Murkowski (Alaska), Marco Rubio (Fla.) and Roger Wicker (Miss.). Wicker has said he is still likely to vote against final passage of the bill.
The border security amendment vote was one of three votes held so far on Wednesday, including a procedural vote to move forward to the amendment vote. That measure to move ahead passed 68 to 30, with Wicker voting in opposition.
A later vote to move ahead with the bill as a whole passed 67 to 31, but lost the votes of both Wicker and Chiesa.
Most of the Republicans who voted in support of the Corker-Hoeven amendment have declined to say whether they will vote for the final bill, although most are expected to. One, Sen. Roger Wicker (R-Miss.), told reporters he is unlikely to support the bill because it won't include amendments he favors. Sen. Orrin Hatch (R-Utah) gave a firm commitment on Tuesday to vote for the bill as a whole, writing in The Salt Lake Tribune that the legislation is necessary to prevent future swells in unathorized immigration. Sen. Mark Kirk (R-Ill.) also said he would support the total bill if the border security amendment was passed.
The gang of eight hopes to pass the immigration bill later this week with 70 votes, in order to put pressure on the Republican-controlled House to consider it. That might not happen: House Speaker John Boehner (R-Ohio) told Republicans in a closed-door meeting Wednesday that the lower chamber will not bring up the Senate bill, according to Jonathan Strong of National Review.
See The Huffington Post's estimated whip count, based on the senators' public statements and their stance on the border amendment, here.
The border security amendment requires several additional measures before undocumented immigrants could move from provisional status to legal permanent residency. Under the bill, undocumented immigrants would be given a path to citizenship. The government would need to build 700 miles of border fence and add 20,000 patrol agents. The legislation would also require full implementation of E-Verify, a system that would require employers to check the legal status of potential hires; additional biometric measures for security in airports; and funding for surveillance.
Senators opposed to comprehensive immigration reform have argued the border security amendment is not strong enough and leaves in place problems that they see in the full bill. Advocacy groups such as Numbers USA, which is advocating against the bill, agree.
Some pro-immigration reform groups are also frustrated that senators chose to increase border security requirements in the bill, which they argue are unnecessarily arduous. CAMBIO, a coalition of reform groups, wrote a letter to the "gang of eight" on Tuesday to express their dissent.
"The Corker Hoeven compromise doesn't just come at a high price: this amendment makes border communities a sacrificial lamb in exchange for the road to citizenship," Christian Ramirez, Director of the Southern Border Communities Coalition and a member of CAMBIO, said in a statement.
Republican supporters of the bill said Tuesday they hope additional amendments will go for a vote. Leadership was working on a deal for each side to receive 10 amendment votes, but as of Tuesday, Senate Majority Leader Harry Reid (D-Nev.) said there was still no deal. Reid told reporters at a press conference that he could not add the amendment votes unless senators agreed, and that some calling for more votes had also held up the process.
"I want to do everything I can to maximize the number of votes we get on the bill, and I want to make sure everyone feels it's a fair process," he said. "My concern is the folks who wrote me a letter saying we need more amendments are the same people that stopped us from having amendments the first couple of weeks of this legislation."
"We're going backwards, not frontwards," Reid said on the Senate floor Wednesday, on the effort to find a deal on amendments.
Hoeven told reporters he hoped that Sens. Rob Portman (R-Ohio) and Saxby Chambliss (R-Ga.) would support the bill if additional amendments are added. Portman proposed an amendment to strengthen the bill's requirements on E-Verify.
"I can't vote for it without it," Portman said Tuesday of the bill and his E-Verify amendment.
Gang of eight Sen. Lindsey Graham (R-S.C.) said on Tuesday that he would like for the amendment to be added.
"I hope we can get a series of votes," he said. "We should, we should be able to work it out. We should be adults about this and give people a chance to have their say about the bill, but Rob Portman's amendment would, I think, improve the bill."
This is a developing story and has been updated.
Before You Go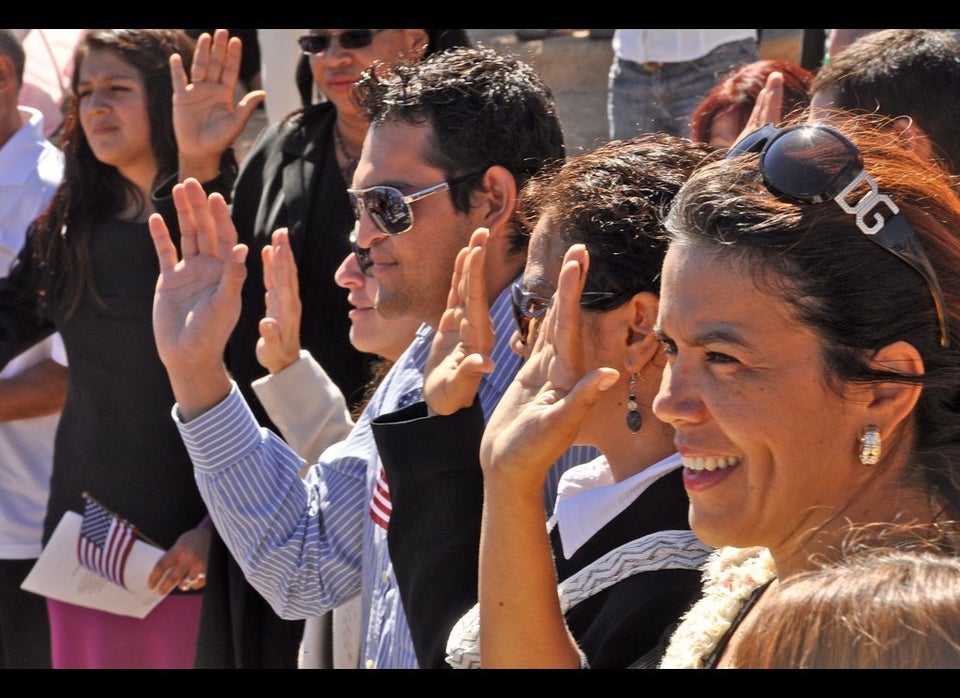 10 Major U.S. Federal Immigration Laws
Popular in the Community