 Customs and Border Protection and a Texas hospital allegedly subjected a woman to repeated anal and vaginal cavity searches over a period of six hours without her consent and without a warrant, leaving her traumatized, according to a lawsuit filed in December. The hospital then allegedly sent the woman a bill for more than $5,000 after she refused to sign a consent form.
The civil lawsuit against CBP and the University Medical Center of El Paso, where some of the cavity searches were performed, raises questions about what legal protections are available to people when crossing an increasingly militarized border.
"Whether or not this reflects a pattern of practice [at CBP] is not yet clear," the woman's attorney, Laura Schauer Ives, told The Huffington Post. "But that the agents felt emboldened to do this, I think, is telling."
According to the complaint, which received renewed attention this past weekend after being featured on the public radio show "On the Media," the plaintiff is a 54-year-old woman from New Mexico who traveled to Ciudad Juárez in December 2012 to visit a close family friend who had been deported. The plaintiff, a U.S. citizen, asked the court to proceed anonymously due to the "highly personal and sensitive nature of the events."
When the woman returned to the United States through the port of entry at El Paso, Texas, border officials randomly selected her for further screening, the lawsuit says. While she was in line, a drug dog lunged at her, leading authorities to believe she was carrying drugs.
They then began a series of invasive cavity searches, the suit alleges. When those exams revealed nothing, authorities sent the plaintiff, referred to in the suit as "Jane Doe," to the University Medical Center of El Paso for more.

According to the complaint in the civil lawsuit:
Over the course of the next six hours, Defendants subjected Ms. Doe to a series of highly invasive searches, any one of which would have been humiliating and demeaning. First, government agents stripped searched [sic] Ms. Doe and made a visual and manual inspection of her genitals and anus. Finding nothing, Defendants next subjected her to an observed bowel movement. When that procedure yielded no evidence of drugs, Defendants X-rayed Ms. Doe. Having found nothing, Defendants next shackled Ms. Doe to an examining table and inserted a speculum into her vagina, performed a rectal exam on her, and conducted a bimanual cavity search of her vagina. Still not satisfied, Defendants subjected Ms. Doe to a CT scan and again found no evidence of drugs.

Though Defendants conducted these searches against the will of Ms. Doe and without her consent, the Medical Center billed Ms. Doe more than $5,000.00 for its "services."
CBP said it does not comment on pending litigation, but forwarded a statement saying the organization does not tolerate abuse and would cooperate with investigations into allegations of misconduct.
"CBP stresses honor and integrity in every aspect of our mission, and the overwhelming majority of CBP employees and officers perform their duties with honor and distinction, working tirelessly every day to keep our country safe," the statement says.
The lawsuit describes the woman's alleged mistreatment at the hands of authorities at the border and the hospital as a form of sexual abuse.
"Her labia, vaginal opening, and anus were left raw and sore and she felt violated, demeaned and powerless as a result of the searches," the complaint says. "Since her ordeal, Ms. Doe has not been able to be physically intimate with her husband. When she is in public, she feels as if everyone is staring at her, so she avoids public spaces and stays at home whenever possible. She still cries when she thinks about this incident."
The University Medical Center of El Paso announced in January that it had voted to hire third-party experts to review the hospital's policies on searches.
"The El Paso community should know that UMC has no agreement with Customs and Border Protection or any other law enforcement agency to conduct searches of people in their custody, nor are we in any way an extension of Customs and Border Protection," said Margaret Althoff-Olivas, the center's director of public affairs.
The case was first reported by local media shortly after it was filed in December.
The University Medical Center waived the hospital bill after the lawsuit was filed, according to the plaintiff's attorney. Schauer Ives said she hoped the lawsuit would keep others from having to go through similar experiences.
"This is an instance where securing the border has become an excuse for abandoning constitutional principles," Schauer Ives said. "The Constitution doesn't permit these kinds of multiple invasive searches on the mere suspicion of drug trafficking."
CORRECTION: An earlier version of this story mistakenly referred to the federal agency Customs and Border Protection as "Customs and Border Patrol." The U.S. Border Patrol is a branch of Customs and Border Protection.
Before You Go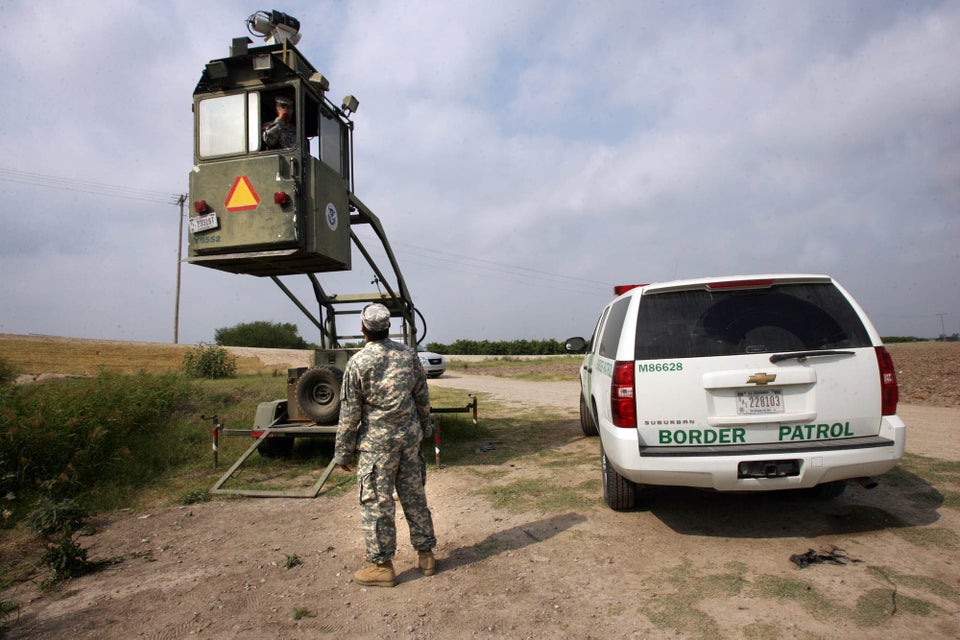 6 Misconceptions About The Border
Popular in the Community