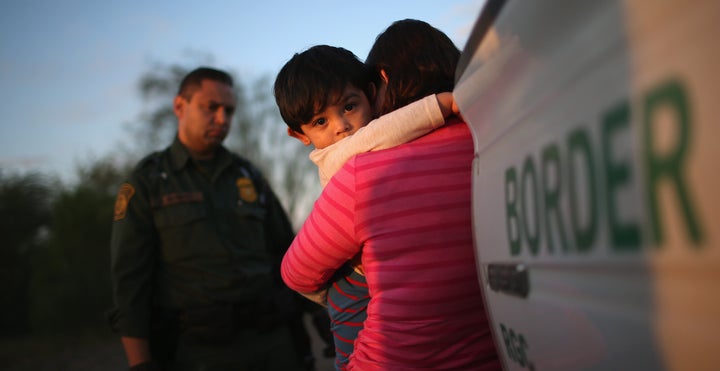 The numbers of undocumented mothers and children apprehended along the southern border are up significantly from last fiscal year, according to data released by the U.S. government on Tuesday.
Customs and Border Protection agents picked up about 21,500 family units in October, November and December, the first three months of the 2016 fiscal year. During the same period the year before, agents had apprehended about 7,500 families. The number of unaccompanied minors apprehended crossing the border has also risen, from nearly 8,000 in the first three months of fiscal 2015 to about 17,400 in the same period this year.
The Obama administration dealt with a similar surge in 2014. At that time, the rising numbers of families and unaccompanied minors overwhelmed a system that didn't have the room to house the apprehended or the capacity to work through all their cases quickly.
This time, federal agencies are more prepared. A spokesman for Customs and Border Protection said in a statement that the Department of Homeland Security, "along with the entire administration, has been closely monitoring these trends and coordinating across the whole of government to ensure an effective response to any changes in migration flows." That includes working with the Office of Refugee Resettlement at the Department of Health and Human Services to ensure they have the capacity to house unaccompanied minors.
HHS has about 9,500 beds for unaccompanied minors and will add some 2,200 more in coming months, a spokeswoman said. Congress allocated $750 million last year to address the problems in Central America that are causing mothers and children to flee. Still, HHS "may face serious funding challenges" given the increase in unaccompanied children, Secretary Sylvia Mathews Burwell wrote to members of Congress in December.
The surge poses a problem for an administration that is juggling border security issues with concerns about protecting mothers and children, many of whom have sought asylum or other relief based on violence in their home countries.
The White House is arguing with Democratic lawmakers and immigration advocates over the latest deportation raids aimed at families who entered the country after May 1, 2014, and whose removal has since been ordered by judges. The critics contend that the women and children should be allowed to stay under temporary protected status because they could face dire consequences, even death, if sent back to El Salvador, Honduras and Guatemala.
But there are concerns that allowing people ordered for deportation to remain in the U.S. would send the message to others who come without authorization that they, too, may be able to stay.
The White House has argued that the families being targeted for deportation have exhausted their legal options and that they fall into the administration's stated priorities for removal, because they entered the country after January 2014.
White House Counsel Neil Eggleston went to Capitol Hill on Tuesday to try to assuage Democrats' concerns ahead of a press conference they planned to criticize the raids. At the meeting, he emphasized the need to follow deportation priorities and enforce immigration law, according to an administration official who declined to be named. 
"The administration continues to reinforce that while we recognize the serious underlying conditions that cause some people to flee their home countries, we cannot allow our borders to be open to illegal migration," the official said in an email. "Those who come here illegally will be sent home after being provided an opportunity to have their cases heard, consistent with our laws and values."
This story has been updated to include comments from Customs and Border Protection.
PHOTO GALLERY
The Obama Administration's Controversial Use Of Family Immigrant Detention
REAL LIFE. REAL NEWS. REAL VOICES.
Help us tell more of the stories that matter from voices that too often remain unheard.