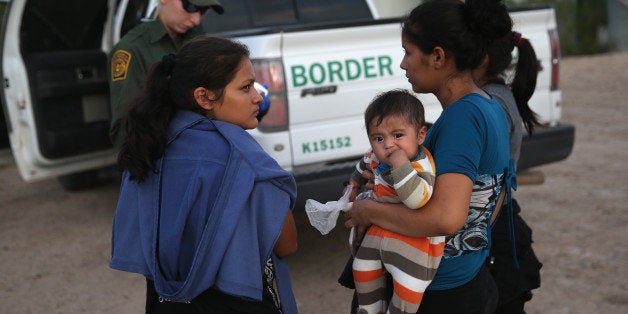 WASHINGTON -- U.S. Customs and Border Protection Commissioner R. Gil Kerlikowske traveled to McAllen, Texas, in March 2014 -- his first week on the job -- to see what then was a major crisis of children and teenagers crossing the border illegally without their parents.
He saw "literally dozens and dozens and dozens of kids sleeping on concrete floors" because his agency didn't have the capacity to house them, he said Wednesday at an event hosted by the Brookings Institution.
At the time, the numbers of unaccompanied minors apprehended crossing the border, most of them from Honduras, El Salvador and Guatemala, were increasing, heading into the warmer spring and summer months. Nearly 7,200 children were apprehended that March, up from about 4,800 the month before. By May and June, the numbers had increased to about 10,600 each month.
For the entire 2014 fiscal year, more than 68,000 unaccompanied minors were apprehended. A similar crisis was happening with mothers and children coming to the U.S., with more than 68,000 family units apprehended.
The government responded, and the numbers went down. By February, the number of unaccompanied minors was half of what it was the same month last year. The non-partisan think tank Migration Policy Institute projected in a report released Wednesday that there will be about 39,000 apprehensions of unaccompanied minors this fiscal year, and about 35,000 family units, if trends continue.
Kerlikowske said his agency is "in much better shape today" to deal with a crisis and has policies to try to prevent one. But there are plenty of things to be concerned about. Unaccompanied minors and families are still crossing the border illegally, and issues persist on detention and deportation policies. And most of the problems in Central America that unaccompanied minors, along with mothers and children, are fleeing haven't gone away.
"I would not remove the word 'crisis' just yet," said Wendy Young, president of Kids In Need of Defense, which helps unaccompanied minors get legal representation. "We're not out of the woods."
CBP has apprehended about 15,600 unaccompanied minors so far this fiscal year, compared with about 28,600 during the same period in the 2014 fiscal year. About 14,000 family units have been apprehended, compared with 19,800 the previous year, according to CBP.
Department of Homeland Security Secretary Jeh Johnson cautioned at a House hearing last month that the trend toward reduced apprehensions is likely to reverse soon.
"This is the time of year [border crossings] are going to creep up, they're going to creep up right now. ... And I think we therefore need to be prepared and maintain this capability for our overall border security efforts," Johnson said.
Johnson was referring to family detention facilities, a response to last year's influx. DHS built more detention space for women and children at facilities in Dilley and Karnes, both in Texas. That was despite the administration largely turning away from the detention of families in favor of releasing them while they awaited deportation proceedings, which advocates say is a more humane option for families that are often fleeing violence.
Marsha Catron, a DHS spokeswoman, said neither facility is currently at capacity. She didn't specify how many beds were available.
The Department of Health and Human Services has also prepared for a potential influx of unaccompanied minors. By law, unaccompanied minors from countries other than Canada and Mexico are transferred to HHS's Office of Refugee Resettlement within 72 hours of apprehension.
HHS spokesman Kenneth Wolfe said the Office of Refugee Resettlement can hold up to 7,300 minors, with facilities in 15 states. HHS Secretary Sylvia Burwell in January asked for Department of Defense support to provide up to 5,000 additional beds if needed for unaccompanied minors.
Kerlikowske said CBP is more prepared this year to provide detention space, along with food and medical care. DHS also put more resources into policing the Rio Grande Valley in Texas, which has seen the largest numbers of both unaccompanied minors and family units.
At the same time, the government has taken steps to dissuade people from making the trip to the U.S. in the first place. Those efforts include public messaging campaigns in Central American countries, explaining that those who reach the U.S. won't be allowed to stay. The Obama administration created a new program to facilitate Central Americans reuniting with their parents who are legally in the U.S. that allows them to apply within their native country to come to the U.S. under refugee status, rather than traveling here illegally.
Much of the decrease in numbers, though, can be attributed Mexico, which is deporting more people at its southern border. Mexico deported more than 25,000 Central Americans in the first two months of 2015, compared with fewer than 13,000 during the first two months of 2014, according to a report this week from the Washington Office on Latin America.
Experts said there are potentially grave problems with allowing Mexico to carry out U.S. "dirty work," as Young put it. For one, Mexico may not adequately screen for people with valid asylum claims, said Marc Rosenblum, deputy director of immigration policy at the Migration Policy Center.
"There's a concern that kids are being deported back to Central America without having a chance to apply for asylum, or without Mexico insuring that they're safe," Rosenblum said.
Even within the U.S., there's a risk that children who might qualify for asylum could be deported, particularly those without legal representation. Groups like KIND are working to match minors with lawyers, but the need exceeds the capacity. Children are far more likely to be deported if they go before a judge without legal representation.
Some critics of the Obama administration's response say it hasn't been tough enough. Jessica Vaughan of the the Center for Immigration Studies, which advocates for lower immigration levels, argued the government should change the policy that allows unaccompanied minors to be quickly released into the U.S., which could lead to them staying for years as their case is adjudicated, and then failing to show up for court dates to avoid potential deportation.
Vaughan said the government also could deter illegal immigration by imposing tough penalties on people who pay for smugglers to get minors to the U.S., she said.
"When people see that the government is continuing to allow this to happen, you can't really blame them for taking advantage of it," Vaughan said.
The ultimate goal for most people is to prevent unaccompanied minors and family units from fleeing their countries in the first place. Complicating that aim is the fact that some families are divided between two countries. About 85 percent of unaccompanied minors placed in homes by the Office of Refugee Resettlement are reunited with parents or other family members who already live in the U.S., according to a May 2014 report from the agency.
Other so-called push factors leading minors and families to leave Central American countries, such as extreme violence and poor economic conditions, haven't gone away, either.
Rosenblum, who wrote the report on the issue released this week, said plans to improve conditions in Central America put forward by the Plan of the Alliance for Prosperity in the Northern Triangle, announced by the White House in November, would help. Under those plans, leaders from the U.S. are working with the governments of Guatemala, Honduras and El Salvador to improve conditions by combatting corruption, reforming and expanding police forces, reaching out to minors in high-crime neighborhoods, focusing investment on education and improving conditions for women.
"None of those are things that can be implemented quickly or inexpensively," Rosenblum said.
Young said that improving safety and opportunities for children in Central America should be the ultimate goal.
"We need to create opportunities for these kids to remain home," Young said. "Ultimately, that's the solution to this situation."
Before You Go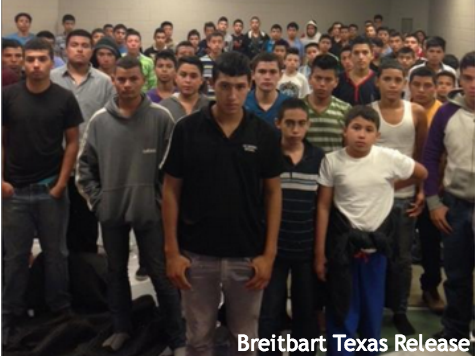 Overwhelmed Border Patrol
Popular in the Community