PHOENIX -- A two-foot metal snake with a tiny but powerful camera at the tip would allow Border Patrol to more easily check backpacks and car trunks without sticking their hands inside. The endoscopic camera produced by RF Systems Lab was originally used to defuse improvised explosive devices in Afghanistan and Iraq, and it costs $10,000.
A footlong camera installed in a remote-controlled car can wind its way through the sewer systems beneath Nogales, Mexico, that stretch across the border into Arizona. The product, manufactured by Applied Research Associates, costs $35,000.
Companies that specialize in defense-related industries gathered in Phoenix last week for the two-day Border Expo to show off hardware like this to officials charged with policing the border. Many of the gadgets on sale were originally developed for military use. But as foreign wars in Afghanistan and Iraq draw to a close, many contractors look to the ballooning Homeland Security budget as a boon for the future.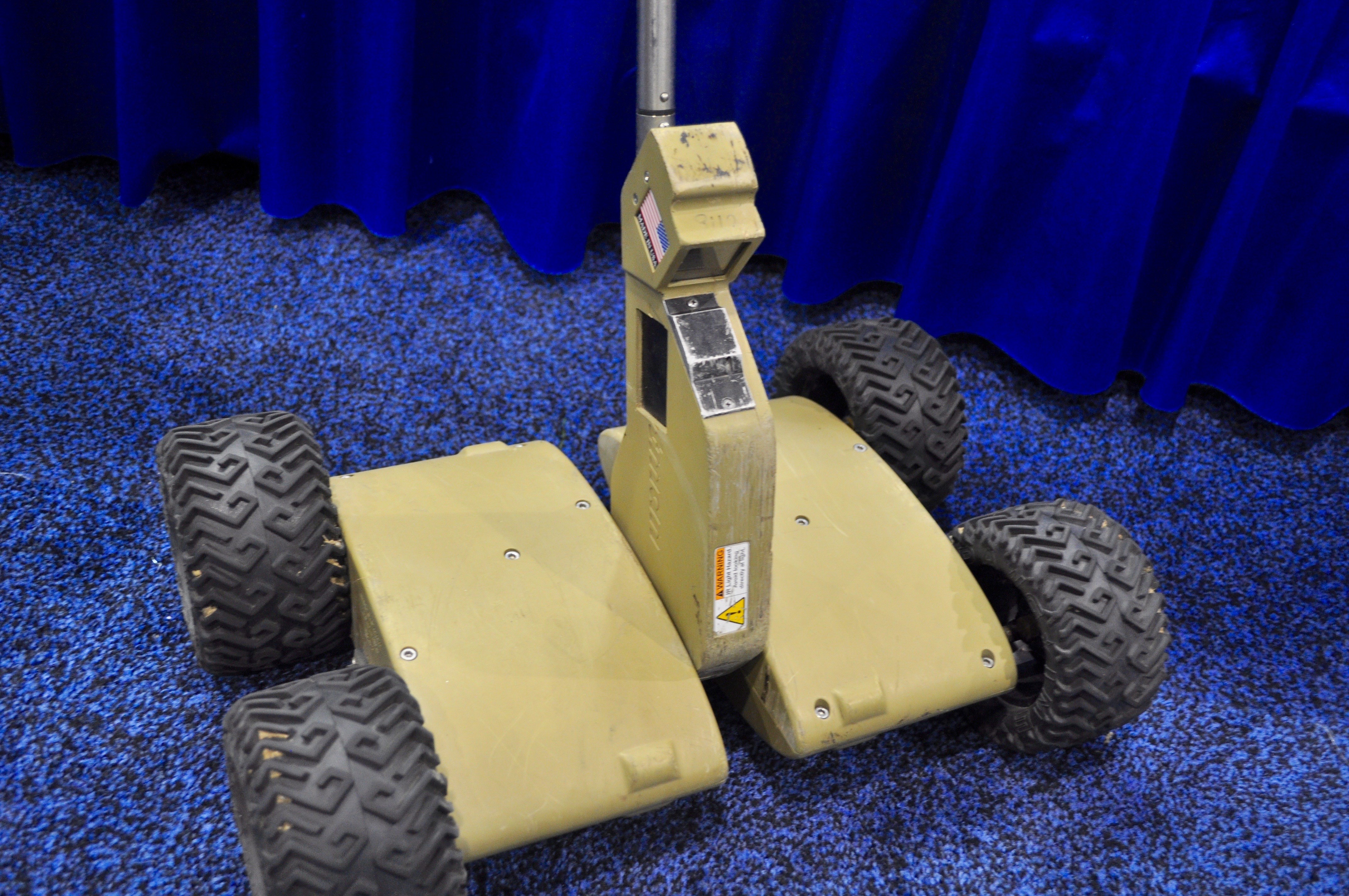 A small robot equipped with a camera is capable of navigating the sewers beneath the U.S.-Mexico border. (Roque Planas/HuffPost)
"All this is U.S. military equipment," Robert Quinn, a division manager at Applied Research Associates, told The Huffington Post, referring to his company's array of camera-mounted robots, miniature unmanned aircraft and perimeter security sensors. "So as the wars are winding down, we're trying to find more applications for this technology here in the U.S."
The DHS budget of about $61 billion last year pales in comparison to that of the Department of Defense's $560 billion. Even so, government spending on border security remains a growth area for companies that produce equipment with military applications. The DHS budget has more than doubled since 2003. A bipartisan comprehensive immigration reform bill that passed the U.S. Senate in 2013, but failed to pass the House, contained some $40 billion in additional border security spending over the next 10 years.
Republicans in Congress have since pressed for a piecemeal approach toward immigration reform that would require further investments in border security before addressing the status of the estimated 11 million undocumented immigrants living in the United States.
Few of the products featured at the expo were weapons. Instead, most vendors specialize in advanced technology for surveillance, as well as biometrics and communications. Surveillance products run the gamut from small, remote-controlled planes made of foam and loaded with a camera, to complex radar systems.
Safran, a technology company, offers a single system that allows people to scan their passports, irises and all 10 fingerprints. Some of the products are already in use at the international airport in Dubai, United Arab Emirates, according to the company's senior manager for business development, Keith Raderschadt.

"It's probably the only way we can really secure the border in a true sense," Raderschadt told HuffPost. "Without doing the biometrics check, you really have no idea who is really crossing the border."
Some vendors displayed more traditional security items. At least two stands, Glock and Heckler & Koch, showed off guns. Another company, Talon, debuted a weapon stabilizer that allows people shooting from helicopters or boats to fire their guns with more precision.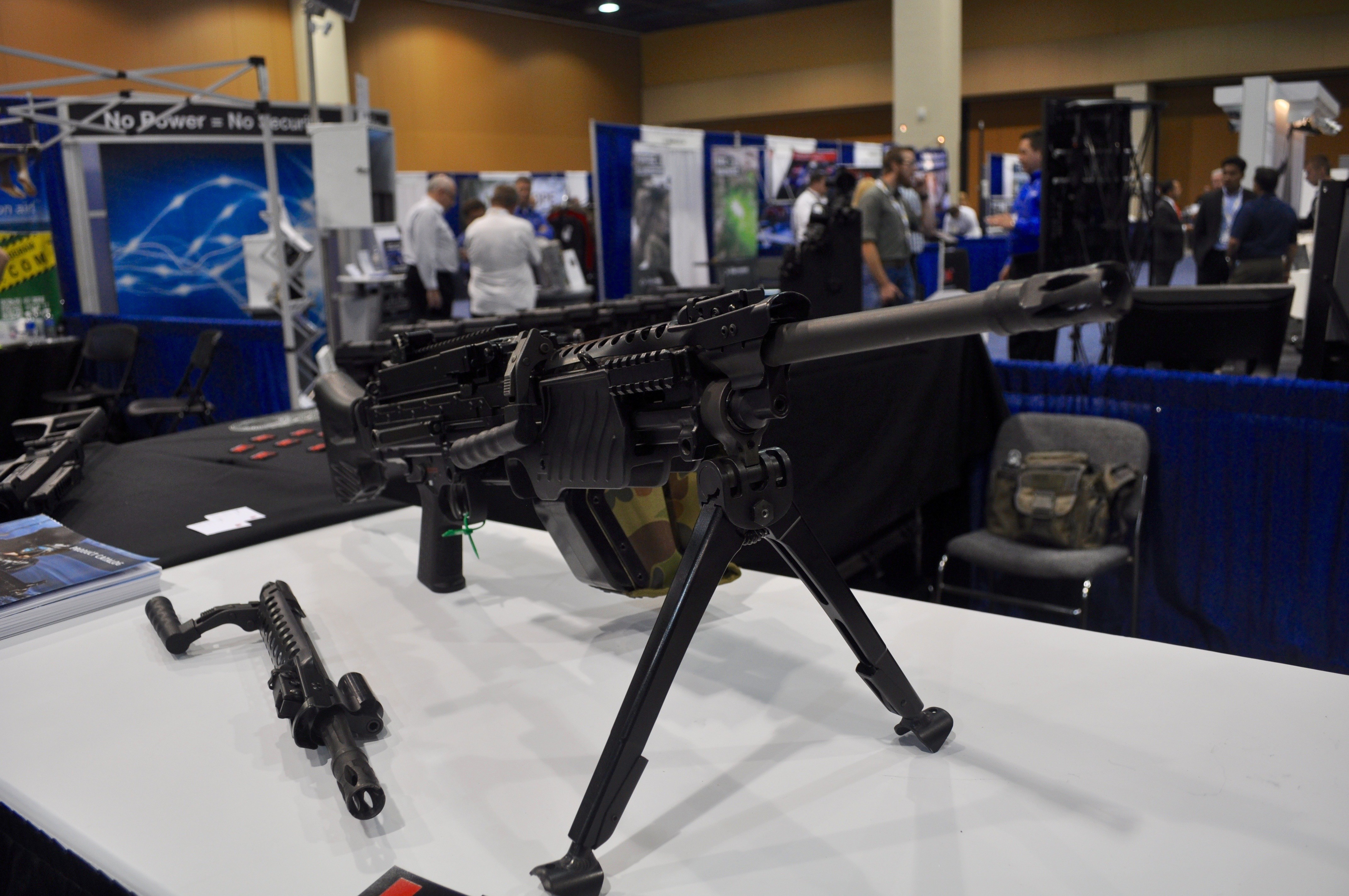 A gun on display at the Hecker & Koch stand at the 2015 Border Expo. (Roque Planas/HuffPost)
Tony Musa, Glock's national sales manager, told HuffPost his company's pistols aren't standard issue for the Border Patrol, though some agents solicit authorization to use them on duty.
"They're getting due for new guns at some point," Musa said, referring to the Border Patrol. "I want them to know that Glock's here."
Some object to the close relationship between private industry and border officials on display at the Border Expo. Todd Miller, the author of Border Patrol Nation: Dispatches from the Frontlines of Homeland Security, likened the defense industry's ties with border authorities to President Dwight Eisenhower's warning in a 1961 speech against the growth of the "military-industrial complex."
"The Border Patrol are in collusion with private industry in creating a force that, as Eisenhower warned, could potentially get out of control," Miller told HuffPost. "While a lot of the rhetoric is going to be around criminal activity, the people that are going to be most affected are migrants, undocumented people crossing the border."
Few vendors discussed their products' application for apprehending undocumented immigrants, though much of the equipment would likely be used to carry out border authorities' most controversial duty. Government officials who attended the expo highlighted that both illegal immigration and crime along the U.S. side of the southern border have plummeted in recent years.
"The border today is transformed," former Customs and Border Protection Commissioner David Aguilar said last week at a Border Expo panel, adding, "The entirety of the [U.S. side of the] southern border is safer than the area where I live, Washington, D.C."
CORRECTION: An earlier version of this article misstated the Department of Homeland Security's budget as $18 billion. This is the budget of Immigration and Customs Enforcement. The DHS budget is $61 billion.
Calling all HuffPost superfans!
Sign up for membership to become a founding member and help shape HuffPost's next chapter