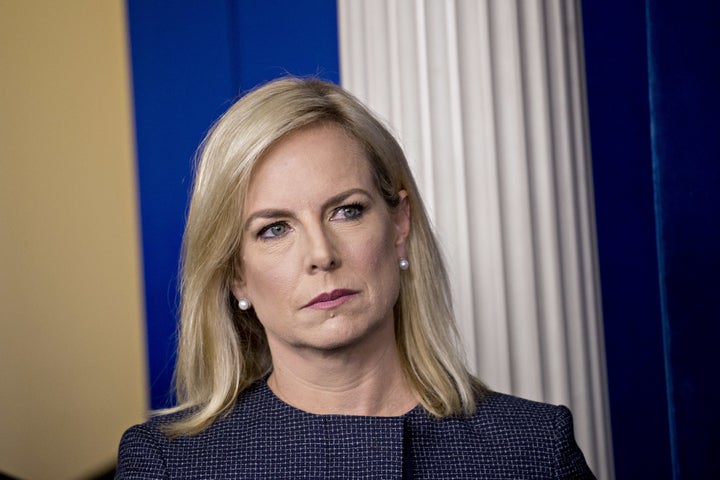 The Trump administration suggested on Thursday that its border crackdown, which led to thousands of children being separated from their parents, reduced the number of people coming to the U.S. without authorization.
But by the most important metric, the number of people arrested while traveling with their families, Trump's widely reviled crackdown did almost nothing at all. The number of migrants traveling as families arrested by the U.S. Border Patrol dropped just 0.4 percent from May to June — when rising heat in the Southwest normally leads to a dip in the number of unauthorized crossings.
Over the last two months, the Trump administration mobilized the National Guard, implemented a zero tolerance policy requiring indiscriminate federal prosecution of border crossers and extended those prosecutions to parents traveling with children — all with the goal of deterring unauthorized immigrants.
The most notable drop in border apprehensions was at legal ports of entry, which includes asylum seekers and others seeking to enter the U.S. without attempting to cross illegally. The number of apprehensions of those immigrants dropped 27 percent from May to June.
The Department of Homeland Security included illegal border crossings and apprehensions at ports of entry when it announced numbers were down from May to June.
"Following the implementation of the Administration's zero tolerance policy, the June 2018 Southwest Border Migration numbers declined by 18 percent when compared to the previous month," DHS spokesman Tyler Houlton said in a statement.
Since early May, the Trump administration has been prosecuting as many cases of illegal border crossing as possible, including those of people who must be separated from their children for criminal proceedings.
In May, arrests for illegal border crossings went up slightly from the month before. In June, apprehension numbers dropped from about 51,900 to about 42,600 at the U.S.-Mexico border. As Customs and Border Protection noted in a separate announcement of the numbers, the drop from May to June "follows the overall downward trend for this time of year" ― something that went unmentioned in the DHS statement. The number of apprehensions at the southwestern border has fallen in the same period for four of the previous five years.
The apprehension numbers tell only part of the story because they include Border Patrol arrests and people who go to ports of entry and are deemed inadmissible — which includes asylum seekers and those seeking other kinds of relief. Border Patrol arrests dropped 15 percent, from about 40,300 in May to 34,100 in June.
In June, border officers apprehended about 8,500 people at ports of entry, down from about 11,600 in May. Some migrants and immigrant rights advocates alleged that border officers have been turning away asylum seekers rather than admitting them for processing, although the DHS has denied this.
Although the Trump administration has consistently described the border situation as a crisis, illegal entry numbers remain far from historic highs. Customs and Border Protection has apprehended 382,500 people crossing the border and at ports of entry since the beginning of the fiscal year, making it likely that this year will exceed last year's historically low figures. Still, it's in line with previous years and far below the peak of 1.6 million border arrests in 2000.
REAL LIFE. REAL NEWS. REAL VOICES.
Help us tell more of the stories that matter from voices that too often remain unheard.
BEFORE YOU GO
PHOTO GALLERY
How Donald Trump Talks About Undocumented Immigrants