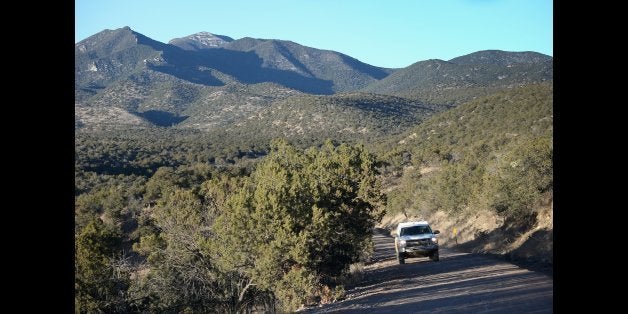 An armed border militia group confronted three researchers in Arizona last month, mistaking them for undocumented immigrants or drug traffickers in an incident that drew criticism from local law enforcement officials.
Border militias, or "untrained, utterly anonymous gunmen with no accountability to anyone" who prowl the border on their own time and look for illegal activity, have become an increasing concern for law enforcement officials, according to the Southern Poverty Law Center. The recent incident with the researchers is the second time in the last few weeks the militias have caused an issue for U.S. border authorities.
On Aug. 23, three geologists were walking back toward their campsite in Sonoita, Arizona, after counting bats in a local cave, according to a police report filed on Aug. 24 with the Santa Cruz County Sheriff's Office and shared with The Huffington Post. A group of men confronted them, shining a spotlight on them and yelling in Spanish, the report said.
"When the spotlight came on, we just waved at them," one of the researchers, who requested anonymity because he frequents the area for his scientific work and was afraid for his safety with the border militias, told HuffPost. "We didn't know what they were doing. We started hiding behind rocks. We're not doing what they're saying, and they're acting kind of jumpy. … We had them yelling at us with spotlights, acting like they have some kind of authority."
The researcher said he and his colleagues were on a narrow, high ridge, and the militia members were yelling at them from below to sit down and wait there. The scientists yelled back that they were U.S. citizens conducting a wildlife survey, the researcher told HuffPost. When they realized the armed men weren't Border Patrol, they continued back toward their camp. But the militia members still had their spotlight on the researchers, and the scientists had to cross a narrow ridge that at times was less than a foot wide, the researcher said.
"Having a spotlight on us, we really couldn't see what we were doing," he said.
The militia members followed the researchers back to their campsite, according to the police report. One of them, wearing military fatigues and holding a shotgun, approached the researchers, the report said. Border Patrol agents, who militia members had called for help to deal with what they suspected was illegal activity, soon arrived.
According to the police report, the militia members said they were from Colorado. They were heavily armed and "outgunned" Border Patrol agents, the report said.
No one was injured in the incident, and no weapons were ever pointed at the group, according to the report. However, local law enforcement agents expressed concern over the encounter.
"With the activity that we have here, with drugs and people coming through the border, it's very dangerous for these groups to be there," Santa Cruz County Sheriff Tony Estrada told HuffPost. "They do create concerns for law enforcement here along the border. … They may want to help, but they really get in the way."
Customs and Border Protection echoed the sentiment in an emailed statement.
"Securing our nation's borders can be dangerous," the agency said. "Interdicting narcotics and deterring and apprehending individuals illegally entering the United States requires highly-trained, law enforcement personnel. In all cases, individuals should not attempt to detain, provide transportation or any other assistance to migrants that may be viewed as furtherance of illegal entry. Detaining or assisting an undocumented migrant could result in prosecution."
Cameron County Sheriff Omar Lucio told the AP that the event highlighted the problems caused by such groups.
"We don't really need the militia here," Lucio said. "It just creates a problem from my point of view, because we don't know who they are."
Before You Go
CLARIFICATION: A previous version of this story stated that the scientists claimed to be conducting a geological survey. They were doing a wildlife survey.
Popular in the Community