The haunting pictures show a system overwhelmed by children and families detained by Customs and Border Protection, reflecting a growing humanitarian crisis. A spokesperson for CBP did not dispute the authenticity of the photos. "CBP has not officially released any photos at this time in order to protect the rights and privacy of unaccompanied minors in our care," a statement from CBP read.
The president acknowledged earlier this week that the situation had reached crisis levels on the border, as children from Honduras, Guatemala and El Salvador flee deepening poverty and violence.
"The influx of unaccompanied children across the southwest border has resulted in an urgent humanitarian situation," a Department of Homeland Security official emailed on background. "The President has directed Secretary Johnson to establish an interagency Unified Coordination Group to ensure unity of effort across the Administration in responding effectively to this humanitarian situation. This effort, lead and coordinated by FEMA, is quickly marshalling resources across the government to provide humanitarian relief to affected children. Addressing the rising flow of unaccompanied children crossing our southwest border is an important priority of this Administration and the Department of Homeland Security."
Rep. Lucille Roybal-Allard (D-Calif.) condemned the "deplorable conditions" in which the children are being held.
"I am terribly concerned about the deplorable conditions in which these children are being held. I am troubled by the fact that the photos show children's faces, especially since many of these children may be victims of trafficking or other serious crimes. Still, these are important photos, and they tell a tragic story: our country is facing a child migration crisis," she said. "Tens of thousands of Central American children are arriving at our southwest border having fled life-threatening conditions in their home countries. On their way to the United States, many of these vulnerable young people are being physically abused or sexually assaulted. When they reach our border, our government has a moral responsibility to treat them with care and compassion. That is why I'm pleased President Obama and Homeland Security Secretary Johnson have made this crisis a top priority. However, as these photos show, our current border resources are entirely insufficient. It's up to Congress to provide the Departments of Homeland Security and Health and Human Services with the financial capacity to meet the needs of these children. It's also time to pass my bill, the Child Trafficking Victims Protection Act, which would place trained child welfare professionals at the border to identify trafficking victims and ensure all children at our border are treated with the kindness and basic human dignity they deserve."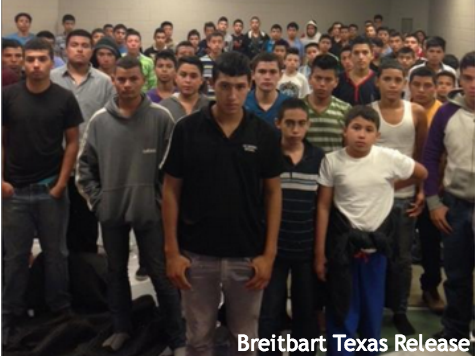 Overwhelmed Border Patrol
Popular in the Community