WASHINGTON -- Over the last fiscal year, there has been a shift in the nationalities of people apprehended crossing the southwest border: for the first time in history, a majority of them were from countries other than Mexico, according to a new report.
The analysis, published Thursday by the Bipartisan Policy Center, found that fewer than half of those caught crossing the southwest border in the 2014 fiscal year were Mexican.
Homeland Security Secretary Jeh Johnson announced in a speech on Thursday that according to preliminary data, there were 479,377 apprehensions along the southwest border in the 2014 fiscal year. He didn't announce a breakdown of where the people apprehended were from, but data is available for the first 11 months of the fiscal year -- from the beginning of October 2013 to the end of August 2014 -- that gives some insight.
According to information from Customs and Border Protection, agents apprehended 242,329 non-Mexican migrants along the southwest border over that 11-month period. Those apprehensions make up slightly more than 50 percent of the total figure of people caught along the U.S.-Mexico border in the 2014 fiscal year, even without the figures for September.
The findings come after a year that included a dramatic increase in border-crossings by unaccompanied minors and parents traveling with children, most of whom originally came from Honduras, El Salvador and Guatemala. But the proportion of Mexican nationals apprehended by immigration authorities has actually been decreasing for years, according to the report by Bipartisan Policy Center.
The below chart from Bipartisan Policy Center shows apprehensions from the border and the interior of the country, and how they break down between people from Mexico, Guatemala, Honduras, El Salvador and other countries: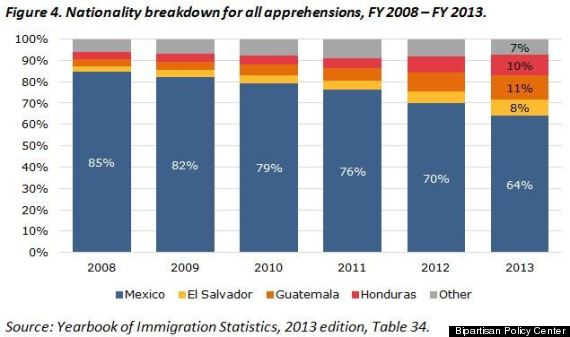 Bipartisan Policy Center also published a chart of the growth in the proportion of people from countries other than Mexico who were apprehended at the border, excluding 2014: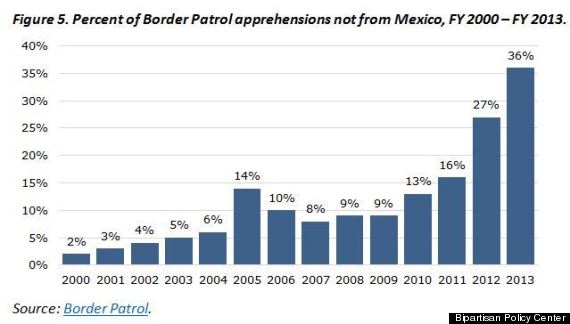 Read the full report here.
Calling all HuffPost superfans!
Sign up for membership to become a founding member and help shape HuffPost's next chapter
BEFORE YOU GO
PHOTO GALLERY
Why Latin Americans Really Come To The U.S.