The Trump administration's weekly report on efforts to reunite children it separated from their parents at the border shows 416 children, including 14 under age 5, remain in custody.
The latest status report, filed Thursday as part of an ACLU lawsuit, shows the government continues to make slow progress in returning children to their families. It has been more than a month since a federal judge's July 26 deadline to reunite all of the more than 2,600 children detained under the Trump administration's highly criticized zero-tolerance immigration policy.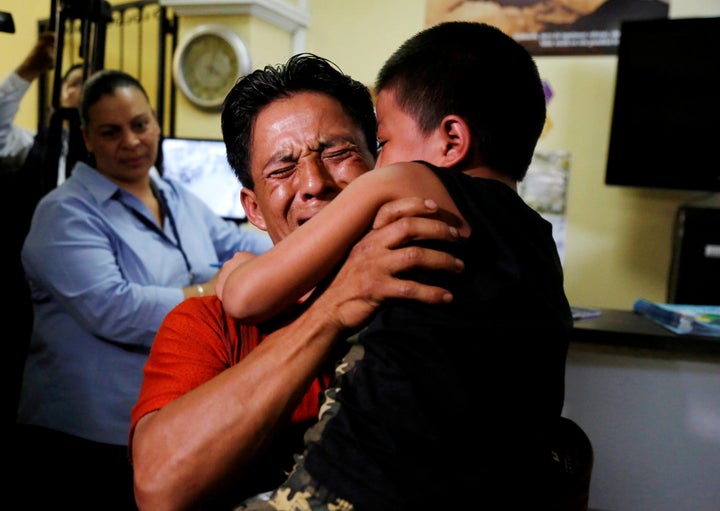 The latest government report shows that in addition to the more than 400 children who remain in government custody, 204 have been "discharged under other appropriate circumstances," such as returning to family members other than their parents, or to guardians or sponsors.
Government officials say they have delayed some reunifications because of "red flags," such as criminal histories discovered through background checks, or other safety and well-being concerns. But the ACLU argues in Thursday's report that some of these concerns are questionable, and asks the government to expedite two such cases.
In one case, a 4-year-old boy's mother is a suspected gang member, according to the government. She has denied the accusation, and a judge found that a warrant "was not sufficient evidence that the mother was a danger to the community," according to the ACLU. The government, however, has refused to reunite her with her child.
"This child is suffering greatly in detention and is at particular risk of grievous and irreparable harm," the ACLU says in the report.
The ACLU also asks the government to explain discrepancies, such as why the government lists 35 delayed reunifications involving criminal "red flags," while the ACLU has identified about 50 parents who haven't been reunited with their children because of background checks.
The Trump administration on Thursday announced that it plans to detain more children indefinitely by withdrawing from a 1997 legal agreement known as the Flores Settlement, which prevents migrant children from being detained for more than 20 days and in inhumane conditions.
Popular in the Community