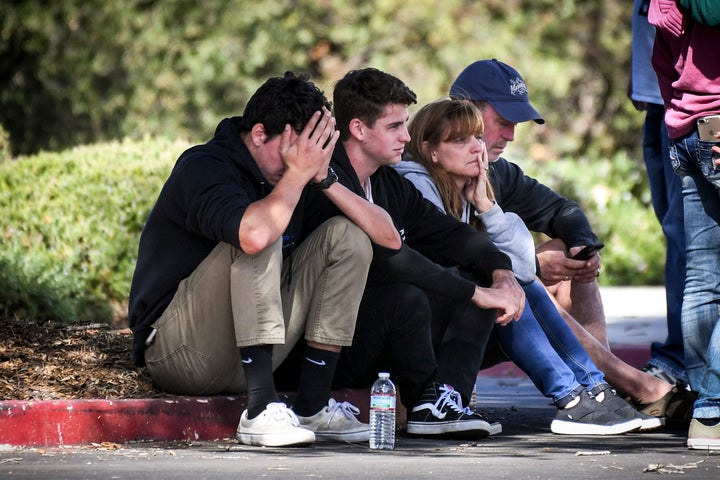 THOUSAND OAKS, Calif. ― Borderline Bar & Grill was "the spot" for students, especially on Wednesdays.
They flocked from California Lutheran University, Moorpark College, Pepperdine University, California State University Channel Islands and other area schools to meet there for college night, when everyone over 18 was welcome. It's a country-themed bar, so whether they were drinking or not, students showed up to line dance and socialize with their peers.
But this Wednesday, 12 lives were taken at the same place and time everyone gathers for college night.
"The shooting felt very personal, almost as if it was at the school, because so many students go to college night," said Isabella Giotis, 26, a student at Cal Lutheran. "I was there last Wednesday. ... We all know friends who have lost people or are currently wondering where their friends are."
In this day and age, no matter where I go, I look around before I even relax.

Shardonaye Moyes, a Moorpark College student
On Thursday morning, about a thousand students and members of the community crowded Cal Lutheran's chapel to mourn the victims. The chapel was so packed that some people had to watch the service on screens in an overflow area outside.
It was during the service that many also found out that a former Cal Lutheran student, 23-year-old Justin Meek ― who reportedly worked as a bouncer at the bar ― was among the shooting victims. His sister still attends the university.
"Justin was one of the friendly ones who would always say hi when you passed by him," said 24-year-old Kelsey Ng, another student at Cal Lutheran. "It's a huge loss for our community."
Ng, like many students who spoke to HuffPost, is usually at the bar on Wednesdays. Borderline is "a place where you felt safe and went out with all your friends. It was a really inclusive place and welcomed different kinds of people," she said.
This generation of young people understands all too well the danger of gun violence in America. They saw their fellow students gunned down at Marjory Stoneman Douglas High, Sandy Hook Elementary and so many other schools; they saw the mass murders at Pulse nightclub in Orlando and the music festival in Las Vegas. In fact, as many as 30 people at Borderline during this week's shooting were also at the festival in Vegas last year, when a gunman killed 58 and injured over 800 more in the gunfire and panic.
Students of this generation have learned to look over their shoulder.
"I feel like in this day and age, no matter where I go, I look around before I even relax," said Shardonaye Moyes, 22, who attends Moorpark College. "You're having shootings at elementary schools, high schools, college campuses. At a bar, it's sad to say, but it's not that surprising. It's a tragedy and it's really sad."
Current and former Moorpark students met on campus on Thursday to pay their respects to the victims. Alumna Chrystal Salas, 27, and current student Poon Yuwawanit, 18, were pasting up posters that read "Moorpark cares" with hearts and space for others to add their story.
"You can't go anywhere," Salas said. "You can't go to your small-town neighborhood bar without fear."
Classes were canceled at some colleges, while others went on with their normal schedules. Students at Moorpark were waking up to the realization that their fellow students were gone ― or in the case of 21-year-old Isabella Phillips, not sleeping much at all.
"I had an exam this morning, but last night I didn't even study because I was up calling and texting everyone and making sure they were OK until almost 3 a.m.," she said. "Some of my co-workers were there last night. Some of them were locked up in the bathrooms while it was still happening around 11:20 p.m. ... So far my close friends are OK. But the thing is their friends' friends ― I'm not sure."
Other students spoke of plans to donate blood, which the Red Cross says it needs after the attack. Across the country, those looking to donate blood can visit the Red Cross website to find a blood donation location in their area. The Los Angeles Times also had some suggestions for those looking to donate cash.
Calling all HuffPost superfans!
Sign up for membership to become a founding member and help shape HuffPost's next chapter