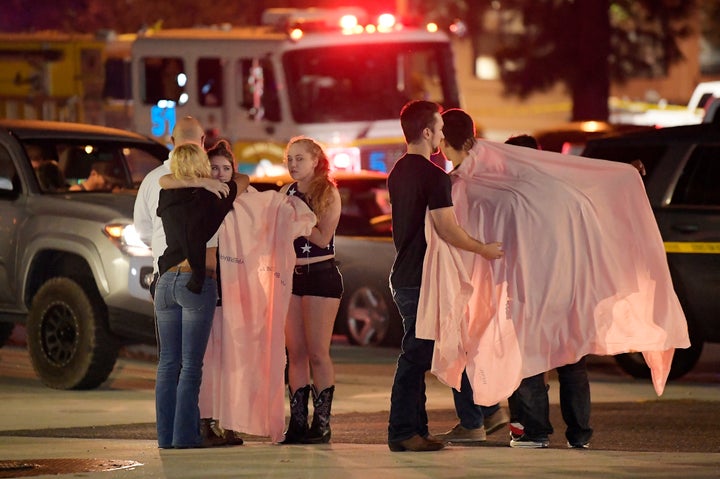 The bar's owner, Brian Hynes, had told NBC's Today that "we will reopen, we'll come back stronger" once the investigation into the massacre was complete. In a Monday interview with CNN, however, Hynes suggested the decision may not be quite so clear-cut.
"With what Borderline is to ... my community, I don't know if [reopening] is going to feel right," Hynes said. "But once I stand inside that building, it's going to be like going to my childhood home, and I'll know. I'll know then." 
The Borderline is a Thousand Oaks institution with a 25-year history. It's a favored party spot for the area's college students and a gathering place for country music lovers, including those who had survived the mass shooting at the Las Vegas Route 91 music festival last year.
Katie Ray, who survived the Route 91 massacre, told HuffPost in an earlier interview that the bar had been "a place of healing" for a tight-knit group of Vegas survivors.
"For many of us, it was seeing each others' faces in the bar again that brought us a huge sense of relief," Ray said.
Dozens of people who were at Borderline on the night of the Nov. 7 shooting had survived the Route 91 massacre. One Vegas survivor ― 27-year-old Telemachus Orfanos ― was among the 12 people killed at Borderline that night. The suspected gunman, 28-year-old Ian David Long, also died of a self-inflicted gunshot wound at the scene. 
Hynes told CNN that Borderline had long been a refuge for members of the community.
"The Borderline has been there for 25 years. I've been going there for 24 of those years, and I've owned it for 10," he said. "And when something happens in this community, that's where we go."
"Fundraisers, everything, is always done there. And that place was our place of safety and our place of comfort in these rough times," he added.
Hynes said he hopes Borderline can one day serve as a solace for his community again, but stressed that reopening was not his main concern at this time. 
"There's no way I'm not going to reopen out of fear or anything like that. If it works, we will definitely reopen, but right now ... with the fires going on in our same community ... I'm trying to get people back in their home beds, with their pets and their families," he told CNN.
BEFORE YOU GO