Chuck Todd of NBC News says this candidate is a "threat to the sovereignty of the United States." A senior member of his own party says his call for more Russian intervention is "tantamount to treason." Yet nobody seems to expect that he'll face any accountability. As the standard-bearer of a major political party, he's reached an elite echelon where almost nobody ever does.
At the same time, this candidate's signature proposal is to build a wall shutting poor people in other countries out of the opportunities available here.
At the other party's convention this week, one of the speakers was Ima Matul, a former slave, originally from Indonesia, whose "trafficker warned that if she left [captivity] the [American] police would arrest her and put her in jail, where she would be beaten and raped." The threat worked for 3 years, because borders strip most of us of our rights when we cross them.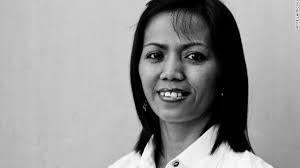 The ironic injustice of national borders is on full-spectrum display this week.
How much longer will we accept it?