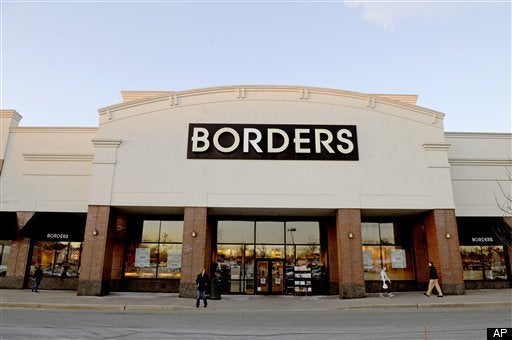 NEW YORK (By Phil Wahba) - Borders Group Inc, the second-largest U.S. bookstore chain, filed for bankruptcy protection, after years of sharp sales declines that made it impossible to manage its crushing debt load, and it plans to close nearly one-third of its stores.
Its inability to garner significant online business and its near absence from the growing digital books market have made it difficult for Borders to compete with larger rival Barnes & Noble Inc and online retailer Amazon.com Inc.
Borders had liabilities of $1.29 billion and assets of $1.28 billion as of December 25, 2010, according to documents filed on Wednesday with U.S. Bankruptcy Court in Manhattan.Borders Group President Mike Edward said in a statement that the chain "does not have the capital resources it needs to be a viable competitor."
Borders said in January it might have to file for bankruptcy if it could not meet certain conditions for securing a $550 million credit facility from GE Capital, a unit of General Electric Co (GE.N: Quote, Profile, Research, Stock Buzz).
It failed to meet those conditions, which included arranging financings with other lenders, vendors and landlords.
In bankruptcy, GE Capital will provide Borders with $505 million in debtor-in-possession financing to allow it to continue operating, contingent on court approval.
Borders, whose second largest shareholder William Ackman has said it was his worst investment ever, had been preserving its cash by delaying payments to suppliers, such as publishers and landlords.
Sales at Borders declined by double-digit percentage rates in 2008, 2009 and in each quarter in 2010 it has reported.
Borders, which has 6,100 full time staff, operates 508 namesake superstores as well as a chain of smaller Waldenbooks stores.
The company said it would close about 30 percent of its stores in the next several weeks and plans to continue to pay its employees.
Borders' largest unsecured creditors include major publishers that provide the books it sells. Borders owes Pearson PLC's Penguin $41.2 million, Hachette Book Group USA $36.9 million, and CBS's Simon & Schuster $33.8 million, according to court documents.
The case is In re: Borders Group Inc, U.S. Bankruptcy Court, Southern District of New York, No: 11-10614.
(Reporting by Phil Wahba; additional reporting by Santosh Nadgir; Editing by Derek Caney)
FULL LIST OF STORE CLOSINGS BELOW:
Related
Popular in the Community