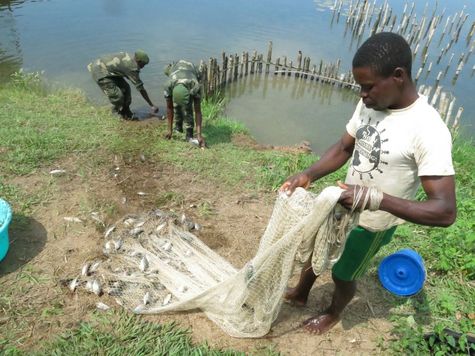 Promptly at 9 a.m. on a Monday in late April, Dr. Andy Hale gathered his immediate staff for their daily meeting on the porch of his colonial-era home. The storm from the night before seemed to be keeping the heat at bay, but by this point I knew too well it was temporary in Kisangani in the Democratic Republic of Congo (DRC) and was grateful for the shade.
Dr. Hale, who runs the Norman Borlaug Institute for International Agriculture's Camp Base Initiative in the DRC, had invited me to sit in on the meeting and tour the project that day. Seated around a table, each of his staff provided updates for various tasks. Talk of tractor maintenance, picking up a solar pump, and planting schedules gave way to a discussion on the day's harvesting of fish.
An hour later we were driving down an even, red dirt road parallel to the Congo River heading to the project's fishery to observe the harvest from the ponds stocked with tilapia. The fishery, on the outskirts of town, is one of three sites (a processing center and crop fields comprise the other two) in Kisangani created to teach Congolese soldiers food production with money from the U.S. Department of State.
Kisangani is the DRC's third-largest city, a somewhat decrepit urban area, home to approximately one million people. It is the country's most important inland port and the capital of the Orientale Province.
The project's overall mission is to help stabilize the army and give people who have known nothing but soldiering and war, some of whom have slept in the jungle in the dirt for months on end, the skills to grow food to help feed themselves.
The food crops that are grown -- cassava, maize, cowpeas, and beans -- are primarily to feed the soldiers on campus, providing 65 percent of the food served out of the base's kitchen. The 60 soldiers who are part of the "A" team, which does most of the work, qualify for 10 percent of the total harvest to take back to their families.
"The monetary value is not great, but eating every day and taking food home to their families is a big deal to these guys," said Dr. Hale. "These guys have respect for the program, and they want to be part of something that is successful and that is not an opportunity that they've ever really had before."
We arrived at the fishery site and I was able to see a civilian casting a net into one of the ponds and soldiers assisting him by gathering up the fish emptied from the net along the grassy incline. Some of the fish caught would go to the base's kitchen and some to the local hospital for two soldiers who were in a recent accident.
What was especially significant about this demonstration of collaboration between soldiers and civilian is that one likely would not have seen it over a year ago. Two civil wars and years of armed conflict between militias have caused a tremendous amount of suffering in the country since 1996. According to Human Rights Watch, the Congolese army is the single largest group of perpetrators of sexual violence against female civilians in the country. As a result, in many communities, especially those in eastern Congo, there has been a great deal of mistrust between soldiers and civilians.
Germain, a young man, who grew up in Kisangani, and now works for Dr. Hale as his assistant, applauds the results of the project. He said the soldiers work at one of the project sites the first half of the day, then some go home and apply what they have learned on home gardens, offering little time to get into trouble. "They also can't attack civilians, because they'll come and plant and harvest and their wives will be working with civilians," he explained.
By bringing soldiers and their wives together with villagers to work side by side for planting and harvesting with the common goal of feeding their families, Dr. Hale has created an opportunity for trust-building between soldiers and civilians and helped the people living in the area with the monumental task of fence-mending.
The community and the soldiers themselves look at their lives differently -- they are not just soldiers, but farmers.
When Dr. Hale arrived in Kisangani in 2013 he found soldiers were not showing up to work. A conversation with the base's leaders indicated it was because their day-to-day needs were not being met. He responded by monetizing the program's pig and cattle production and creating a bank account soldiers could draw from when sick or hurt, and that would cover up to $50 in funeral expenses for a member of a soldier's immediate family. To a soldier who is paid $70 a month, getting $10 towards medical treatment is a big deal. And, in a country where the life expectancy is 52 years of age and people have large families, the importance of this latter incentive cannot be underestimated. Neither should Dr. Hale's effectiveness and the results he has achieved thus far.
Germain shared the story of a young soldier who came out of the jungle and beat up an old man who was guarding the fishpond and caused trouble. Not long after his arrival, about six months ago, he was put in front of Dr. Hale, who spoke with him and oversaw his training, and now he is described as one of the best workers.
"It's awesome to see how much pride they have in what they are doing and how the respect that other soldiers and civilians have for them and what they are doing," Dr. Hale observed of the young soldier and his friend.
"When they first came in I asked them 'is it better here or was it better when you were in the jungle' and they said 'no, it's better here.' I said 'why' and they said 'well, because when we were sleeping in the jungle we thought we were going to die every night so (it was about) just making it through and here we have things to do and we're learning new things and feeding ourselves.' So, it's pretty cool to see that kind of transformation among certain individuals, but collectively you can see how things are operating. Systems are in place and they are running the farm."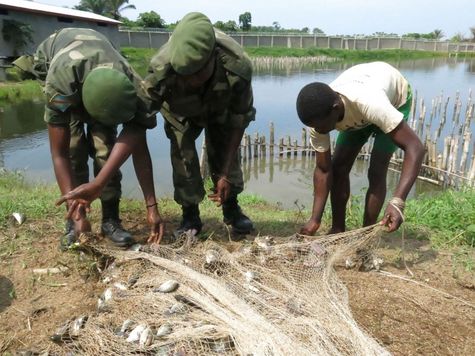 Photos by Sharon Kitchens