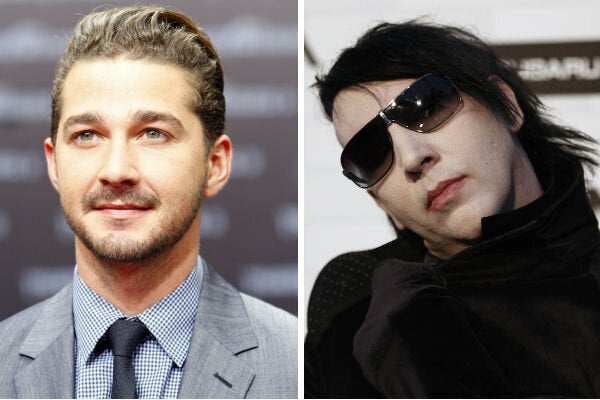 The project, called "Born Villain," includes a short film trailer for Manson's upcoming album of the same name, starring Manson and directed by LaBeouf (who got the job after directing Kid Cudi's "Marijuana" video earlier this summer), as well as a book of photographs snapped by LaBeouf and Pho. From what we can tell, the pictures are mainly of other peoples' graffiti and cut-outs LaBeouf and Pho made of themselves, taped around Los Angeles.
Our initial objective was to promote something we believed in -- a short film we both worked on for Marilyn Manson's upcoming album. We found ourselves taking risks on a whim. Artistically your mind works at its highest frequency when paranoid. It allows you to explore every avenue and possibility of your situation at high speeds with total clarity. Born of this new found outlook on a city we had become ambivalent towards, we quickly found ourselves addicted to the recreation of spaces. So, armed with a truck, some rollers and glue for our image we went out in search of the best canvas. Our experiment in self-propelled and executed promotion became our aesthetic and the basis for this book. Some become cops to make the world a better place. Some become vandals to make the world a better looking place. Enjoy.
So true! But they left out, "some become actors to make a $75 book out of pictures they took of posters they put up."
The film shows tomorrow night at Space 15 Twenty in Los Angeles, with guaranteed entry only for those who've bought the book.
WATCH LaBoeuf and Pho hard at art:
Related
Popular in the Community