Bosco Sodi is an artist who likes to lose control. Born in Mexico City in 1970, he's famous for his raw, cracked, and chemically eroded paintings, the results of careful experimentations with pigments, sawdust and a host of other materials. Yet while his process of exploring the intriguing reactions between canvas and mixed media is partially planned, the accidents and unpredictable forms that arise during his bouts as a mad scientist are what truly fuel his work.
Sodi's preoccupation with accidents stems from his reverence toward the Wabi-sabi philosophy, the Japanese worldview that honors the beauty found in impermanence and imperfections. It's a theme that's readily observed in his upcoming exhibit at London's Pace Gallery. Like his past body of work, the pieces on view in "Graphein" resemble the surface of another planet, filled with mysterious crevices and bold hues, reminiscent of the color-worship of Yves Klein. There's continuity between the crumbled, amorphous creations, but there's a also a lingering sense of sublime chance as bulges and fissures appear before your eyes.
We spoke with Sodi ahead of his new show, and the Mexican painter/mixed media guru shared with us his thoughts on art making, consumerism and the value of creative freedom.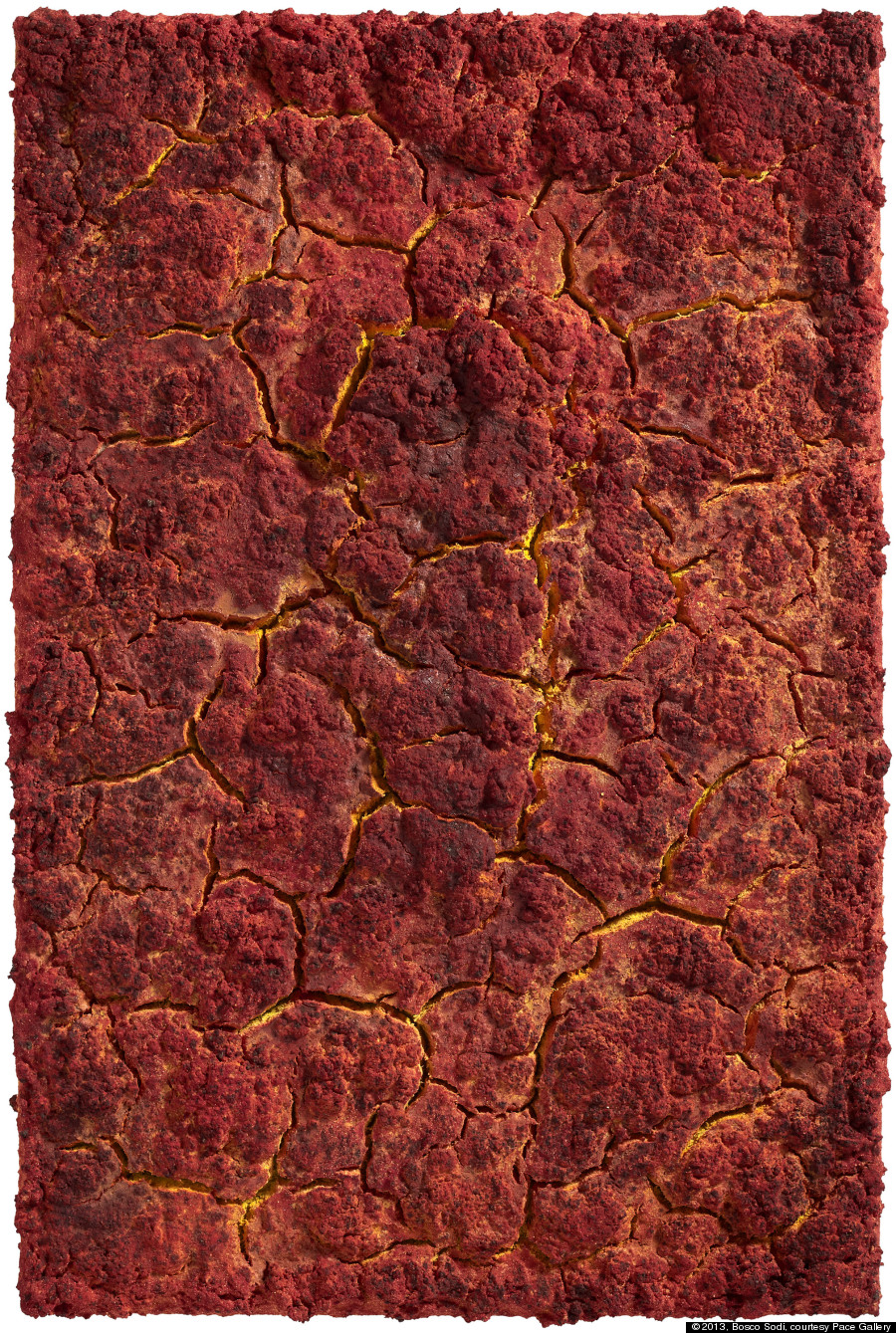 Untitled, 2012. Mixed media on canvas, 73-1/2" x 74-1/2" (186.7 cm x 189.2 cm). ©2013, Bosco Sodi, courtesy Pace Gallery
I've read that you practice Wabi-sabi philosophies. How does this type of worldview or aesthetic play into your painting?
Well, it's about imperfections and the uncontrolled. How the passage of time makes things unique. For me, [painting] is a very organic process, but it can also be unpredictable. That's what I look for -- the least control as possible. The Wabi-sabi philosophy reminds us to focus on the impermanence. We as humans are impermanent, but consumption is so high and we constantly think that everything should be brand new. People are too often looking for that aesthetic. I believe we have to remember we are just here for a time. The more valuable things are therefore the unique aesthetics.
What is the preparation like for one of your paintings?
Normally I try to not to come with any idea ahead of time. I begin to mix and play with pigments and sawdust and the various materials I use. It's much more about process for me. When the viewer is looking at [a painting], I can't affect the interpretation. So I just avoid any prefabricated ideas. I am as clean as possible. This make the process more personal, and allows me to find accidents and unpredictable outcomes. I really am trying to just avoid that "plastic" look. My work cracks and forms into something that looks like it's from Mars or the moon or the surface of a volcano.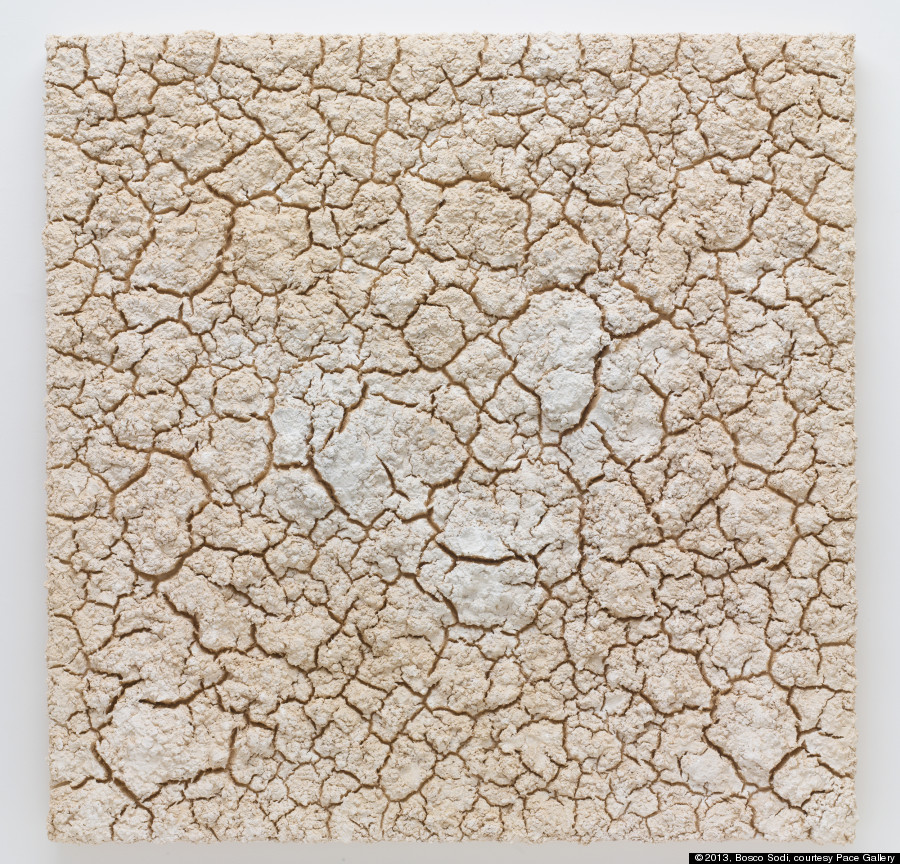 Untitled, 2012. Mixed media on canvas, 73-1/4" x 73-1/4" (186 cm x 186 cm). ©2013, Bosco Sodi, courtesy Pace Gallery
How do you choose your colors? Is this something that happens more organically or do you walk into a project knowing which palette you'd like to express?
Each pigment reacts completely different with the materials, so it is always a process of experimentation. Sometimes I spend four or five months with one color. I play a game of mistakes and I research each mistake until I find the right recipe. It's like a science. I make samples in my laboratory of chemicals.
Why have you chosen to work in abstraction, over say figurative or landscape painting?
It is much more interesting to me -- abstract expressionism. For me the whole thing is to have this freedom. You don't have that in a realistic painting. It's much more about technique and outcome.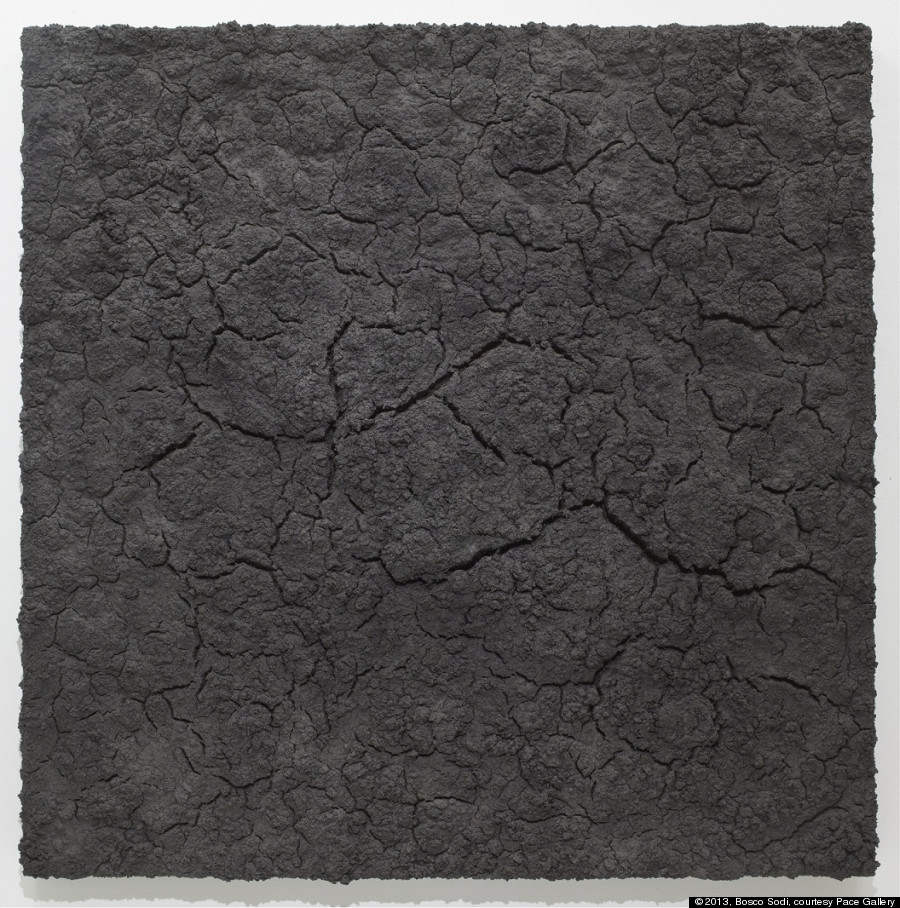 Untitled, 2013, mixed media on canvas, 188 cm x 188 cm (74" x 74"), ©2013, Bosco Sodi, courtesy Pace Gallery
I noticed that Pace Gallery lists Mark Rothko and Jean Dubuffet as some of your inspirations. Do you consider Yves Klein to be an influence as well?
Not so much. He uses color as object, not as a transport to the soul. I want the viewer to get inside the painting. To get the soul to fly over it so you can make your own conclusions.
Beyond artists, what other things inspire your works?
I grew up doing experiments and my mother would take us to museums and teach us about art. But I am constantly interested in nature. I want to walk and be around nature, because in the end, it heals us all. I'm trying to make work that represents that.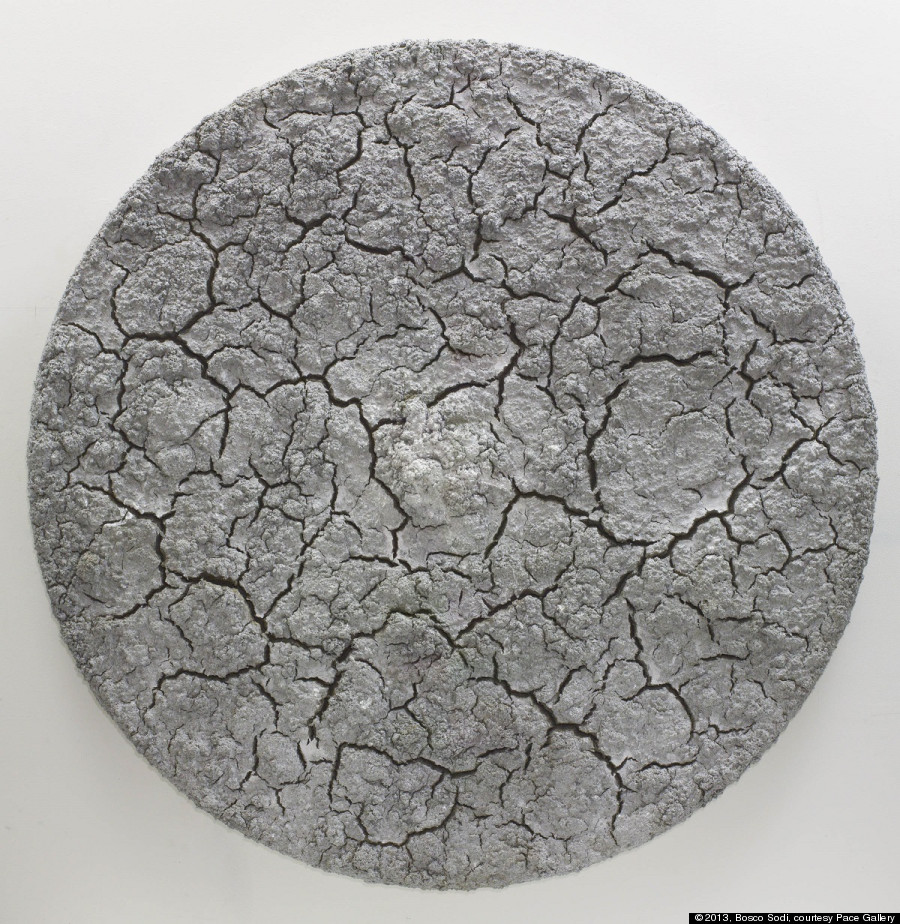 Untitled, 2013, mixed media on canvas, 189 cm (74-7/16"), ©2013, Bosco Sodi, courtesy Pace Gallery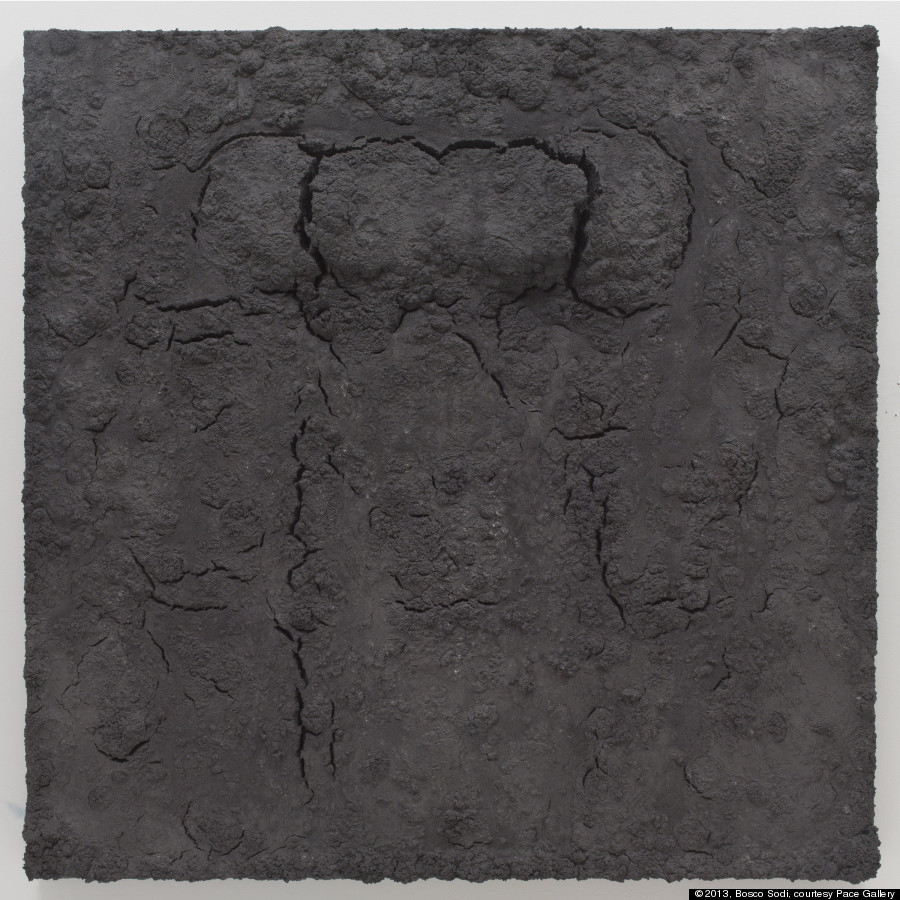 Untitled, 2013, mixed media on canvas, 186.1 x 188 cm (73-1/4 x 74"), ©2013, Bosco Sodi, courtesy Pace Gallery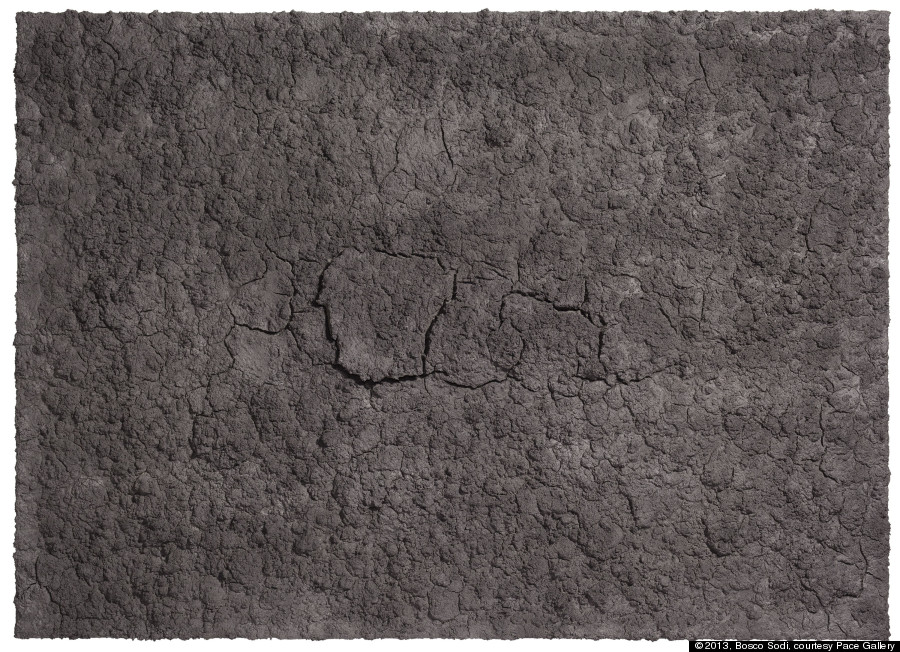 Untitled, 2012, mixed media on canvas, 200 x 280 cm (78-3/4 x 110-1/4), ©2013, Bosco Sodi, courtesy Pace Gallery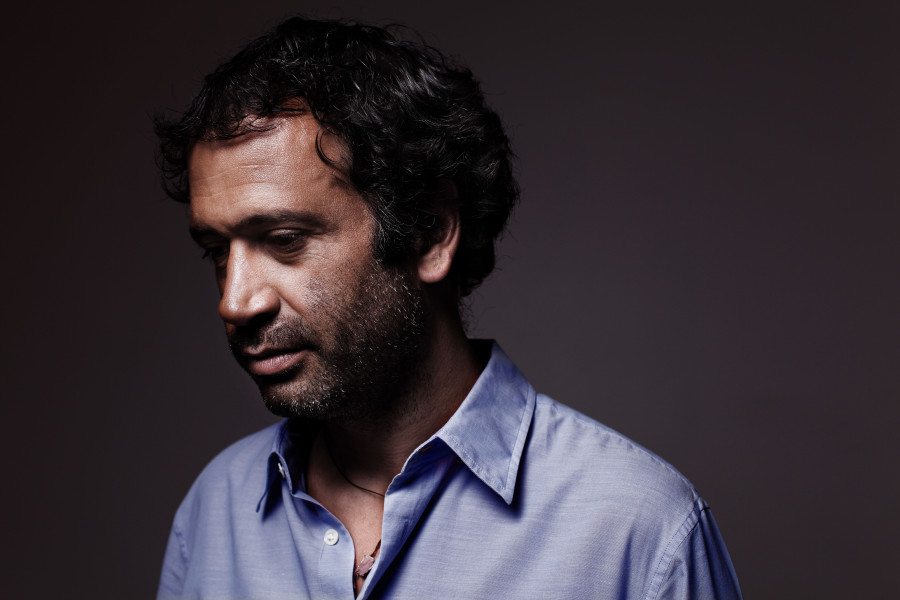 Bosco Sodi
Bosco Sodi will be showing at Pace Gallery's Lexington Street location in London from Sept 6 to Oct 4, 2013.
Calling all HuffPost superfans!
Sign up for membership to become a founding member and help shape HuffPost's next chapter