At long last, some good news from Bosnia and Herzegovina. It seems all levels of the government are working rather well together, coordinating and synchronizing activities on the comprehensive set of social and economic reforms meant to create a better fiscal and legal framework, to attract more investments, curb corruption, renew economic growth and set the country firmly towards European Union membership. The international community supports the effort, launched by the UK and Germany earlier last year. Twenty years after the Dayton Peace Accords were signed at the Wright-Patterson Air Force Base in Dayton, Ohio, bringing peace to this war-torn nation, the country struggles to reach consensus on how to move forward. Three attempts to amend the constitution to make the country more functional from its current complex structure of 13 governments, 13 parliaments, administration with over 150 ministers, two entities, and ten Cantons within the Federation, have failed. In addition, necessary constitutional reform to guarantee equal rights to every citizen and minority group deprived of possibility to run for the highest elected office, known as the "Sejdic - Finci" European Court ruling, failed as well. Bosnia and Herzegovina's lack of progress resulted in social unrests last February that led in burning of government office buildings in Sarajevo. People demanded an end to political corruption, change, jobs, and equal opportunity for all. While broader political and institutional reforms are needed, effective and productive focus on social and economic reforms is currently a top priority that seems to have brought the country more together than ever before.
Last November, the Center for Transatlantic Relations SAIS at Johns Hopkins University in Washington DC brought together all key stakeholders to discuss and advance this effort. Representatives from the U.S. government, European Union, International Monetary Fund, the World Bank, European Bank for Reconstruction and Development, experts, academia, and high level representatives from the government and civil society from Bosnia and Herzegovina.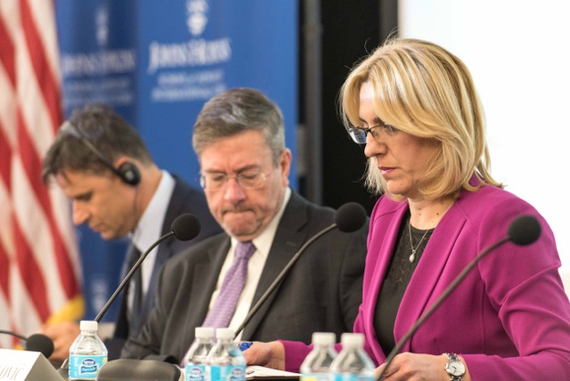 Prime Ministers Fadil Novalic (left) and Zeljka Cvijanovic (right) with Daniel Hamilton (center), Executive Director of the Center for Transatlantic Relations SAIS at Johns Hopkins University in Washington DC (Photo: Center for Transatlantic Relations SAIS)
One of the panelists was Goran Mirascic, a Senior Advisor to the Prime Minister of the Federation of Bosnia and Herzegovina. Mirascic is also an Assistant Professor of Economics at the University of Sarajevo of Science and Technology and member of an Expert Body of the Fiscal Council of Bosnia and Herzegovina. He spoke with firm determination and conviction that the country is finally on the path to eventually becoming a member of the European Union:
"In July of 2015, both entity governments and the Council of Ministers adopted a Reform Agenda for the period 2015-2018 for Bosnia and Herzegovina. This particular document outlines main sectors in which reforms are required and has been completed with the assistance of the EU Delegation to Bosnia and Herzegovina and in cooperation with international financial institutions. While we in Bosnia and Herzegovina have issues on which we repeatedly fail to achieve consensus, the Reform Agenda is something that we all agree on. It comprises six key sectors, later on developed into an "Action Plan" outlining specific activities and the institutional responsibility for each.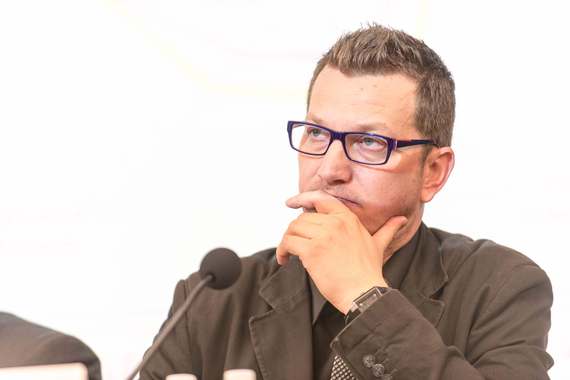 Goran Mirascic, Senior Advisor to the Prime Minister of the Federation of Bosnia and Herzegovina (Photo: Center for Transatlantic Relations SAIS) These six key sectors are:
Public Finance, Taxation and Fiscal Sustainability
Business Climate and Competitiveness
Labor Market
Social Welfare and Pension Reform
Rule of Law and Good Governance
Public Administration Reform
"The Reform Agenda serves almost as a pre-requisite for the new arrangement with the International Monetary Fund. Bosnia and Herzegovina will be requesting an Extended Fund Facility Arrangement with the IMF as it has a more favorable repayment scheme. Arrangement with the IMF will serve as the base for the Development Policy Loan with the World Bank and hopefully, for Macro-Economic-Assistance of the EU or some other assistance from the EU. Arrangements with the international financial institutions, once finalized, will send a strong signal to potential investors that there is political, economic, and social stability in the country. What this country needs now is economic growth and more jobs. Everything else will follow. We have the momentum, we enjoy the support of the international community, we have consensus within the country, so there is no obstacle to continue implementing structural reforms that will lead to better days in Bosnia and Herzegovina."
Over One Million Tourists Visited Bosnia and Herzegovina Last Year - The Booming Tourism Industry is Bracing for More
Both entities, the Federation of Bosnia and Herzegovina and Republika Srpska, bearing much of the reform workload, adopted a new Labor Law to the applause of the international community. The country, however, must really hurry up and work responsibly, efficiently, and much harder, to catch up much of the lost time. As Mirascic pointed out, improving the investment business climate, providing a stronger support for the robust private sector growth, eliminating political influence on the economy, comprehensive health sector reform, and public administration reform are but a few of the urgent reforms needed.
Quickly implementing reforms will be the key to success. Let us hope this renewed international attention, support, and focus on Bosnia and Herzegovina, along with strong declarative commitment for comprehensive reforms by country's leadership, will harvest good results, significantly improve the standard of living, and open up the country for business. Something that is so long overdue for the brave and wonderful people of Bosnia and Herzegovina.
Popular in the Community