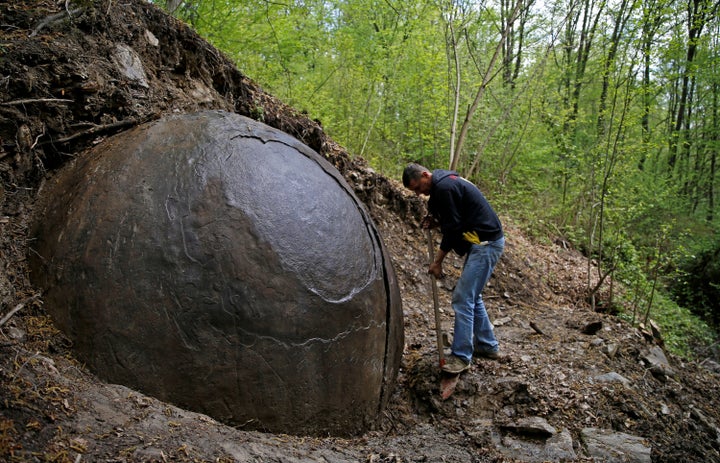 A 10-foot-wide, stone ball recently discovered in a Bosnia forest is touching off a hot debate in academic circles: Was it created by Mother Nature ... or a lost civilization?
Located near the town of Zavidovici (see Google map image below), the giant sphere -- the largest of a group of such objects -- is partially sticking out from the ground, and according to archaeologist Sam Semir Osmanagich, who discovered the stone in March, it may have a very high iron content and weigh over 30 tons.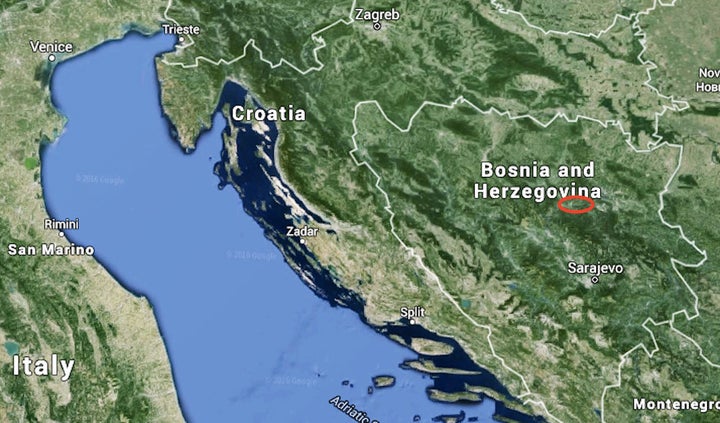 "It might end up as the biggest stone ball on the planet," Osmanagich tells a group gathered at the object in the Bosnian forest, as seen in the video below.
In a blog written last month for his Archaeological Park: Bosnian Pyramid of the Sun foundation, Osmanagich suggests the Bosnian ball could be the largest man-made stone ball in Europe. He says many others found throughout the world could point to long-lost "advanced civilizations from the distant past, and we have no written records about them.
"Secondly, they had high technology, different than ours. Finally, they knew the power of geometrical shapes, because the sphere is one of the most powerful shapes along with pyramidal and conical shapes," he continues.
According to UNESCO -- the United Nations Educational, Scientific and Cultural Organization -- similar stone spheres have been found at several sites in Costa Rica.
The objects' "meaning, use and production remain largely a mystery. The spheres are distinctive for their perfection, number, size and density, and placement in original locations. Their preservation from the looting that befell the vast majority of archaeological sites in Costa Rica has been attributed to the thick layers of sediment that kept them buried for centuries."
The following video of the Costa Rica stone spheres illustrates the similarities between them and the one uncovered in Bosnia:
Osmanagich's discovery has sparked controversy among other researchers and academics with his claims that, in addition to the large stone balls, certain hills in the Bosnian Visoko Valley and Herzegovina harbor ancient underground tunnels and pyramids.
"There is some genuine archaeology on the hill and I'm told it's medieval, possibly Bronze Age or Roman," Anthony Harding of the European Association of Archaeologists told The Telegraph.
"The speculation that there could be a 12,000-year-old structure beneath is a complete fantasy, and anyone with basic knowledge of archaeology or history should recognize that," Harding added.
And regarding Osmanagich's belief that the giant Bosnia sphere wasn't created by nature, Mandy Edwards of the University of Manchester's School of Earth told the Daily Mail the stone may be an example of something called concretion: A compact -- often spherical -- rock mass forms from the precipitation of natural mineral cement in the spaces between particles.
The jury is still out on whether these spherical objects were handmade by a lost civilization or Mother Nature's handiwork in growing big balls.
Related
Before You Go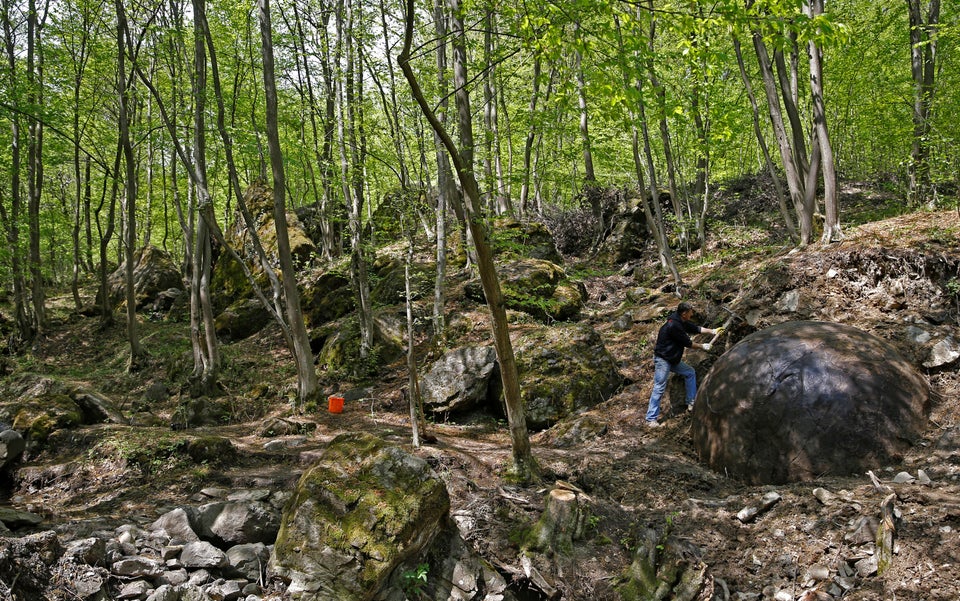 Giant Stone Spheres
Popular in the Community