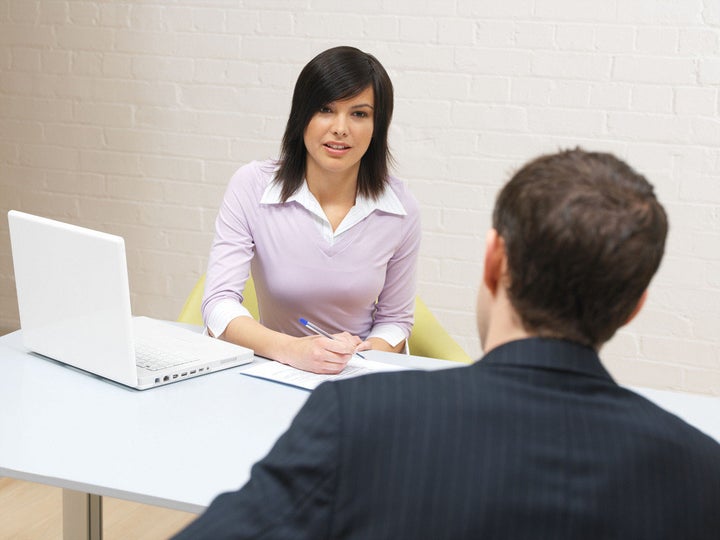 Boss' Day is right around the corner, on October 16th to be exact. So, this is the perfect time of year to let your boss or bosses know how much you appreciate their leadership and your position at the company. Typically, people on the team chip in whatever they can, $20 and up, to get one big gift. That way, no one ends up feeling like a kiss-up or like they didn't do enough. Don't fret, though, I threw in some budget-friendly ideas too in case you are your boss' sole employee or your co-workers decide they'd rather do their own thing this year.
The first step? Get organized! Start an email chain to the team where you can share ideas and eventually decide on one gift. Decide who will collect the money, who will buy it and who will wrap the gift. Designate someone to get the card and pass it around for everyone to sign. In other words, get all of the fun little details delegated!
Finding the perfect gift for your boss can be stressful and complicated. I put together this list of gifts to get based on five different types of bosses out there. I hope that your boss falls into one of these types. If not, comment below and I will try to gather some specific ideas just for your boss.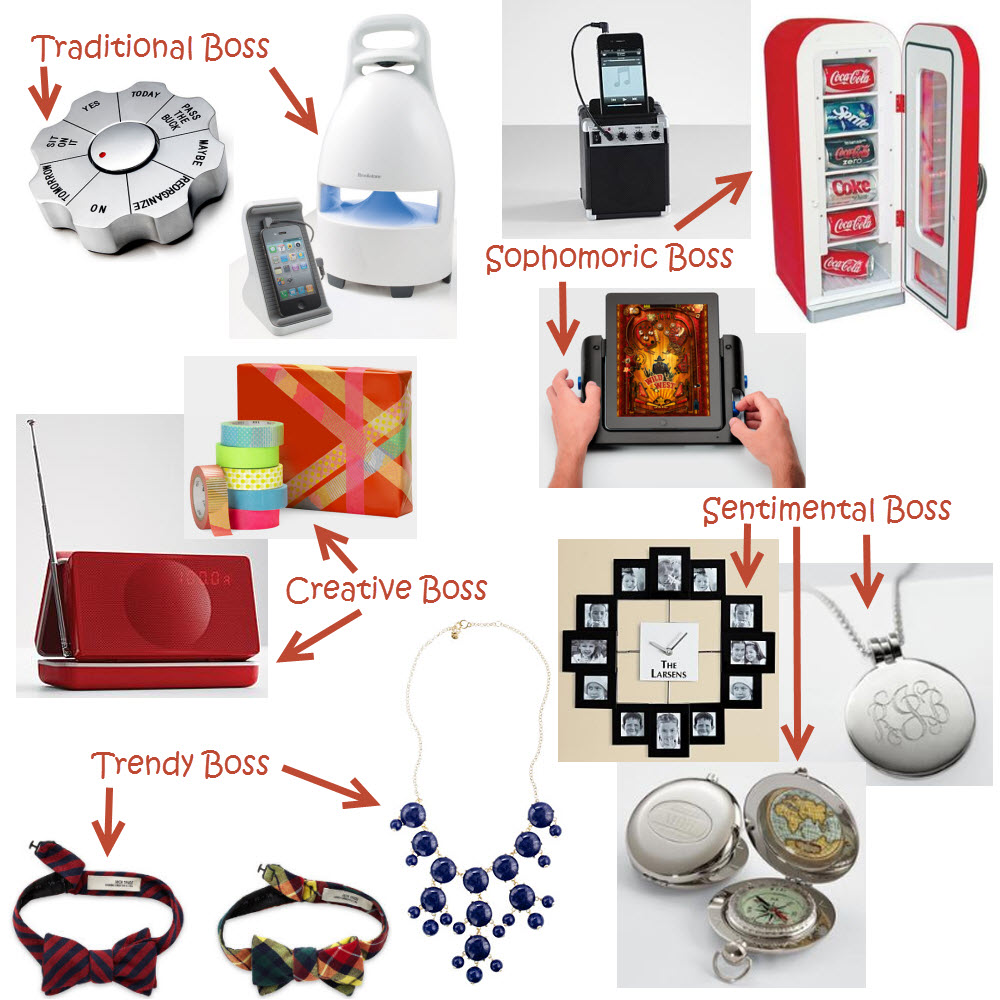 Traditional Boss
You work at a bank or a formal firm. This boss wears a suit every day and takes work very seriously.
For a more affordable gift, try the Decision Paperweight for $15. It eliminates the burden of choice, while simultaneously making them smile. If you're going in with the whole group, splurge on an Outdoor Wireless Speaker and Dock for $159.99. This gadget wirelessly transmits music up to 150 feet away, so they can take their crisply amplified sound from the home office to the kitchen to the patio.
Sophomoric Boss
This boss still acts like he or she is in college and loves a good laugh. You might work at an Internet start-up or a social media agency.
Goofy bosses love their time-sinking gadgets, and one big trend in gadgets this year is adapting old technology to new. For example, the Duo Pinball iPad Controller brings the old school magic of pinball to their desktop. An easy-to-download app gives them access to loads of fun pinball "machines" to play on their iPad that feel just like the real thing, flippers and all.
The Amp Style Retro Speaker will have them feeling like they're back in the band. Plus, at only $29.95, this is a bill you can foot solo or easily split with one other co-worker. For the group gift, spoil your boss with the Retro Coca-Cola 10-Can Vending Fridge $179.99. It will either remind them of the good old days they lived through or give them that nostalgic feeling as if they were there.
Creative Boss
This boss has a refined sense of design. You probably work at an ad agency, architecture firm, gallery or magazine.
For something fun with a side of practical, not to mention affordable, pick up Washi Paper Masking Tape. It comes in colorful sets of six ($24) or eight ($30), or a black and white set of eight. This is the perfect touch on a gift, or a snazzy way to seal an envelope. For the collective gift, you won't find something nicer than the Geneva XS Portable Music Player for $299.95. Just make sure you have a lot of co-workers in on this one!
Trendy Boss
This boss is all about being up on what's hot. You might work for a PR or marketing agency, in the retail industry, for a trendy magazine or website.
Show your boss how much you appreciate him with a flashy bow like these from Jack Spade! For just $78, these come in striped, plaid and paisley, each revealing a look that's better than the next. And for her, try a statement necklace like the one that started it all for J.Crew, the J.Crew Bubble Necklace for $150. I can't think of a better way to dress up anything from a simple dress to a paints suit to a plain jersey tee.
Sentimental Boss
This boss has pictures of the family all over their desk and lots of inspirational phrases peppered around the office. You might work for a small business or a local service company.
Shopping for a sentimental boss is a piece of cake. Usually something personalized and display-worthy will do the trick; like this Photo Frame Wall Clock for just $29.99 and the Personalized Pocket Compass for him at $99.95. Another favorite of mine is the Personalized Signet Locket Necklace for her at $139.95. The wall clock is so useful -- not everyone wears a watch anymore or likes to be reliant on their phone to tell the time -- and they can show off 12 of their favorite photos to boot. With family photos for every hour, watching the clock has never been more fun. The pocket compass makes a perfect gift because they'll never get lost in the real woods, plus it is symbolic of the boss's leadership and ability to find their way out of the proverbial "woods" too. The sentimental locket, for ladies, holds two photos, and can be engraved with a three-initial monogram. It would be fun to put some miniature photos of your last company gathering in there to make her laugh. She can swap them out later if she wants to.
Don't forget to take it easy on your boss on their special day too. Gifts can go a long way but they are no excuse to coast (wink). So on that note, happy gifting, employees!
Dana Holmes is a lifestyle, gift & etiquette expert who is the editor-in-chief of Gifts.com and the Gift Rap Blog. She has been working in trend forecasting and gift recommendations for the past decade. Dana loves making occasions special with her unique gift ideas, tips and touches. She has been interviewed by the New York Times, Associated Press, Fox & Friends, TODAY in NY and many more.
Related