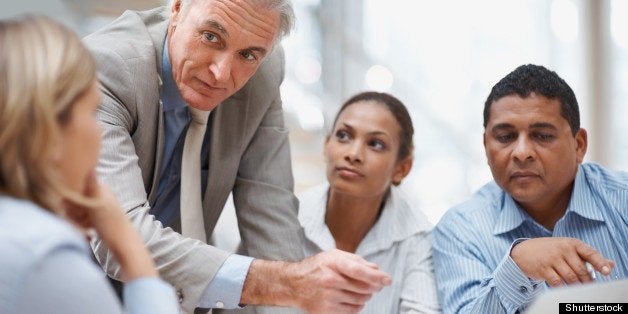 You pitch a brilliant idea to your boss; she rejects it. Weeks later she presents your idea—the one she previously shot down—to the executive suite. They love it, and your boss takes all the credit.
Why does this happen so frequently?
"Power grabs can happen in any corporate environment because the system is simply set up for competition," says Lynn Taylor, workplace expert and author of Tame Your Terrible Office Tyrant. "However, there is healthy and unhealthy competition. This variety breeds backstabbing and a pandemic of the glory hog syndrome. The uncertain economy and still relatively high unemployment also creates fertile ground for job insecurity and credit stealing. So the practice becomes a misguided insurance against being on the chopping block."

(Click through to see the entire list at Forbes)
Taylor says bosses may think, I have to be accountable for all the bad news and mistakes, why not take credit for all the good? "Unfortunately, those moments of glory and style of management will be fleeting. It will soon erode the dedication and results of the hard working staff behind all the kudos."
Teri Hockett, the chief executive of What's For Work?, a career site for women, says some workplaces instill a strong commitment to teamwork and employee recognition to prevent this type of situation. "This allows the very best ideas and people in the organization to rise," she says. "On the other hand, it's not uncommon for bosses to take credit for the work of their employees, for many different reasons."
One, some bosses believe that they are entitled to own everything their team produces, Hockett says. "And since many deal with plenty of challenges, from poor earnings to upset customers and delayed projects, at some point they'll want to showcase something positive as their own, even if their employee produced the work."
Reason two: Many companies allow this type of behavior by not having clear guidelines and value statements in place that stress the importance of recognizing employees for their work, Hockett adds.
"Then there are bosses who feel threatened by certain employees," Hockett says. "Maybe the employee is smarter or produces ideas that others find valuable." If a boss feels threatened, they might take credit for their employee's work to prevent exposing their own shortcomings.
Finally, she says, a boss might take credit because of the competitive job market and high unemployment rate. "Some bosses believe they must protect their role at all costs, so the idea of elevating their employee's work contribution makes them uncomfortable."
While many employees want to get credit for their ideas or a job well done, most never do anything about it. But they should.
Taylor says every employee deserves to be acknowledged for their efforts. "When the boss steals your glory, it's stressful and a disincentive for you to put forth any extra effort," she says. "Recognition for great performance is equally important as is monetary reward for most employees. Just be sure you weigh the severity of the situation and pick your battles."
For instance, if you're interested in climbing the ladder within your company, and your boss seems to take credit for work that might give you an opportunity for a promotion, you should absolutely speak up, Hockett says.
Or, if you feel you've made an important contribution or headed a large project, only to witness a congratulatory pat on your boss's back, or other public acknowledgment by a senior executive based solely on your efforts, it can be crushing, and you should definitely take action, Taylor says. "When your self-worth at your job plummets, and you feel unnoticed or unimportant, [it's time to do something about it]."
Don't assume the worst. "Avoid assuming that the boss did in fact take credit for your work intentionally," Hockett says. Sometimes bosses will speak in such a way that they take ownership, but in fact it's just part of how they encompass all aspects of their team when sharing feedback with others.
Alexander Kjerulf, an international author and speaker on happiness at work, says, "It may be an honest mistake or a misunderstanding or a bad habit–and if so, the only way to fix it is to talk about it. Some bosses can learn if you talk to them."

Have a heart to heart. Approach your boss sooner rather than later. "Waiting will make resentment fester," Taylor explains. "Start and end the conversation on a positive note and discuss various projects. After your positive comments about the job, say something like, 'I wanted to mention something that has been on my mind, if this is a good time…It set me back a bit when you mentioned earlier to Joe that you just secured the Smith account. I worked for three months to bring the account in, and it was discouraging. Maybe you had a particular reason for doing that, but I'd like to discuss it with you…' Remember, always end on a positive note!"
Document your work. If the problem persists, make a point to document your work, especially important projects, Hockett says. "If you keep good records, and later find yourself in a position where you're asked to provide more information or show how you came up with the idea, you'll be prepared."
Show the boss how it's done. "Your boss may be insecure about her position or not be adept at letting others shine," Taylor says. "But you can be a catalyst for showing her the light. Tell her how proud you are of other team members for their specific contributions, and how those are helping her. Over time it will help her see more of the benefits of giving credit; how savvy that makes you look; and how indispensable a team is to her own success."
Get your boss involved. If your boss is involved with the project, he may be less likely to try and steal the show, Taylor says. "He will see firsthand the hours and effort you've put into it. It may be more difficult for him to have an indifferent attitude about stealing your thunder."
REAL LIFE. REAL NEWS. REAL VOICES.
Help us tell more of the stories that matter from voices that too often remain unheard.
BEFORE YOU GO
PHOTO GALLERY
Workers Who Stood Up To The Boss