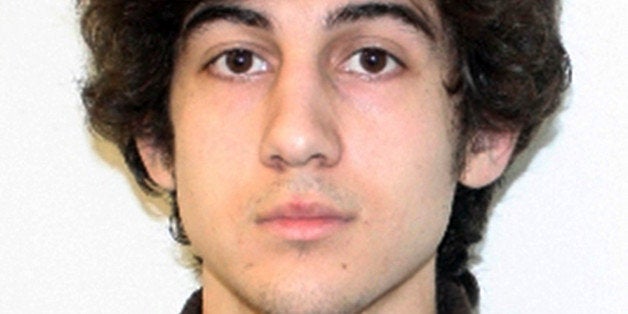 (Updates with prosecution's opening arguments)
BOSTON, April 21 (Reuters) - Convicted Boston Marathon bomber Dzhokhar Tsarnaev's attack in 2013 was "inexcusable" and "senseless," a U.S. prosecutor said on Tuesday as the government began making its case that he should be sentenced to death for the bombing and its aftermath.
Tsarnaev, a 21-year-old ethnic Chechen, was found guilty on April 8 of killing three people and injuring 264 at the marathon finish line and fatally shooting a police officer as he and his older brother, Tamerlan, prepared to flee three days later.
"Unbearable. Indescribable. Inexcusable. And senseless. All of those words have been used to describe the murders committed by Dzhokhar Tsarnaev," said Nadine Pellegrini, an Assistant U.S. Attorney, in the prosecution's opening statement of the sentencing phase on Tuesday. "The deaths committed by Dzhokhar Tsarnaev were deliberate, intentional and cruel."
Citing al Qaeda materials found on his laptop and a note in which he suggested the April 15, 2013 bombing was an act of retribution for U.S. military campaigns in Muslim-dominated countries, federal prosecutors have sought to paint Tsarnaev as a violent extremist.
But defense attorneys have countered that 26-year-old Tamerlan, who died following a gunfight with police hours after the officer's slaying, was the driving force behind the attacks, with Dzhokhar acting in a secondary role out of a sense of sibling loyalty.
Tsarnaev's lawyers opted to delay their opening statement until next week, when they are due to begin calling their own witnesses.
U.S. District Judge George O'Toole had blocked the defense from introducing much evidence about Tamerlan in the trial's first phase, but legal experts said Tsarnaev's attorneys will likely have much freer rein in the sentencing phase.
The sentencing phase of the trial is expected to last about four weeks. When it ends, the same jury that convicted Tsarnaev will decide between the death sentence or life in prison without the possibility of parole.
The idea of putting Tsarnaev to death is controversial in Boston. Massachusetts state law does not allow for capital punishment, which is an option in this case because Tsarnaev was tried in federal court.
More Boston-area residents oppose putting Tsarnaev to death than support it, according to opinion polls. Over the past week, several people whose family members were killed, or survivors who lost limbs in the attack, have spoken out against the death penalty for Tsarnaev.
They argued that a deal in which Tsarnaev was sentenced to life in prison without possibility of parole in exchange for giving up his appeal rights would spare victims, their families and the city of Boston from sitting through several more weeks of emotionally draining testimony and possibly years of appeals. (Reporting by Scott Malone; Editing by Grant McCool and James Dalgleish)
REAL LIFE. REAL NEWS. REAL VOICES.
Help us tell more of the stories that matter from voices that too often remain unheard.
BEFORE YOU GO
PHOTO GALLERY
Boston Marathon Bombings