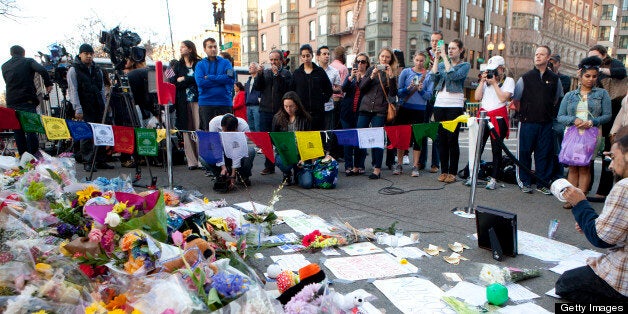 On Monday, I arrived in Beirut, Lebanon at about 9:45 local time, after a long trip from home in Boston. I sent a text message to my husband to let him know that I landed safely. Soon after, while checking into my hotel, I received a message back saying, "There were two bombs that went off at Copley sq but kids are home and safe." In my confusion and shock, I cried "What?! Bombs in Copley Square?!" and the Lebanese hotel clerk asked me what was the matter. I explained what I had just learned, and he said, "Thank God, your family is safe." The next day, he said, "I was the first Lebanese to learn of the bombings in Boston."
The irony of the situation was hard to miss. Here I was in Lebanon, a country that Western press reports depict as perpetually on the brink of a new civil war and that has witnessed more than its share of bombings, war, and terror. Just one day earlier, as I prepared to leave for my latest research trip to Lebanon, friends in Boston had cautioned me to be careful there and asked whether the war in neighboring Syria threatened to spill over. I assured them that I felt perfectly at ease in Lebanon, emphasizing that the country's political leaders in Lebanon have thus far done a pretty good job of holding the country together, despite mounting regional tensions. Little did I know that Boston would be the site of a terrorist attack.
After checking in, I raced upstairs to my room and watched the aftermath of the attacks in my neighborhood unfold on Arabic satellite television channels. It was surreal to see shots of the Boston Public Library, the Lenox Hotel, and what appeared to be the hollowed-out shells of stores such as Marathon Sports and Sugar Heaven located at the finish line of the Boston Marathon. While commentators on Al-Jazeera and Al-Arabiyya described the attacks, images of injured and shocked bystanders and marathoners and the efforts of first responders and good Samaritans played out on the screen. Whenever I watch these channels, the images of destruction, loss, and tragedy are from Afghanistan, Iraq, and, most recently, Syria, among other places in the region -- not Boston.
Boston has undergone a terrible tragedy. The pain that the families of the victims are experiencing must be unbearable. My heart goes out to them. Even those who were not injured by the explosions will suffer from the shock and trauma of the event. Life will never be the same. Sadly, what Boston just experienced has become a fact of life for Afghans, Iraqis, Pakistanis, Syrians, and others in this region. Depending on where the war has traveled in your country, going to buy bread or sending your children out to play is a game of Russian roulette. Beyond the very real possibility of death and destruction, the psychological toll of living under these conditions is enormous. The Lebanese know this all too well, having lived through 15 years of civil wars, subsequent Israeli invasions, and a series of unpredictable car bombs targeting political leaders and public figures that often kill innocent bystanders.
Under these conditions, people adapt by developing new understandings of space, conceptualizing bombs several blocks away as "far off," and learning to live with uncertainty and threat. But these are coping mechanisms that have their after-effects. Several years ago in Lebanon, I met a team of doctors from Doctors Without Borders. I asked them why they planned to work in Lebanon, which was no longer an active war zone. They explained that the population has high levels of psychological trauma, a normal response to all that they have witnessed.
In the aftermath of the Boston bombings, students at the school that my children attend have expressed fear and confusion, and the school's administrators have admirably stepped in to bring in a professional counselor to work with them and their parents. Some witnessed the bombings, albeit from a safe distance, and stories abound of near misses -- families watching from the finish line who chose to leave before the explosions occurred for a variety of reasons that, in retrospect, amount to random luck. Our own daughter had watched from the precise location of the first bomb with a friend and her friend's mother. Forty-five minutes before the bombs went off, they left because they were cold.
Based on what our community in Boston has undergone, I can only begin to imagine the nightmares and terrors that families in Iraq, Syria, Lebanon, Afghanistan and elsewhere across the globe have experienced as violence has invaded their everyday lives. Sadly, violence to innocents is a tie that binds.
Calling all HuffPost superfans!
Sign up for membership to become a founding member and help shape HuffPost's next chapter