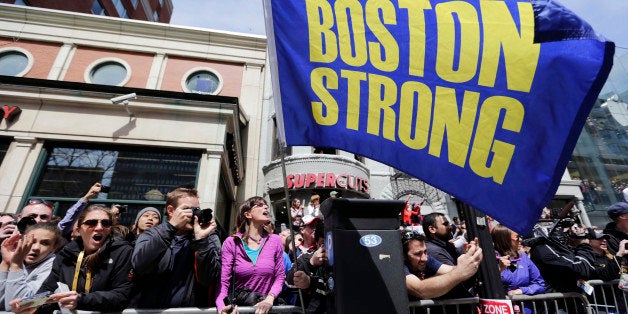 The trial of Dzhokhar Tsarnaev, the surviving suspect in the April 2013 Boston Marathon bombing, is scheduled to begin Wednesday. Nearly two years after the attack, The Huffington Post checked in on a survivor who lost part of her leg, a popular restaurant wrecked by the second bomb, a professor vilified for talking to Tsarnaev about Chechen history and the Watertown, Massachusetts, homeowner who found Tsarnaev in his dry-docked boat.
Heather Abbott was waiting to get into Forum, a bar near the marathon's finish line, when flying shrapnel hit her left foot.
Doctors advised Abbott, then 38 years old, that her leg would never be fully functional again. They amputated her foot and part of her leg.
Nerve pain still bothers the human resources manager from Newport, Rhode Island, but she's trying to cope without undergoing another operation.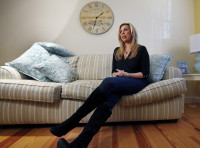 "Everything in life is different," Abbott told The Huffington Post. "Every place I go, I have to consider how much walking I'll have to do. The clothes I wear are different. Everything takes longer. I can't feel the snow and ice under my foot."
Donations helped defray most of her staggering medical expenses, which included one customized prosthetic that lets her wear high heels and another she wears when she goes stand-up paddle-boarding. Her insurance didn't cover either.
She said she doesn't know the sum of her medical bills, but the prosthetic that allows her to wear heels cost more than $70,000 and is supposed to last only a few years.
Abbott has made some media appearances since the bombing, including in segments for NPR and "Good Morning America." Because of these interviews, she heard from a 17-year-old girl who also had to have a leg removed. The teen said she wanted to wear high heels to her high school prom, but realized that her parents wouldn't be able to also afford college tuition if she got a prosthetic like Abbott's. This story pushed Abbott to help other amputees.
"I thought a lot about this fast lesson in the cost of prosthetic devices," Abbott said. "The Boston Marathon bombing was worldwide news. What if I had just gotten into a car accident and nobody knew about me?"
She recently started The Heather Abbott Foundation to raise money to buy prosthetics for people who can't afford them.
Abbott planned to host a launch event for her foundation next month at Forum, but the bar's closing last weekend has forced her to look for another venue.
When the bombs detonated on April 15, 2013, employees at the restaurant Forum helped keep customers calm and evacuate marathon spectators from the bomb site.
The bombing caused significant damage to the restaurant, which underwent four months of reconstruction and was the last business on Boylston Street to reopen after the attack. Its reopening was seen as a milestone in the city's recovery process.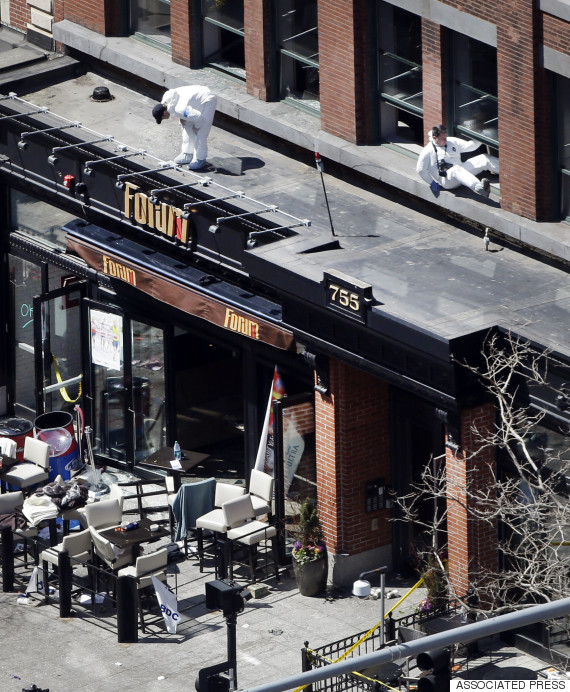 Investigators in haz-mat suits on April 16, 2013, examine Forum, the scene of the second bombing on Boylston Street in Boston. Some patrons of a Boylston Street restaurant praised the business' employees for their quick action. They say staffers at Forum kept calm and helped some customers evacuate using a back stairway after the explosions. (AP Photo/Elise Amendola, File)
Many people in Boston were disappointed when Forum's owners announced on Feb. 24 that the fatal blow to the business would be skyrocketing rent.
"After the tragic events of the 2013 Boston Marathon forced Forum to close for four long months of reconstruction, and with insurance claims still backed up by bureaucracy, our road to financial recovery was knowingly long," said Euz Azevedo, president of Boston Nightlife Ventures, which owned Forum, in a statement.
"Unfortunately, the current real estate climate on Boylston Street has motivated Forum's landlord to raise rent this year by nearly three times our current rate," Azevedo said. "This rent increase makes it financially impossible for Boston Nightlife Ventures to operate and sustain a business at a location that means so much to us and to our city."
Hundreds of customers packed Forum on Saturday night for a farewell party.
Once Tsarnaev was identified as the bombing suspect and captured, the question shifted from who would do something like this to why.
One path in the search for a possible motivation led to University of Massachusetts Dartmouth professor Brian Glyn Williams. Tsarnaev was a UMass Dartmouth sophomore when he was arrested. The two had been in touch when Tsarnaev was a high school student researching Chechnya, the Muslim region of Russia that is Tsarnaev's ancestral homeland and one of Williams' areas of expertise.
Williams became the subject of unwanted attention as criticism welled up online. Some called the professor Tsarnaev's mentor and speculated that he had contributed to Tsarnaev's radicalization.
Williams told HuffPost that he exchanged a few emails with Tsarnaev at least two years before the bombing, but that he never spoke with him.
"The word mentor was too strong," Williams said, adding that he was unimpressed by Tsarnaev. "He was not a standout student on any level. He was just halfway there, mentally."
He restrained himself from engaging with those that he said assumed the worst about his work.
"In some ways it was hilarious, and it was sad too," Williams said. "I just let it play out. No decent media ever said anything."
After the bombing suspects were identified as ethnic Chechens, the mainstream media pointed to Williams as the only professor in the U.S. teaching a course on Chechnya's wars with Russia. Williams has argued, in blog posts for HuffPost and elsewhere, that Chechens don't see the United States as an enemy and that they haven't filled the ranks of al Qaeda or the Taliban.
His next book, Inferno in Chechnya: The Russian-Chechen Wars, the Al Qaeda Myth and the Boston Marathon Bombing, is due out this summer.
The tense manhunt that confined Watertown residents to their homes while police searched for Tsarnaev came to an end because of Dave Henneberry.
The retired technician found Tsarnaev sprawled inside his 24-foot boat, which he kept outside his home. Henneberry called 911, which brought a rush of law enforcement personnel, who shot up the recreational vessel before capturing Tsarnaev.
The FBI seized the boat as evidence, as Tsarnaev allegedly scrawled a note into its panels confessing that the attacks were retribution for the United States government's mistreatment of Muslims around the world. Henneberry may get his boat back -- bullet holes and all -- after the trial and any potential appeals.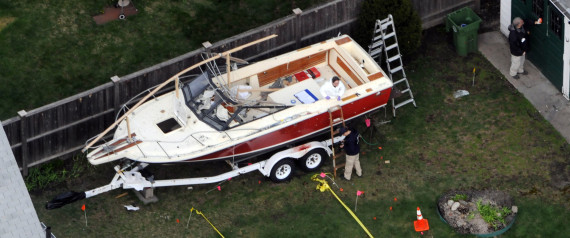 An aerial view of investigators searching the boat in Dave Henneberry's Watertown yard. Photo by Darren McCollester/Getty Images
A stranger from Texas, however, helped get Henneberry back on the water by spearheading a crowd-funding campaign that raised $50,000. Henneberry bought a replacement boat in October 2013.
"It's a fixer-upper," Henneberry said. He uses it "mostly just cruising around for recreation. It's a lovely boat and we're making it better."
It wasn't uncommon in the months after the attack for Henneberry to see curious people taking pictures outside his home, but he told HuffPost that his notoriety has died down.
"Every once in a while," he'll spot a visitor, he said, but "not so much anymore. I'm not trying to draw attention to myself."
Calling all HuffPost superfans!
Sign up for membership to become a founding member and help shape HuffPost's next chapter