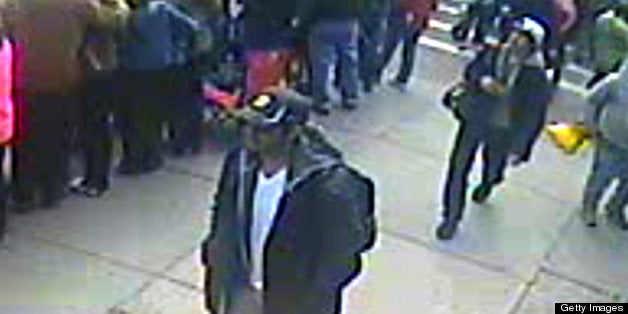 Both had moved to the U.S. over 10 years ago from the Russian area near Chechnya, said an uncle, Ruslan Tsarni, who lives Montgomery Village, Md., in interviews with news reporters. Social media accounts and interviews with friends point to both men being Muslims with an interest in Islamic insurgency movements in their homeland.
But the motives that led the men to the killings still remain unknown.
Chechnya declared independence in 1991 from and subsequently fought two wars against Russia, but eventually was brought back under Russian control. The area is predominately Muslim, and militants there and in Russia's North Caucasus have led attacks and bombings in Moscow and other cities for two decades. It's unclear whether either or both suspects supported that movement or other religious-based movements.
Peter Krause, a political science professor and terrorism expert at Boston College, said that the few details about the mens' backgrounds could point to several possible motivations.
"They are from Chechnya, but you could be American, Japanese, whatever, and it doesn't mean what you do is based on your nationality. They could be committing this for personal reasons or political reasons," he said. "It could be that these individuals are not affiliated with any organization or trained by them. They could be upset about their homeland, they could have thought of this as part of a larger assault against the west or Christianity by Islam -- that is heard among Chechen terrorists sometimes. You've had Al Qaeda fighters train in Chechnya, and Al Qaeda has been looking for more European-looking individuals to blend into society."
On Russian social networking site Vkontakte, the younger brother, Dzhokhar, has a profile last updated in mid-2012 in which he describes his "world view" as "Islam" and his "personal priority" as "career and money," and lists him as a member of the groups "CHECHEN'S" and "All about Chechnya Chechen Republic." The link for the second group leads to a page with the URL that includes the words "free_chechnya." Dzhokhar's profile page also has the words "Do good, because Allah loves those who do good."
The brothers were schooled in the U.S., and Dzhokhar graduated from Cambridge Rindge and Latin School in 2011. He won a $2,500 college scholarship from the city of Cambridge.
In interviews with networks on Thursday, relatives of the men were shocked about the attacks.
"I can't believe this, it's not possible," Alvi Tsarni, another uncle of the men who lives in Maryland, told CBS in a short interview.
When asked about what in the suspects' background could have led them to commit the bombing, Raslan Tsarni told MSNBC, "It has nothing to do with them being Muslim. They're losers ... anything to do with Islam, with religion is a fraud, is a fake." Their aunt, Maret Tsarnaeva, who lives in Toronto, told the Associated Press that Tamerlan was married and had a 3-year-old daughter in the U.S. She added that "recently, maybe two years ago, he started praying five times a day."
Separately, the suspects' father, Anzor Tsarnaev, said in an interview with the Associated Press that his younger son was a medical student who was a "true angel."
On CNN, a high school classmate described Dzhokhar as "just as American as I am or anyone else ... Smokes a little weed here and there." (Drug use is frowned upon in Islam).
A friend at Dzhokhar's high school told the Boston Globe that he last saw the suspect during Ramadan last summer at the Islamic Society of Boston building in Cambridge. Calls made by The Huffington Post to that mosque and other mosques in the Boston and Cambridge areas went unanswered.
A photo essay titled "Will Box for Passport" of Tamerlan, published in April 2009 before he competed at the National Golden Gloves competition in Salt Lake City, offered additional personal details about the suspect. (The photo essay has since been taken offline.)
In it, photographer Johannes Hirn reports that Tamerlan was a student at Bunker Hill Community College, wanted to become an engineer and had a girlfriend who had converted to Islam for him.
"Unless his native Chechnya becomes independent, Tamerlan says he would rather compete for the United States than for Russia," Hirn wrote in the profile, alluding to Tamerlan's aspirations to compete for the U.S. boxing team.
"I'm very religious," Tamerlan said in another part of the essay, adding that, as a Muslim, he doesn't drink alcohol. "There are no values anymore," he observed, and "people can't control themselves."
Regarding friendships, Tamerlan, who had lived in the U.S. for five years, said, "I don't have a single American friend. I don't understand them."
Slate reports to have found Tamerlan's Amazon.com wishlist, which includes the following titles: How to Make Driver's Licenses and Other ID on Your Home Computer; The I.D. Forger: Homemade Birth Certificates & Other Documents Explained; Secrets Of A Back Alley ID Man: Fake Id Construction Techniques Of The Underground; The Lone Wolf And the Bear: Three Centuries of Chechen Defiance of Russian Rule; Organized Crime: An Inside Guide To The World's Most Successful Industry and How to Win Friends & Influence People.
A YouTube account, which has operated under the username Tamerlan Tsarnaev since January but has not been verified as belonging to the suspect, also linked to a sermon by Feiz Mohammad, a Lebanese-born Australian Salafist preacher who has called on Muslims to join holy war. Mohammad has also called for Geert Wilders, a Dutch politician who has compared Islam to Nazism, to be beheaded. Prior to January, the account was listed under the username "muazseyfullah."
On the Twitter account @j_tsar, which many news organizations have reported as belonging to Dzhokhar Tsarnaev, a history of tweets includes a handful of references to his Islamic faith.
"When we consider prophet Muhammad (s.a.a.w) as our role model that's when we achieve true success & a path to Jannah," the user tweeted on Jan. 19 in response to Ismail Menk, an Islamic sheik in Zimbabwe who he follows. Menk had tweeted: "When parents are the role models of their children, there is a greater chance of them developing & achieving much more."
The user's last update was also a retweet of Menk: "Attitude can take away your beauty no matter how good looking you are or it could enhance your beauty, making you adorable."
In an email interview with HuffPost reporter Matt Sledge, Menk said it was "with absolute sadness and disgust that I came to hear about the unacceptable atrocity against innocent lives." He added, "I have no clue who the suspect is, hence I have never had dealings with him and I am very careful of the type of people I associate with or even respond to."
Last year, Dzohokar also retweeted a Huffington Post article about a Muslim convert who won $5 million dollars in damages in a workplace discrimination lawsuit after she began wearing a hijab and was called a "terrorist" by her coworkers.
In anticipation of a possible backlash against American Muslims, the Council of American-Islamic Relations, an Islamic civil rights group, called a press conference at noon in Washington, D.C.
"We must remain united as a nation as we face those who would carry out such heinous and inexcusable crimes," said CAIR National Executive Director Nihad Awad said in a statement. "We thank local, state and national law enforcement authorities for their diligence in bringing the perpetrators to justice and offer condolences to the loved ones of the officers killed and injured in efforts to detain the suspects."
The Islamic Society of North America also released a statement applauding law enforcement efforts, and saying that "no matter the motivation for these terrorist attacks, they will never represent the values or ideals of any religious or ethnic group."
"People of all faiths know that the horrific acts committed by these perpetrators go against everything to which God calls us. It is rather the loving, selfless acts of those who immediately responded on the scene that best uphold His teachings," said ISNA president Imam Mohamed Magid, who leads the 5,000-member ADAMS Center mosque in Northern Virginia. "At times like this, I am reminded by a verse from the Holy Qur'an which is similar to one in the Old Testament: If anyone kills a person, it is as if he kills all humanity, while if any saves a life, it is as if he saves the lives of all humanity."
This post has been updated with additional information about Twitter and YouTube accounts that reportedly belong to the suspects.
Before You Go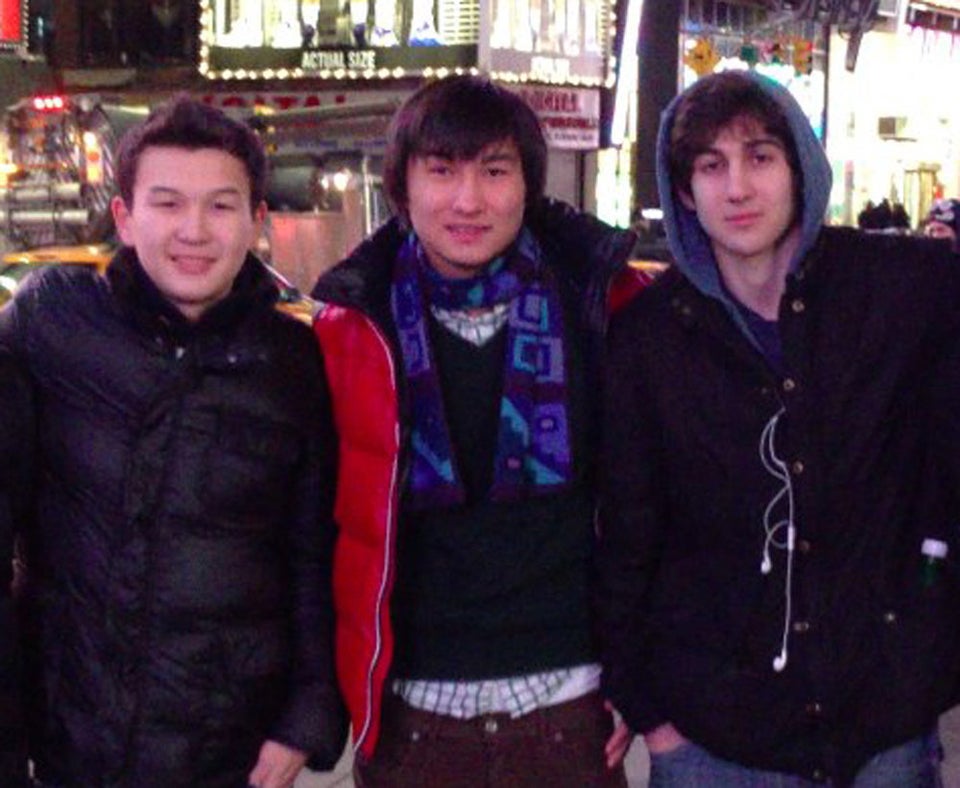 Dzhokhar Tsarnaev
Popular in the Community