It's pretty simple: If you win the Stanley Cup, you get to party.
And, oh, how the Boston Bruins did party. $156,679.74 in bar expenses worth of partying, according to a receipt from the nightclub where the Bruins celebrated their game seven Stanley Cup victory of the Vancouver Canucks.
The Bruins' bar tab from Shrine nightclub at Foxwoods Casino in Mashantucket, Conn., according to the club, included 136 Bud Lights, 3 bottle of Captain Morgan at $300 each, $525 spent on 35 Jager Bombs, 9 bottles of Goose MG at $600 a piece and a bottle of Johnny Walker Black for $350.
Someone also had a Corona -- $6.
The real big ticket item, however, was a $100,000 bottle of Ace of Spades "Midas" champagne, reportedly given to the team as a gift from Foxwoods, to be signed and auctioned off to benefit the Bruins Foundation charity at a later date.
Despite Bruins player Shawn Thornton's kind words for the Foxwoods hospitality and statement, "there's no doubt about it, we partied like we won the Stanley Cup," reported by the Boston Globe, teammate Zdeno Chara wasn't so impressed with the Shrine bar tab going public.
"I'm not sure how it got out," Chara said. "That was our first and only night we had as a team together. We went out to Foxwoods to have a normal good time, nothing crazy. We started the night bowling and having some snacks, then we moved to the bar and basically had a night out."
Also of note: Server Danielle definitely isn't a Stanley Cup champion, but she did make off with an obligatory $24,869.80 tip, which clearly makes her a winner.
For a little help visualizing this bar tab fit for a king, here's an infographic showing every beverage appearing on the receipt, courtesy of sixteenwins.com.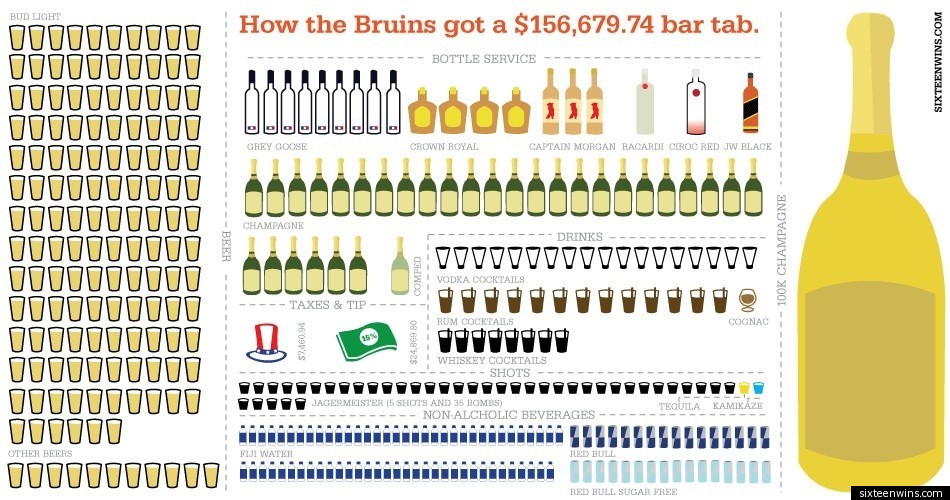 Popular in the Community