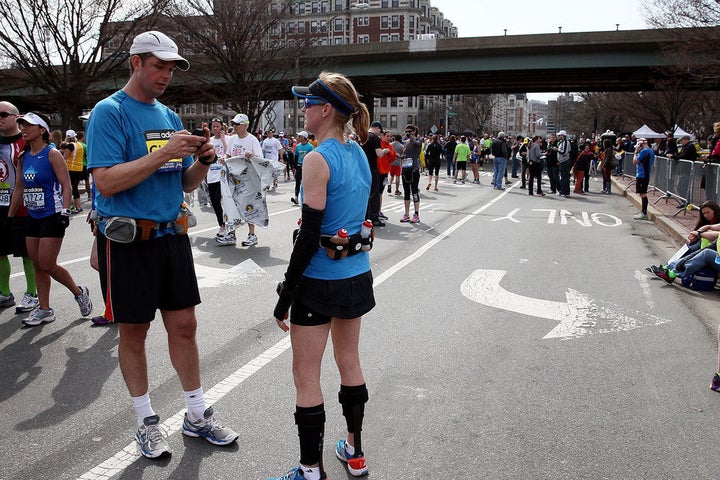 Cell phone service was unavailable in parts of Boston Monday following a series of explosions near the finish line at the Boston marathon, according to reports.
News outlets and Twitter users reported that wireless coverage across the city was spotty after the explosions, which left two people dead and at least two dozen injured, according to police.
Wireless providers attributed the outages to high call volume. A Sprint spokesperson told The Boston Globe that a spike in calls following the explosions jammed networks and in some cases blocked callers from reaching people at the scene.
Verizon Wireless spokesman Thomas Pica told The Huffington Post that the carrier was enhancing network voice capacity to enable phone calls in the Copley Square area of Boston, where the explosions occurred.
"Customers are advised to use text or email to free up voice capacity for public safety officials at the scene," Pica said. "There was no damage to the Verizon Wireless network, which is seeing elevated calling and data usage throughout the region since the explosions occurred."
An AT&T spokesman said in an email that customers in the area may experience disruptions "due to a spike of network activity and related congestion" and advised them to use text messaging and to keep non-emergency calls to a minimum.
A T-Mobile spokesman said the company was "closely monitoring" its network, which "continues to perform well" in the Boston area.
However, ABC News reported that police ordered people near the scene not to use cell phones, because the devices could be used to set off explosives.
An official for the Federal Communications Commission told HuffPost the agency was working with the Departement of Homeland Security and wireless carriers to "monitor and respond to the situation."
The lack of service prevented many worried out-of-town relatives and friends from contacting people in Boston.
cell phone service gods please get me in contact with my big brother in boston please please please

— Regina Victoria (@superduperegina) April 15, 2013
Boston area cell phone service is completely overwhelmed. Do not panic if you have trouble reaching someone.

— Alexander DeLuca (@alexanderdeluca) April 15, 2013
Wireless providers have faced criticism after service has been repeatedly unavailable or jammed during emergencies. For example, cell service was unavailable in the wake of the Sept. 11, 2001, attacks and in the aftermath of Hurricane Sandy last year. Industry representatives say their networks are resilient but not equipped to handle the massive spikes in call volume that occur during emergencies.
Calling all HuffPost superfans!
Sign up for membership to become a founding member and help shape HuffPost's next chapter
BEFORE YOU GO
PHOTO GALLERY
Boston Marathon Explosion (GRAPHIC PHOTOS)