The last time LeBron James didn't play in the NBA Finals, President Barack Obama was in his first term, "Avatar" was nominated for best picture and Jake Gyllenhaal was dating Taylor Swift.
In fact, you'd have to go back 50 years, to the immortal Bill Russell, to find anyone else notching six straight Finals appearances like James has. This season, the Cleveland Cavaliers look ready to make it a seventh straight for James. Both he and Kyrie Irving have been terrific, and Kevin Love ― until a recent knee injury ― was playing his best basketball in a Cavalier uniform.
It would be foolish, however, to simply assume another late June hoops date for the Cavs. While upstart Washington has undoubtedly been impressive, the well-balanced Boston Celtics ― who surprised plenty of folks by not making a trade deadline deal ― pose the most considerable threat in the suddenly competitive Eastern Conference. Here are the three main reasons why.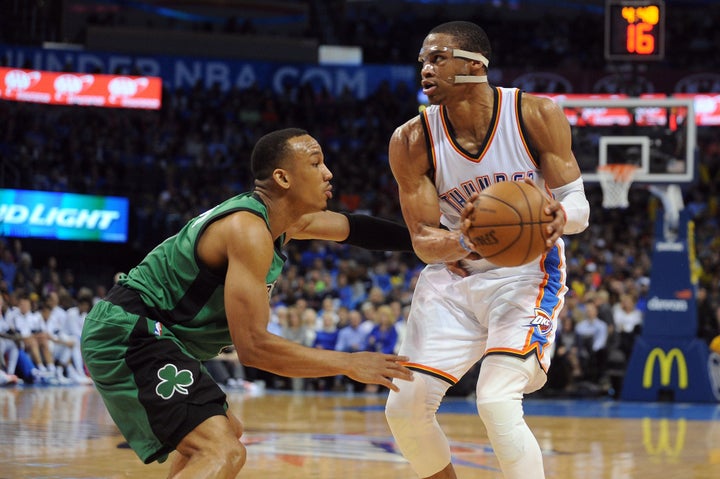 Defending Cleveland is no easy task, especially in late game situations, thanks to closers like James and Irving, as well as head coach Tyronn Lue, who has quickly become an expert in "special" situations.
Boston, though, has a trio of talented and versatile defensive weapons, highlighted by forward Jae Crowder along with guards Marcus Smart and Avery Bradley. Bradley is the ultimate ace, something that was apparent in a late February win over the Cavs. 
Just how much does the former Texas standout's hounding defense mean to Boston? With Bradley on the floor, the Celtics' defensive rating is 108.6 (which would be a league best), per ESPN.com. When he's not playing, the rating declines nearly five points.
Although his team went 16-7 while he nursed an Achilles strain earlier in the season, there is little doubt what Bradley's presence means. Unseating an offensive juggernaut like Cleveland means generating consistent stops in crunch time, and it's Bradley's rare combination of toughness, will and superior foot speed that could provide the difference. Furthermore, he is perhaps the main reason why the Celtics rank second in the NBA in 3-point defense.
'Little Guy With The Big Ticker'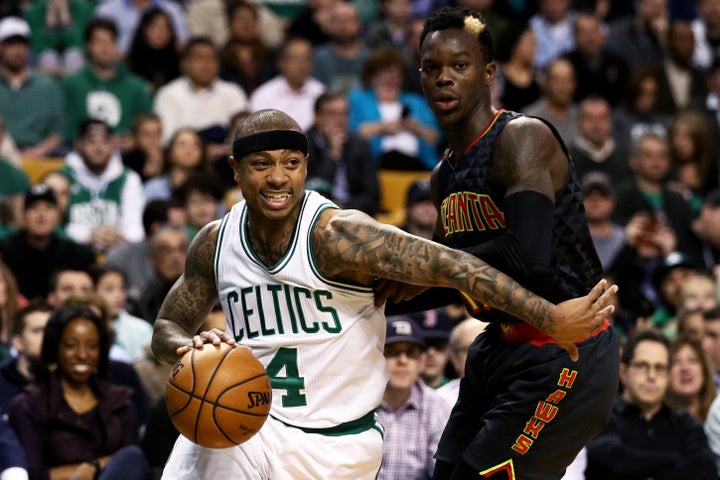 You can't talk about Boston without mentioning its two-time All-Star point guard, Isaiah Thomas. Arguably the league's most unlikely star (something he discussed with The Huffington Post last year), Thomas ― who Sacramento selected with the final pick in the 2011 draft ― is a flat-out menace to defend. His herky-jerky drives and paint-slicing ability are only complemented by his deft pick-and-roll game and big shot ability. As a result, Thomas is the NBA's second-leading scorer at a 29.5-point-per-game clip, and has become as tricky a matchup as there is on the perimeter.
But what makes him that much more special is his constantly improving playmaking ability. Take the victory over Cleveland, for example. With the game hanging in the balance, the 28-year-old point guard twice drove the lane and found teammates for wide open triples, both of which were converted.
"I average 30 points for a reason," he said afterward. "I made plays. They doubled me, I passed it to Jae [Crowder], he hit a shot. I passed to Avery [Bradley]. I believe in my teammates."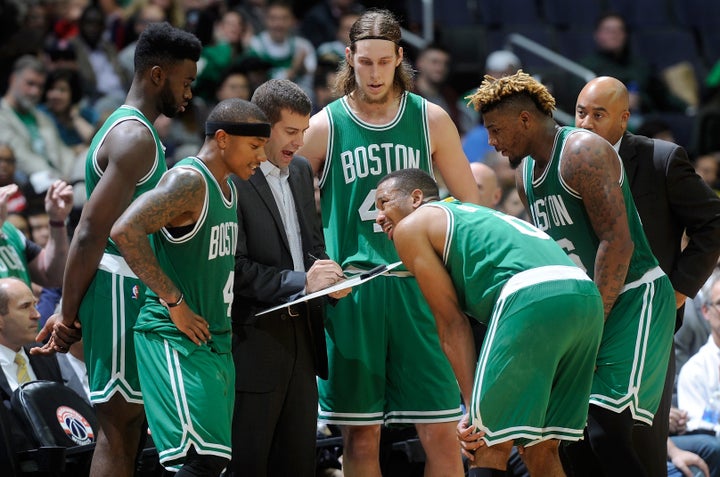 Brad Stevens may be young, but don't let that fool you: His coaching abilities are splendid. In just his third NBA season (all with Boston), the 40-year-old has helped transform what was previously an organization in peril into one of the premier young teams in the league.
Stevens is known for great offensive sets and a fundamentally sound defensive approach, but his top asset may be skill development. Under his guidance, Thomas has gone from a bench spark to an All NBA-caliber player. Crowder was a fringe rotation guy in Dallas, but he's become one of the better stretch fours in basketball. Smart's bulldog mentality is embraced, as is Kelly Olynyk's stretch ability.
In other words, Stevens doesn't force his players into "his system." Rather, he adapts to his personnel. The results have been staggering. At 40-23, Boston sits just three games back from the Cavs in the East. Though it's probably a stretch to think they could earn the 1 seed, it's entirely plausible to think they might defeat the reigning world champs in a prolonged seven-game series.
Consider this: The Celtics have played 42 "crunch time" games this season ― those within five points in the final five minutes. Per ESPN.com, they have compiled a stellar 28-14 record in those games.
"The biggest thing is this team plays for each other and not just with each other, and we play as hard as possible," Thomas told HuffPost last year. "I think that's the difference between our team and everybody else. We're more like a college team, where we're going to bring it each and every night."
REAL LIFE. REAL NEWS. REAL VOICES.
Help us tell more of the stories that matter from voices that too often remain unheard.