The bearded face of Boston euphoria belonged to police officer Steve Horgan on Sunday night. Standing in the home bullpen at Fenway Park, Horgan raised his arms in triumph as David Ortiz's game-tying grand slam -- and Tigers outfielder Torii Hunter -- cleared the wall in right-center field in the eighth inning.
As Horgan and the crowd at Fenway exulted in Big Papi's latest big blast, the feeling for Hunter was something altogether different. The nine-time Gold Glove winner made a diving attempt to keep the deep drive off reliever Joaquin Benoit in the park. He couldn't and landed awkwardly in the bullpen just to the left of Horgan.
"I'm pissed off," Hunter said after the Red Sox sealed an epic rally with walk-off win in the ninth inning, per MLive. "The one guy you don't want to beat you, he beat us. One of the best hitters in postseason history, and this guy hits the ball out of the park and ties the game up and they ended up coming back and winning. I'm pissed. That's the way it goes."
And Horgan's bearded smile and raised arms will be the way it is remembered.
Within moments of the grand slam on Sunday night, Horgan became the star of his very own GIF.
By Monday morning, Horgan was also a print media sensation, gracing the pages of at least two local newspapers.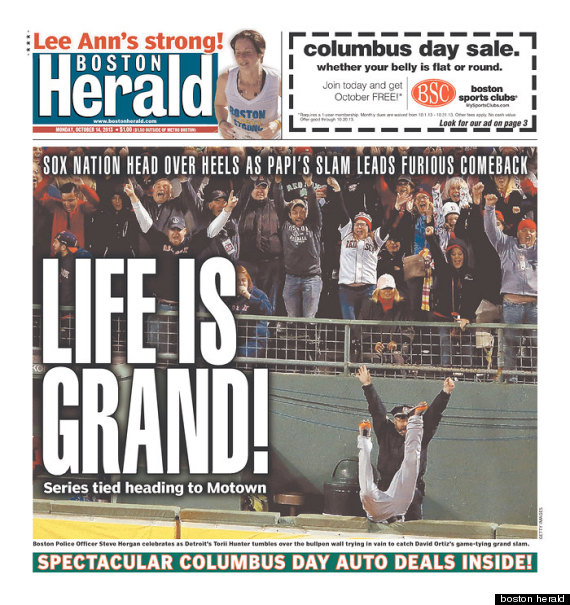 At some point in between, Horgan apparently reenacted his now iconic celebration for Red Sox owner John Henry.
Related
Before You Go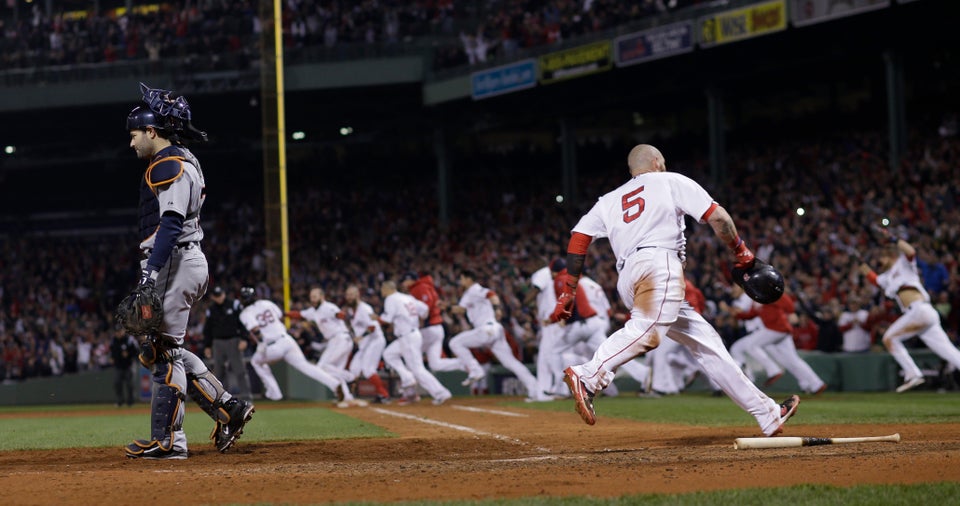 PHOTOS: 2013 ALCS Game 2
Popular in the Community