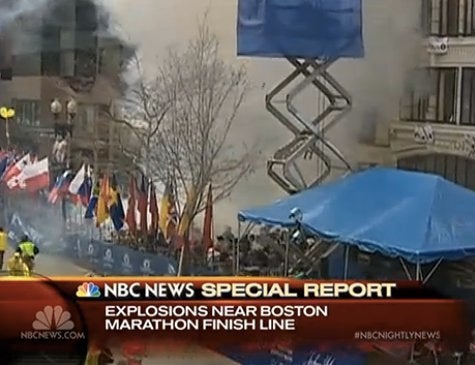 Every broadcast and cable network raced to cover the horrific explosions at the Boston Marathon on Monday.
News of the blasts first circulated on Twitter and came just as journalists had their eyes trained on the announcement of the Pulitzer Prizes. That Pulitzer announcement quickly fell off the radar as the scope of the devastation in Boston became clear.
The news played out in the way that all breaking events now do: first on Twitter, then on television, with a dizzying flurry of eyewitness videos, tweets, Vines and photos complementing the coverage.
According to CNN, more than 26,000 people ran this year's Boston Marathon. The race also fell on Patriot's Day, a state holiday in Massachusetts. The two blasts went off by the Boston Marathon finish line at Copley Square just before 3:00 p.m.
"Fine. Reporting. I was 10 feet from explosion. Shaken up. But not a scratch. Worst thing I ever saw."
Fox News was first to turn to the news, with Shepard Smith anchoring coverage, with CNN quickly following. In the next five minutes, MSNBC also switched to breaking coverage. Fox News was also the first to post chilling video from the scene. A man could be heard offscreen saying, "Oh my god, they're dead." The network was later the first to say that there had been fatalities. MSNBC kept its coverage rolling through the 4:00 p.m. hour, replacing Martin Bashir's show with breaking news coverage anchored by Tamron Hall.
CNN was the first to dub the explosions a "terror attack," which it did just before 6 PM.
All three major broadcast networks also cut into their regular programming. NBC and CBS turned to their evening news anchors, Brian Williams and Scott Pelley. ABC coverage was led by George Stephanopoulos and Diane Sawyer.
Networks then announced their plans for evening and morning news coverage. CNN tweeted that Anderson Cooper, Chris Cuomo and Poppy Harlow would report live from Boston. Diane Sawyer was set to anchor a special report for ABC News from New York. The 30-minute program was expanded to a special one-hour edition. Terry Moran was anchoring "Nightline" from Boston.
The New York Times' Brian Stelter tweeted that CBS' Scott Pelley was to host an extended one-hour newscast. Norah O'Donnell will co-host "CBS This Morning" from Boston on Tuesday. NBC said it would air a special hour at 10:00 p.m. "Today" co-host Matt Lauer tweeted that he would be hosting the morning show from Boston on Tuesday. He added that Fox News' Smith would continue anchoring the network's breaking news coverage, skipping the 5:00 p.m. show "The Five." Bill O'Reilly's show, which is usually taped, was set to air live at 8:00 p.m. MSNBC's Rachel Maddow was headed to Boston.
Related
Before You Go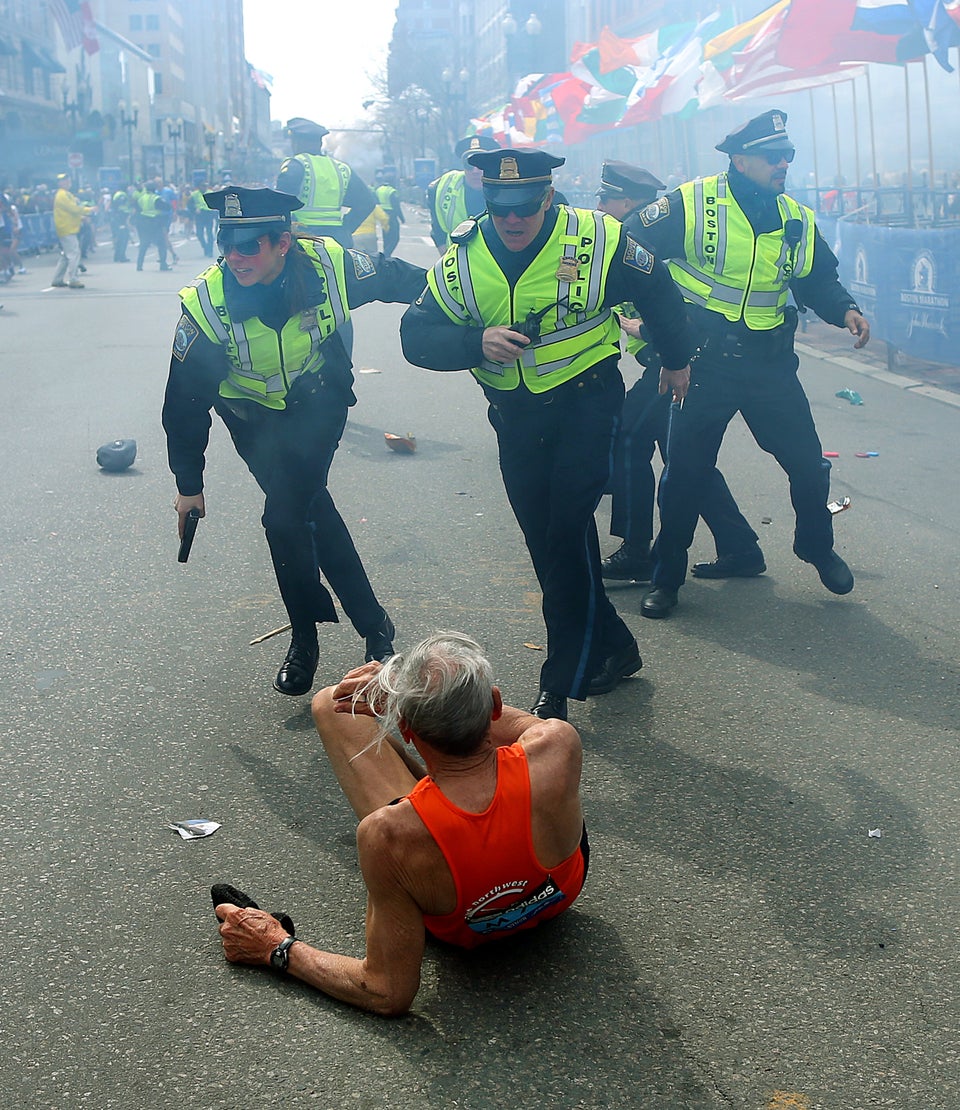 Boston Marathon Explosion (GRAPHIC PHOTOS)
Popular in the Community