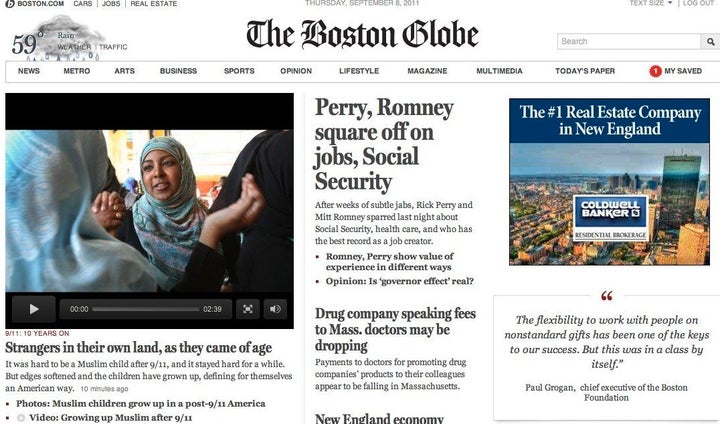 Following in the footsteps of its corporate parent, the New York Times, the paper's executives are banking on devoted readers paying for online content.
For those readers only interested in breaking news, local coverage, sports scores, blogs and classifieds, there won't be much of a change. All of that content, along with a selection of up to five Globe articles daily, remains free at Boston.com. However, readers seeking full access must head to the just-launched pay site, BostonGlobe.com.
Publisher Christopher Mayer told The Huffington Post that by separating the two brands, the Boston Globe will now have "its own door in the digital space." Until now, BostonGlobe.com redirected to Boston.com, a popular news site that's been the main destination for the paper's content since 1995.
"We have two different sites and they're targeted at two different types of audiences," said editor Marty Baron. "BostonGlobe.com is targeted for people really interested in the full depth of journalism we offer. They're interested in a comfortable reading experience. They're interested in reading the full stories in many instances."
Similar to the Times, any Boston Globe print subscriber -- even one subscribed only to the Sunday edition -- can access BostonGlobe.com. (The Globe's print circulation is 219,000 daily and 356,000 on Sundays). Digital-only subscribers will have to pay $3.99 a week to read all of its content online and across mobile devices and tablets.
Coldwell Banker Residential Brokerage is sponsoring the site through September, so the BostonGlobe.com pay wall really doesn't kick in until Oct. 1. But when it does, who'll subscribe online? Since so much content remains available on Boston.com, casual readers are unlikely to open their wallets. But executives hope dedicated Globe readers -- the ones who want editorials, op-eds, enterprise stories, documentary video and all the paper's reviews -- will drop around $16 a month to get everything.
Still, there are a few pay wall exceptions. For one, Globe editors can opt to move a story of national interest to Boston.com in hopes of reaching a wider audience online. Also, social media users can read any Globe article linked on Twitter or Facebook. (They'll appear as Boston.com articles and therefore won't lead through the BostonGlobe.com pay wall).
Mayer won't get into specifics about digital-only subscription goals. But given the past couple rocky years, it's understandable why executives might be trying to tap into another revenue stream.
In Spring 2009, the Times Company put its New England Media Group –- which includes the flagship Boston Globe and smaller Worcester Telegram & Gazette -– on the market. That year, the Globe was on pace to lose $85 million, and there were serious threats of a shutdown before the paper's union made significant concessions.
Once again, the Times Co. quashed the idea. In May, chief executive Janet Robinson told staff that the Globe "is not for sale." When asked if the paper is still not for sale, Mayer referred back to Robinson's comments and said the Boston paper has always tried to be "a positive contributor within the New York Times Company."
"We focus on the assets that we have that we think make us distinctive, unique, and that we think we do tremendously, extremely well and, in fact, better than anybody else in our marketplace," Mayer continued. "And we look to turn that into a business model that supports the journalism that not only we do, but frankly, that we need to do."