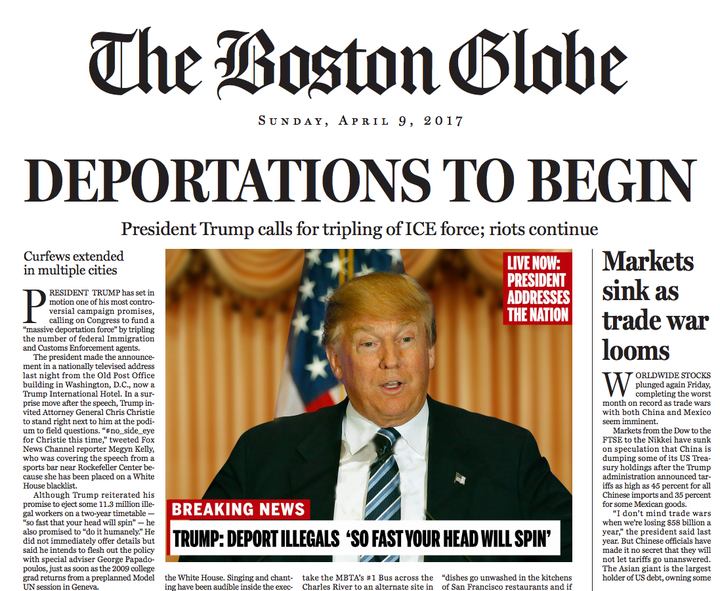 As the fake headlines make clear, the Globe's editorial board is not optimistic:
"DEPORTATIONS TO BEGIN: President Trump calls for tripling of ICE force; riots continue"
"Markets sink as trade war looms"
"New libel law targets 'absolute scum' in press"
"Bank glitch halts border wall work"
"Trump on Nobel prize short list"
The page, dated April 9, 2017, will run at the front of the paper's "Ideas" section. An editor's note at the bottom of the page reads:
"This is Donald Trump's America. What you read on this page is what might happen if the GOP front­runner can put his ideas into practice, his words into action. Many Americans might find this vision appealing,but the Globe's editorial board finds it deeply troubling."
The paper released the fake page along with a scathing editorial from the Globe's board titled, "The GOP must stop Trump." The editorial calls Trump's vision of America "deeply disturbing," "appalling" and "un-American," and labels his campaign tactics "toxic." The board criticizes the Republican Party for permitting Trump's rise, and demands that they do everything they can to deny Trump the nomination. Sen. Ted Cruz (Texas) is no better an option, the board writes, suggesting House Speaker Paul Ryan (Wis.) or 2012 nominee Mitt Romney instead.
"The Republican Party's standard deserves to be hoisted by an honorable and decent man, like Romney or Ryan, elected on the convention floor," the editorial board writes.
While the content of the satirical page is entertaining, it is also a bit worrisome, as some of the stories are extrapolations of actual policies and behaviors of the GOP front-runner. The paper calls it "an exercise in taking a man at his word."
Some of the more comical articles include Trump sparking a diplomatic crisis after insulting the first lady of China, Ambassador Kid Rock being censured by Japan, Yellowstone being renamed Trump National Park, and Trump's romance novel A Trumping to Remember being pulled from shelves because it was found to have plagiarized an issue of Penthouse.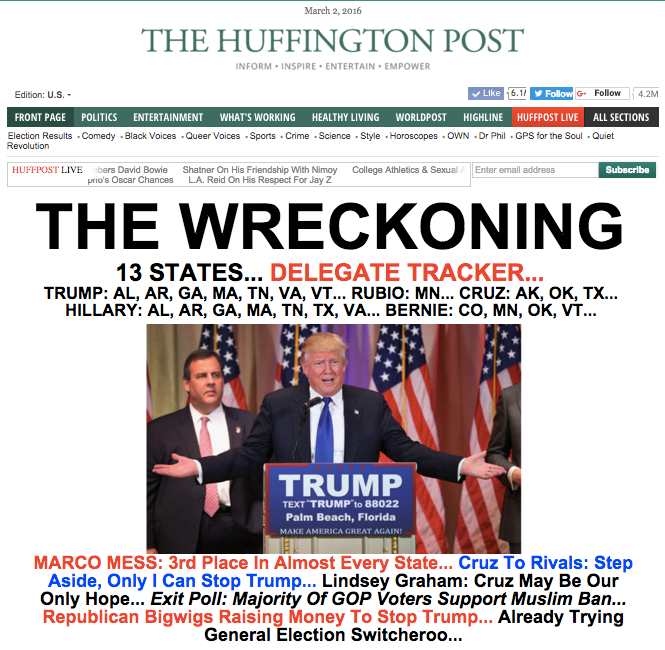 Trump On HuffPost Front Pages
Popular in the Community