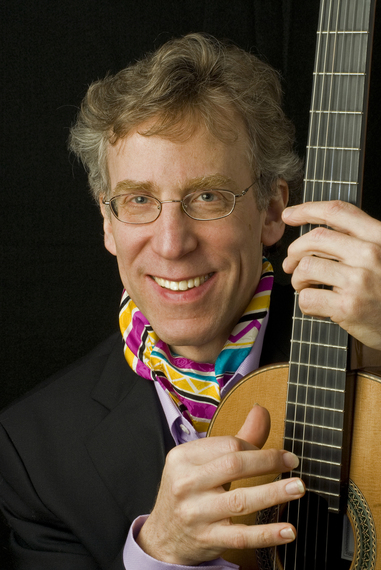 Boston GuitarFest Past, Present and Future
By Eliot Fisk
I founded Boston GuitarFest in 2006 at the New England Conservatory. From year one my aim has been to project an interdisciplinary vision of the classical guitar outward into the world.
The first Boston GuitarFest team consisted of my wife, Zaira Meneses, now also an NEC faculty member, one DMA student, Steven Lin, and myself. Even in that inaugural year, organized on the fly over 10 feverish days in October of 2005, we managed to bring together an astonishing array of talent from across the spectrum of the musical world: the great musicologist Dr. Christoph Wolff spoke on "Bach and the lute"; Professor Peter Row performed on sitar and taught a workshop on Indian music; Professor John Gibbons played Bach lute works on the harpsichord and coached guitarists on Bach and Scarlatti; and I myself was privileged to perform with NEC's Borromeo String Quartet.
Now in its 11th consecutive year, the festival continues to celebrate the unique expressivity of the classical guitar, but sees the guitar as the hub of a great wheel with spokes going out in all directions.
The festival remains an ongoing laboratory for entrepreneurial musicianship. It is almost entirely student run and has been a training ground for some wonderful arts administrators. Numerous GuitarFest alumni such as Dan Acsadi, who transformed the Boston Classical Guitar Society into a classy professional group, and Robert Hanson, who now has an important position at the concert series of the National Gallery of Art in Washington D.C. worked for many years at GuitarFest. In today's internet age, Jennifer McNeil, one of our Administrative Directors, who earned a M.M. with me at NEC, even works during the year for us from Brussels and only joins us physically for the crazy week of GuitarFest.
Boston GuitarFest has many moving parts including: The Young Guitarists Workshop, directed by Adam Levin (our version of GuitarFest Prep); numerous concerts (featuring great classical guitarists but also often involving musicians from other genres), ongoing master classes, lectures, three international competitions (two for performance (including adult and youth divisions) and one for composition) and a Luthier's Workshop that brings together fine guitar makers from all over the world. All of this is crammed into one very full week in an effort to involve as many different sorts of people as possible.
The interdisciplinary dialogue we try to feature at GuitarFest, and which was the lifeblood of my educational experience as a young man at Yale University, has inspired all of my work in music. It seems to be more difficult to achieve this during the academic year. This approach has however, remained a salient in Boston GuitarFest philosophy and planning.
GuitarFest continues to collaborate with other leading Boston based educational institutions. Since 2008, Northeastern University has been our indispensable partner. This highly successful collaboration is also unique in the City of Boston where Yankee independence often sees arts organizations competing against each other rather than collaborating for the common good!
Northeastern Professor and composer Anthony Paul de Ritis has been profoundly important to the growth of the festival. His wonderful successor, Professor Dan Godfrey, joins NEC's own marvelous Hank Mou in basic administrative oversight. Additionally, we routinely reach out to numerous other organizations in Boston and beyond to give the broadest possible context for our work. Of course New England Conservatory, which often gives us considerable access to its crown jewel, Jordan Hall, remains the institutional home base of the Festival.
What began as a small, homegrown, grassroots festival has now grown to become one of the most highly respected guitar festivals in the world. GuitarFest continues to earn the indispensable financial support of major foundations such as the Albert Augustine Foundation, the D'Addario Foundation, the Davoli-MacDonaugh Foundation, as well as the backing of numerous private donors who continue to believe in the Festival's idealistic philosophy and aspirations. This year as usual we proceed from a broad general theme which will be a unifying point of reference for the activities of the entire week of the Festival.
GuitarFest 2016: ¡Viva España! June 15-19, 2016 at New England Conservatory
The year 2016 marks the 140th anniversary of the birth of the composer Manuel de Falla, but sadly also the 100th anniversary of the tragic and noble death of the composer Enrique Granados and the 80th anniversary of the murder of the great poet Federico Garcia Lorca: all reason enough to choose what would always be a relevant theme for any festival devoted to the guitar: ¡Viva España!

During Boston GuitarFest XI, we will celebrate the "agony and the ecstasy" of the Spanish experience and the intoxicating mixture of cultures that has given us the irresistible Spanish sound. Oscar Ghiglia, former teaching assistant of the great Andres Segovia and direct heir of Segovia's legacy, returns as resident guru. Cuban virtuoso, Joaquin Clerch, also back by popular demand, performs some of his groundbreaking transcriptions of the works of Falla and the sonata by Antonio Jose, and Russian phenom Grisha Goryachev brings his blinding flamenco virtuosity to the stage of Jordan Hall. Spanish virtuoso Anabel Montesinos will delight with the authentic sounds of her homeland. I myself will play the Boston premiere of Leonardo Balada's Quintet for guitar and strings (Caprichos) based on the popular songs of Lorca, along with new solo transcriptions of Scarlatti, Albeniz, and Granados.
About Eliot Fisk:
Guitarist Eliot Fisk is known worldwide as a charismatic performer famed for his adventurous and virtuosic repertoire. He is also celebrated for his willingness to take art music into unusual venues (including schools, senior centers, logging camps and prisons). Fisk was the last direct pupil of Andres Segovia and also studied interpretation with the legendary harpsichordist Ralph Kirkpatrick at Yale University, from which he graduated "summa cum laude" in 1976. After 45 years before the public he remains, as his mentor Andres Segovia once wrote, "at the top line of our artistic world." Described by one New York Times headline as a "Fiery Missionary to the Unconverted," Eliot Fisk is Professor at the Universitaet Mozarteum in Salzburg, Austria, where he teaches in 5 languages, and in Boston at New England Conservatory. In June 2006, King Juan Carlos of Spain awarded Eliot the "Cruz de Isabel la Catolica" for his service to the cause of Spanish music. Earlier recipients of this honor included Andres Segovia and Yehudi Menuhin.
More recent CD recordings include "From Bach to Bachianas" with cellist Yehuda Hanani (for Albany Records); "Kollwitz Konnex" with soprano Anne Harley (for Musica Omnia) and Robert Beaser 's "Guitar Concerto" and "Notes on a Southern Sky" (to be released in 2016 by Linn Records) with Jose Serebrier conducting the Royal Scottish National Orchestra.
For More Information:
http://www.eliotfisk.com
http://www.bostonguitarfest.org
http://www.necmusic.edu
Popular in the Community