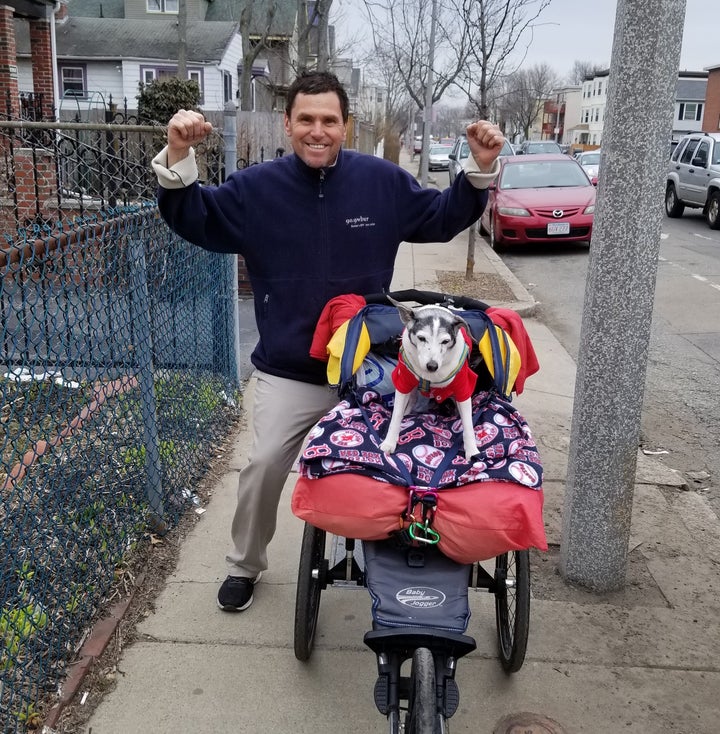 After years of cheering from the sidelines, Boston Marathon bombing hero Carlos Arredondo is lacing up his sneakers and entering the marathon as a contestant for the first time on Monday.
"It's a pretty amazing journey," he told HuffPost after reflecting on all the love, loss, heartache and challenges that have brought him to this point. "Everybody is moving on, little by little. It's like the city, everybody is trying to honor and remember, but we're trying to move on from this tragedy as well."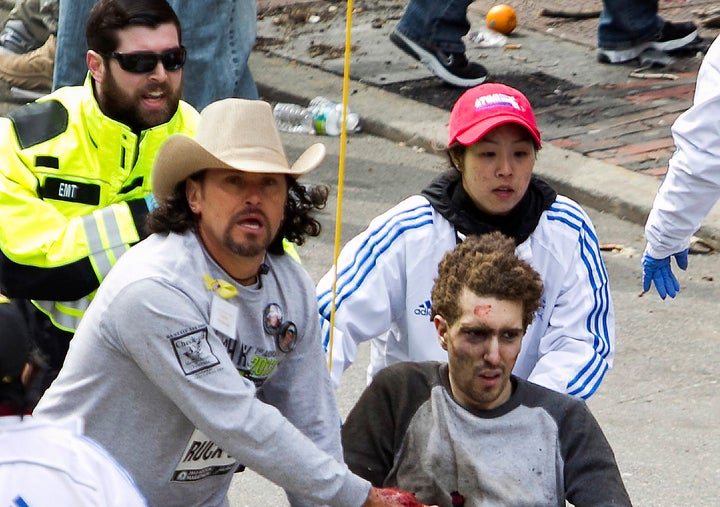 The foundation works to provide military families with emergency financial support in instances of military-related suicide, as well as scholarship assistance to servicemembers' siblings and training for suicide prevention.
This service is particularly important to Arredondo because two of his sons, one of whom was a U.S. Marine, died violently.
Arredondo's oldest son, Lance Cpl. Alexander Scott Arredondo, was a 20-year-old serving in Iraq with the Marines when a sniper killed him in 2004. His youngest son, Brian Luis Arredondo, who had struggled with his older brother's death, took his own life 12 years later on what was the last day of the war in Iraq. He was 24.
"One year after the death of [his] oldest son, we began working on military issues, veteran affairs," Arredondo's wife, Malida Arredondo, who serves as the foundation's executive director, told HuffPost.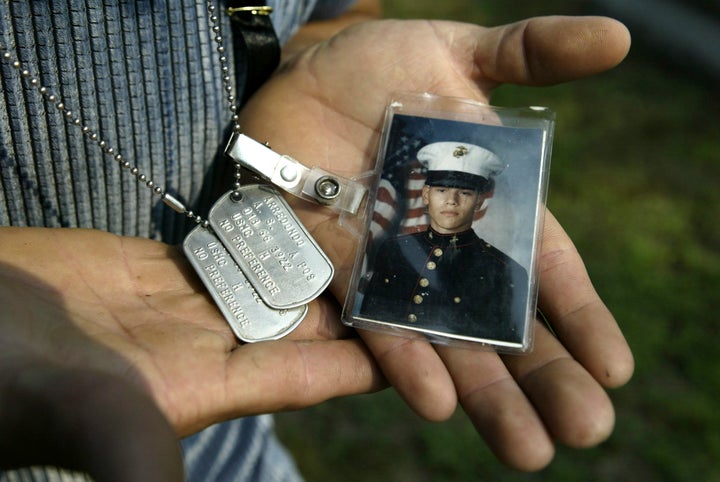 When he runs on Monday, Arredondo will wear a photo and runners bib memorializing Boston police officer Dennis "DJ" Simmonds, who was wounded during a shootout with the marathon bombers in Watertown, Massachusetts, and died of his injuries on April 10, 2014. This honor was one Arredondo said he personally requested from Simmonds' family.
An outspoken anti-war activist, Arredondo is usually not one to stay on the sidelines in other aspects of life, but his decision to hit the asphalt for the marathon didn't come easily. But he says that now that he's committed, he considers himself all in.
"I've been running with my dog. I put him in a baby carriage and I drive him around," he said of his training routine with his emotional support dog Buddy over the last four months, which he admitted has been quite a challenge.
"I've been trying to stay strong, do as much as I can and be positive, just like everybody else. I've been very grateful for the community, Boston Strong, the community for supporting us," he said. "It's been amazing healing through all of this tragedy and also very inspiring to see how they're moving on in their lives."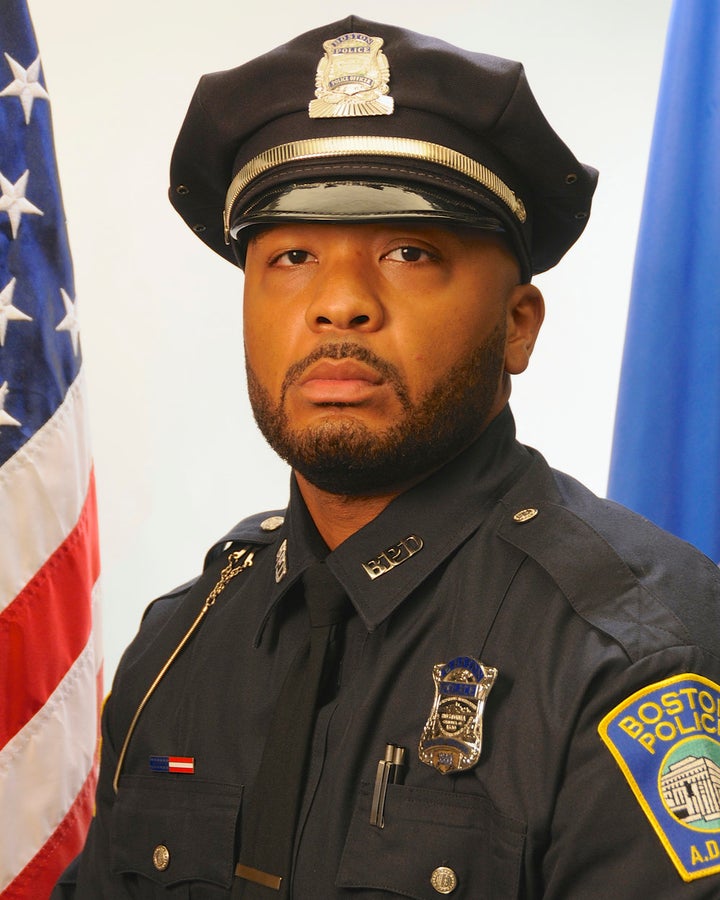 Running alongside Arredondo on Monday will be Army Reservist Ray Regan, 37, who "will make sure that I'll be OK," Arredondo said.
"I feel beyond honored to be part of this," said Regan, who grew up in the Boston area and graduated from the University of Massachusetts, Lowell.
"Every day, there are people that face challenges, and how they choose to handle those challenges says a lot about their character. He's just a great example of what Boston is," Regan said of Arredondo.
"Every day, there are people that face challenges, and how they choose to handle those challenges says a lot about their character."
The pair first met before the 2013 attack through a mutual friend, John Mixon, who helped Arredondo load Bauman into a wheelchair after the blasts. Before Regan's deployment to Afghanistan, he said Arredondo shared a letter that his son had written to his family while overseas.
"I kept it with me throughout my entire deployment," Regan said of the copy he made. "I felt a little stronger having that letter, knowing that that letter was there every time I went out there."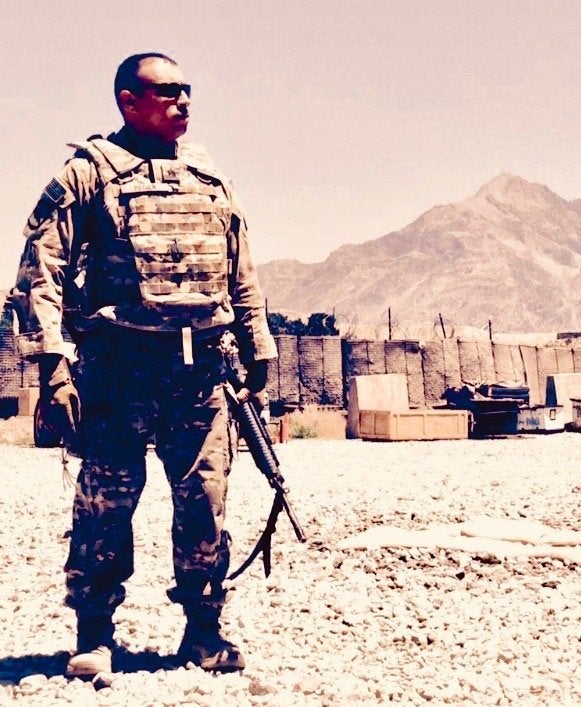 "It really just talked about his son not fully agreeing with the war, why they were over there, but understanding that they had a job to do," Regan said of its contents. "It really just talked about how much he loved his family and how he had a chance to serve."
To Regan, the letter served as a reminder that not everybody comes home. It also was a reminder of his duty to his country.
When he runs on Monday ― something he said he's done many times as part of the marathon's staff in college, but only twice competitively ― he expects to run for the organization Ruck 4 HIT, which stands for Heroes In Transition.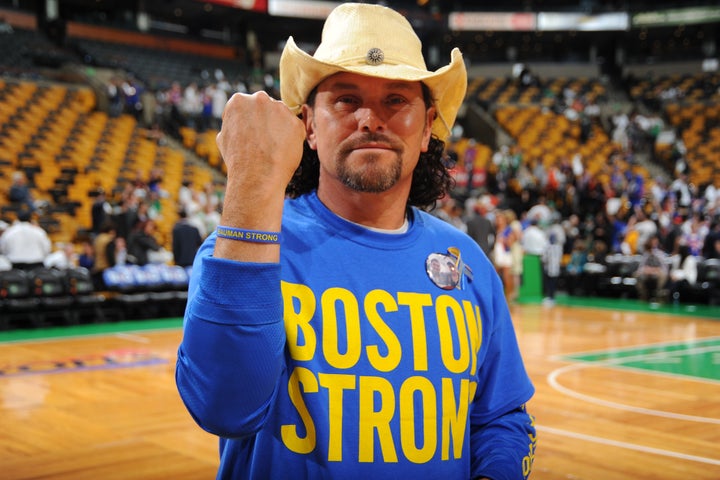 The nonprofit provides assistance to veterans, particularly during their transition from active duty to civilian life.
As for whether he'll run in his uniform or not, Regan said he most likely will ― though the uniform is fairly heavy and there's a forecast of cold, rainy weather.
"As a runner it's ideal, but I think Carlos and I will not be running the entire way, so it will be more of a fast walk, and that's actually a lot harder on your body and joints," he said.
That said, Regan expects "the excitement and the honor of doing it" will be enough of a distraction for them both.