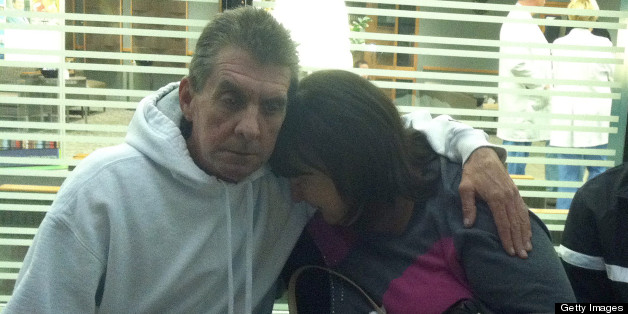 A mother of five answered a phone call Monday to learn that two of her sons, who had traveled together to watch the Boston Marathon, would lose their legs.
Liz Norden told the Boston Globe that her 33- and 31-year-old sons were transported to Brigham and Women's Hospital and Beth Israel Deaconess Medical Center respectively, both with leg burns that would require amputations.
The unbelievable nightmare continues at area hospitals today, as staff works around the clock to tend to the victims of the Boston Marathon twin bombings. CNN reports that the number of injured has risen to at least 176, 17 of whom had to receive amputations.
On Monday, doctors at Massachusetts General Hospital performed amputations and removed shrapnel as nurses moved less-injured people out of the Intensive Care Unit. Brigham and Women's Hospital staff saw ordinary material -- rocks, soda cans, metal -- turn into deadly projectiles in Monday's blast. At Boston Children's Hospital, the list of wounded included eight children under the age of 15, one of them a 2-year-old boy.
The list of injuries may change throughout the days ahead. Here is a list of some area hospitals' reported injury numbers as of Tuesday morning:
Boston Children's Hospital
8 injuries, ranging from good to serious conditions

No children in critical condition

Ages range from 2 to 15 years old

Source: Reuters

Brigham and Women's Hospital
31 injuries
9 in critical condition, one with "life-threatening" injuries
Source: ABC News

Massachusetts General Hospital
29 injuries
8 in critical condition
Several amputations
Source: The Daily Beast

Beth Israel Deaconess Medical Center
24 injuries, 7 released as of Tuesday morning
4 in critical condition, 13 in serious condition
Source: CBS News

Tufts Medical Center
9 injuries
Source: ABC News
The death toll rose to three people after the explosion. An 8-year-old boy, Martin Richard, was one of the victims.
A Mass. General Hospital spokesman reported this morning that four of those in critical condition had to receive amputations, and several more limbs are "at risk." The injuries were mainly on the lower half of the body, and doctors removed a "variety of sharp objects, including nails." The spokesman said that the metallic fragments -- including the nails -- were concentrated enough that they could have come from the bomb, rather than the environment around the bomb, but that statement is not confirmed by authorities.
REAL LIFE. REAL NEWS. REAL VOICES.
Help us tell more of the stories that matter from voices that too often remain unheard.
BEFORE YOU GO
PHOTO GALLERY
Boston Marathon Explosion (GRAPHIC PHOTOS)