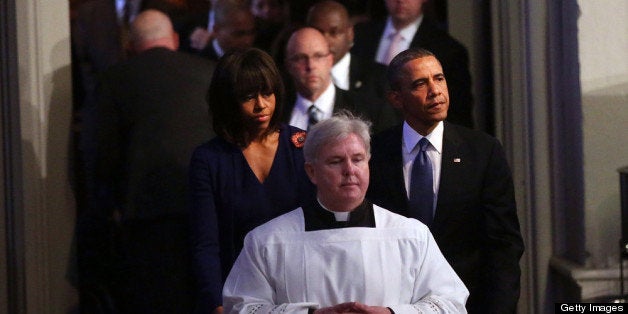 Quoting heavily from scripture on the endurance of the human spirit and the triumph of good over evil in the face of tragedy, President Barack Obama joined thousands of the faithful Thursday morning for an interfaith service three days after the Boston attacks.
Speaking amid Catholic, Protestant, Greek Orthodox, Jewish and Muslim clergy to a crowd that included the families and friends of victims of the marathon bombings, the president shaped his words around Hebrews 12:1, telling the nation to "run with endurance the race that is set before us," and 2 Timothy: 1-7, saying that, "God has not given us a spirit of fear and timidity, but of power, love and self-discipline."
In a city that's just beginning to recover after three deaths and more than 170 injuries from two explosions at the Boston Marathon Monday, there have been dozens of prayer services and nonreligious vigils every day. But those who lined up in the early morning for Thursday's gathering at Cathedral of the Holy Cross said attending was a powerful moment in a long journey of healing.
"In times of crisis, we have to make sure we are together. We felt that we're not alone," said Rabbi Matt Soffer of Temple Israel of Boston, who came with a group of clergy from several faiths at 7 a.m. to wait outside the 2,000-seat cathedral. By the time he arrived, the line already stretched for blocks.
Rabbi Ronne Friedman, the senior rabbi at Soffer's congregation who spoke at the service, cited Psalm 147, addressing God as the "healer of the brokenhearted" who will "empower them with strength and courage and restore to them and to all of us who grieve with them a sense of life's goodness and purpose."
Friedman, who extended his words to the shooting victims in Newtown, Conn., and victims of Wednesday's fertilizer factory explosion in West, Texas, as well, spoke after the Rev. Nancy S. Taylor of Old South Church, which blesses the marathon runners every year and is just steps from the finish line. Cardinal Sean O'Malley of the Archdiocese of Boston also offered prayers.
While a suspect has not been named in the Boston attack, speculation has aired in news reports about the race and faith of the culprit. A Muslim who chairs the New England Interfaith Council, Nasser Wedaddy, who spoke on behalf of the city's Muslims, shared his story of becoming a United States citizen last week. "Whoever kills a soul, it is as if he killed mankind entirely. And whoever saves a life, it is as if he saved all of mankind," he said, referencing Islamic and Jewish scripture.
The director of civil rights outreach for the American Islamic Congress, Wedaddy sought asylum from Mauritania in 1999, and though he did not mention it Thursday, was in the media spotlight when he was wrongfully detained by law authorities after Sept. 11 on suspicions of ties to terrorism.
The Rev. Matt Crebbin, the pastor of Newtown Congregational Church in Connecticut, watched the service while visiting family in the Boston area as it streamed live to computers and televisions nationwide.
"It seems like we are coming together far too often for things like this these days," said Crebbin, who ministered to victims of the Newtown school shooting and led the city's interfaith service that the president attended in December. "At the same time, it's uplifting to see people from diverse backgrounds and traditions come together. Events like this that could divide us and cause us to isolate ourselves actually serve as rallying cries for us to come together in common purpose and common compassion."
The White House said the president would visit with victims' families in Boston on Thursday, but it didn't specify whom.
Joshua DuBois, who organized the president's faith-based outreach after the Newtown shooting, watched the Boston service from his Washington, D.C., home. It reminded him of the clergy and civic leaders' "love for God and love for our neighbor and deep abiding love for our country," he said.
"We can't just rush on to the next crisis without spending time in reflection," said DuBois, who now works with nonprofits. "I think one beautiful thing about faith is it is allows us to contextualize evil and why bad things happen in in the world and where god is in the midst of that."
Yet while Thursday's service, which was organized by the Massachusetts governor's office, brought solace to many, some felt excluded. Boston's secular and atheist communities released statements expressing disappointment that they were not represented in the official lineup of speakers. While former Massachusetts Gov. Mitt Romney, a Mormon, was in the audience, a representative of the Boston region's significant Mormon population also was not in the program.
Related
Popular in the Community