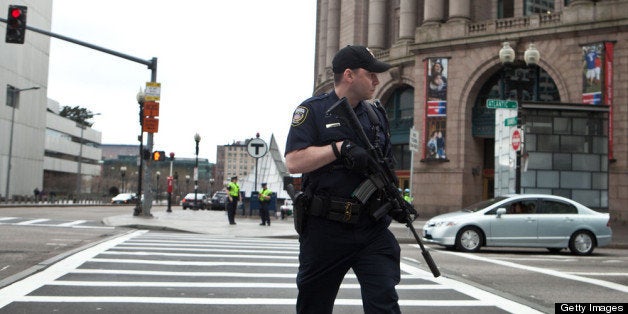 Worst Friday ever. Just when I thought the worst of it was over, just when I was getting back into the groove of normal life, I wake up in the middle of another nightmare. Text messages and emails, from people trying to figure out where I am. A city-wide 'voluntary' lockdown. Constant helicopters. Sirens every few minutes... sitting alone in my apartment, I've never been so glued to Twitter in my life, trying to sort it all out.
From what we're being told, somebody is out there, and armed, and clearly good at evading the thousands of police, FBI, National Guard and Secret Service agents since he's been doing it for hours. People from across the country are once again reaching out via social media to make sure we're alright, but it feels very different today. Stuck inside, with an apartment window that faces an alley, I have no clue what life is like out there. All those of us waiting in our homes have are the choppy live streams from news stations in Watertown and Cambridge, feeding us the same information over and over again. Our friends and families live there, and it's breaking our hearts to know that they are dealing with being evacuated and having SWAT teams on their street right now. And even more heart breaking to see the pictures of the MIT officer shot and killed, and the MBTA one hospitalized last night.
Today was supposed to be our first day of finals at Northeastern. And if they had been cancelled for any other reason, students would be celebrating in the streets, but instead we just sit inside as more sirens go by. Waiting. Hoping. Praying that this all will come to an end soon, and no one else gets hurt. Because enough is enough. It's time this city got some justice.
Calling all HuffPost superfans!
Sign up for membership to become a founding member and help shape HuffPost's next chapter