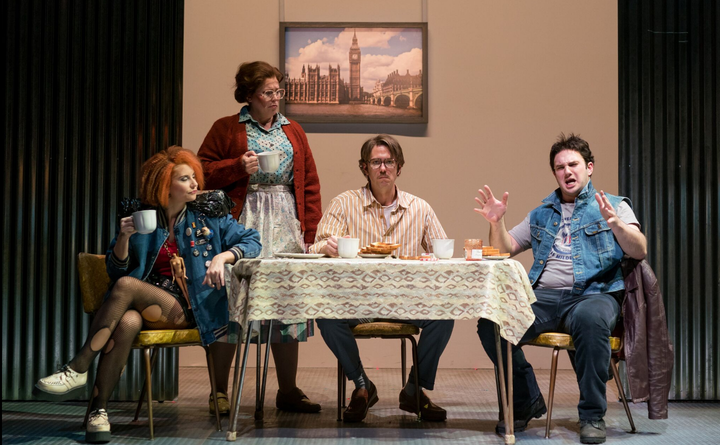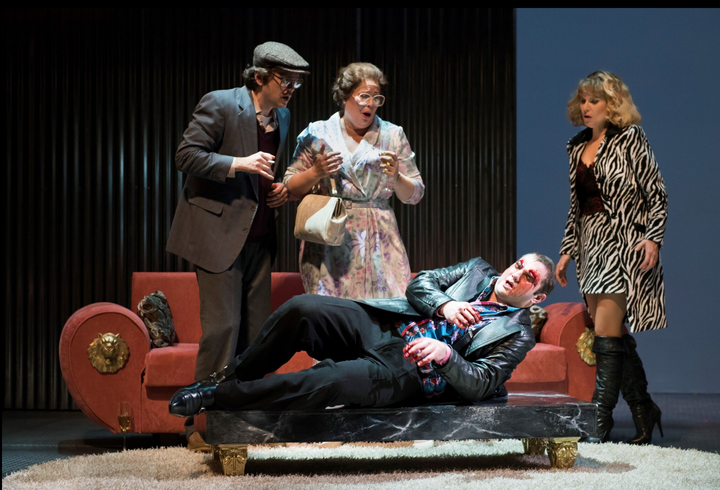 Ed — Oed, as it were — has nothing good to say about his East End environs. In his thick Cockney accent, he disdains the neighborhood of Tufnell Par, a London borough, and its working class pub's tuneful camaraderie of regulars.
Behind another panel, we observe Eddy's tortured home life. Their disagreeable interplay ends with his departure into the stormy outer world, but not before his father, in lyric fashion, reveals a dark secret. Long ago, a fortune teller at a fair foretold his death at the hands of his son, who coveted his mother. At a subsequent fair years later, the fortune teller's son repeated the dark prophesy.
"Do you fancy your mother?" the father asks, to which Eddy responds that he'd sooner prefer Hitler. "Fate makes us play the roles we're cast," they sing.
Indeed, we will find that out.
Eddy, portrayed by award-winning baritone Marcus Farnsworth, dreams of a better life, a lofty aspiration in Thatcher's England. Garbage is piled up and strikes are raging throughout the performance. But the turbulent political era of the story is a backdrop to the concurrent adaptation of Sophocles' classic Greek tragedy Oedipus the King.
The opera, directed by Sam Helfrich, is based on Greek, a verse play by Steven Berkoff that premiered at London's Half Moon Theatre in 1980. With a libretto adapted by Mark-Anthony Turnage and Jonathan Moore, the heavily percussive score, also by Turnage, perfectly echoes the rough-and-tumble action below, down to the poofs and pows of brutal conflicts and the mercurial, often profane, and sometimes amorous moods of the characters. Yes, that's below, as the orchestra is perched atop the floor.
"He's a very angry man, damaged by the world he lives in," said Farnsworth at an after-show "Talkbacks" panel. In his BLO debut, he reprises his role of Eddy in a 2013 Music Theatre Wales production. "Ed wants to be a productive member of society, but deep down, he's really a very tender soul. That's what makes playing it so enjoyable."
BLO alums Caroline Worra and Christopher Burchett, along with Farnsworth and Amanda Crider, form a quartet of singers within a small but versatile cast who portray characters not limited to British bobbies, cafe workers, picketers, and the fortune tellers who portray Sophocles' seminal Oracle of Delphi, as well as his Sphinx. (Kudos are due to set designer John Conklin, costume designer Nancy Leary, and wig and makeup designer Jason Allen.)
Seeking a respite from the turmoil of the streets, Ed enters a cafe and inadvertently slays the manager. Happiness ensues when he subsequently marries his widow, and they delight in their success. But years later his parents reappear, disrupting their idyllic life with an admission that Ed is not their real son, but was, rather, a baby they rescued from the Thames. Horror crosses Ed and his wife's faces as they realize that he is the baby she lost long ago in a boating accident. In despair, like the ancient Oedipus, he gouges out his eyes.
"It is impossible to see this opera and not associate it with Freud's Oedipus complex," said BLO Director of Community Engagement Lacey Upton after the opera.
"Based on his own childhood, Freud believed that all boys 4 or 5 years old want to possess their mothers and get rid of their fathers," said Dr. Lawrence St. Clair, President of the New England Foundation for Psychoanalysis. "How they pursue this often reflects on how their personalities turn out, but each person's story is quite complex," he continued. "And so modern psychoanalysis tries to listen to a person's individual story, and no one theory can encompass all that."
The panel, which also featured BLO Artistic Director Esther Nelson, conductor Andrew Bisantz, and Farnsworth, discussed the elements of tragedy, fate and comedy within the story.
Farnsworth cited the challenges of singers negotiating within the production's volatile overtones. Another difficulty, he added, is switching between sung text and spoken text — and maintaining that heavy Cockney accent throughout.
"It's really hard to project spoken text over the heavy orchestration and not wreck my vocal cords for what is coming around the corner," he said.
"The story is 2500 years old and we're still asking questions," said Nelson. "I think it's the right piece for the right time."
Opera attendance is reputedly declining among American arts-seekers. Yet productions like this from innovative companies like the BLO — with their edgy plots, 21st century, highly experimental musical accompaniment and embedded pop culture intonations, as well as tweeting sections and aggressive young audience discounting — should rightfully bring them back.