Details of the manhunt for the Boston Marathon bombing suspects were murky at the height of the investigation, leading many news outlets to misreport the facts. But now that both suspects have been apprehended, the specific circumstances of the search that locked down one Boston suburb for nearly 18 hours are becoming more clear.
(SCROLL DOWN FOR LIVE UPDATES)
The Washington Post's account of the Thursday-night chaos provided more details about that shooting. According to the Post, which relied on "multiple law enforcement officials," Tamerlan and Dzhokhar approached a parked car, in which 26-year-old M.I.T. campus officer Sean Collier was sitting. The report continued:
A security camera would later show two men approaching the car and speaking to the officer. Abruptly, one of the men was seen pulling a gun and shooting Collier multiple times, including once in the head. Some officers concluded that the shooting was an effort to provoke a larger confrontation with police.

"They were looking to start something," one official said.
After the shooting, the two suspects hijacked a different vehicle, allegedly bragging to the carjacking victim about their involvement in the Boston Marathon bombing. They let the black SUV's owner go, uninjured, after forcing him to withdraw money from an ATM.
However, his cell phone remained in the car, which gave police their first lead in tracking the suspected bombers. Authorities tracked the cell signal to a quiet residential street in Watertown, where a firefight ensued.
"The two brothers are shooting at my first police officer that's responded and now, within seconds, I have two or three other police officers that pull up," Deveau told Blizter. "We estimate that there [were] over 200 shots fired over a five to 10 minute period."
Despite their surplus of weapons and ammunition, Deveau said the older Tsarnaev ran out of rounds while approaching officers on foot. It was then that one officer made his move, tackling the suspect to the ground before handcuffing him. The younger brother managed to escape custody, but not before running over his brother.
"One of [the officers] yells out 'look out' and here comes the black SUV, the carjacked car, directly at them," Deveau recalls. "They dive out of the way, yet he runs [over] his brother and drags him that short distance down the street."
"In effect, killing his brother?" Blitzer asked. "Yes, that's what we think," Deveau replies.
The older Tsarnaev was taken to a local hospital, where he was declared deceased, while authorities continued their search for the second suspect. Following up on a tip from a Watertown resident, police surrounded a backyard on Franklin Street, where Tsarnaev was believed to be hiding in a covered boat. Deveau said gunfire was exchanged, yet again, before police were able to safely apprehend Tsarnaev and take him into custody.
CBS reported that Tsarnaev suffered multiple gunshot wounds, and that one of them, in his neck, is evidence that he may have tried to kill himself. The neck wound is also the main reason Tsarnaev cannot currently speak with investigators, according to CBS.
"We got our two guys," he said.
CORRECTION: An earlier version of this article misstated Tamerlan Tsarnaev's age.
Related
Before You Go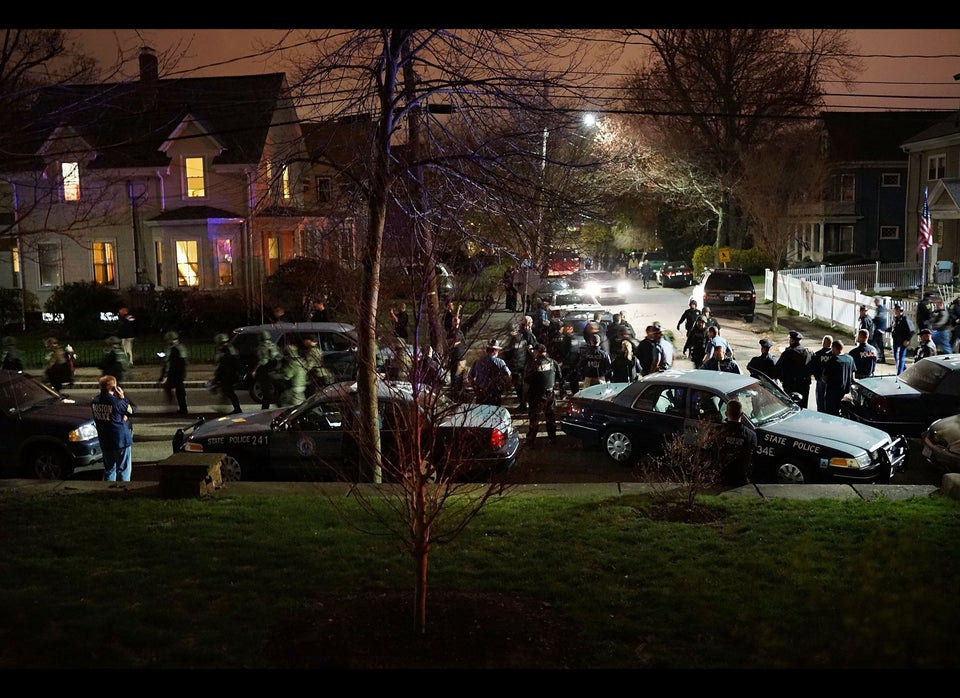 Manhunt For Suspect #2
Popular in the Community