It was April 1997 when doctors told Austin Prario's parents that their newborn son might not live to see his first birthday.
Nearly 20 years later, the Rhode Island native has not only proven that prediction wrong ― he's completed the 121st Boston Marathon.
Prario was born with a rare congenital heart defect that prevents the muscle's fourth chamber from functioning properly, meaning his heart might operate at 75 percent of its capacity or less under stress.
"[Doctors] told us that with surgery, Austin could lead a normal life, but that he would never be a varsity athlete or be able to finish something like the Boston Marathon," Prario's dad, Dave Prario, told Runner's World earlier last week.
That message didn't sit well with him. He was determined to have his son cross the Boston Marathon finish line one way or another.
In 1998, Dave Prario ran the Boston Marathon to raise money for the Boston Children's Hospital, which had diagnosed his son just one year earlier. He carried the 1-year-old boy across the finish line while wearing a shirt that read "You gotta have heart!"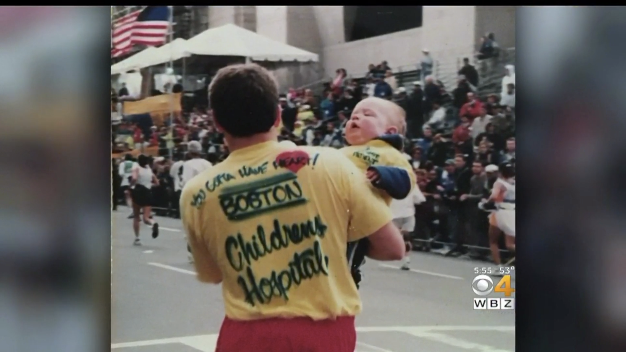 Austin Prario had a difficult first 18 months of life, undergoing three open heart surgeries that left him with a scar running the length of his chest.
Nevertheless, he defied his doctors' predictions for his life and became an avid athlete and sports fanatic. He ran cross-country in elementary school ― despite losing every race ― and went on to play a few sports in high school. Today, he's a sophomore at Community College of Rhode Island and an assistant track coach at a local high school.
Prario made the decision to follow in his father's footsteps last summer. His cardiologist OK'd the ambitious endeavor, recommending at least two years of training to prepare. But he didn't want to wait any longer.
Less than a year of training later, Austin has defied all odds. He completed the course by early Monday afternoon before taking another finish line photo next to his dad, who ran the race as a guide for mobility impaired runners.
Prario also raised more than $17,000 for Boston Children's Hospital to honor the doctors who saved his life ― and was 90 percent toward his $20,000 goal as of Monday afternoon.
"This is for all the people that said I could do it and for all the people that said I couldn't," he told Runner's World last week. "I only have one life and doctors fixed it to the best of their ability. Why not show them everything I can do with it?"