WASHINGTON -- Congressional lawmakers said Tuesday they had no intelligence on the Boston Marathon bombing, and most declined to speculate on potential perpetrators. But many agreed upon one thing: Monday's horrific event was an act of terrorism.
"It's obviously a tragedy, it's obviously an act of terror," said Sen. Marco Rubio (R-Fla.) of the attack that left three dead and 176 injured. "Who did it and why they did it and all of that I think we're going to know, we just don't know and I'm not going to speculate on it."
"We know one thing: It qualifies, in my book, as a terrorist attack," Sen. Dianne Feinstein (D-Calif.), chair of the Senate Intelligence Committee, told reporters.
"On Patriots Day, a day that has always been a celebration of American heritage and American freedom, terrorists' bombings took the lives of at least three people standing near the finish line of the Boston Marathon," Senate Minority Whip John Cornyn (R-Texas) said on the Senate floor.
Earlier in the day, Senate Minority Leader Mitch McConnell (R-Ky.) and House Speaker John Boehner (R-Ohio) both referred to terrorism when discussing the bombings.
But while few lawmakers quibbled with the use of the word terrorism to describe the attack, they had little else to offer in terms of specifics, be it a suspect or a motive. In some cases, they appeared to receive information from reporters who mentioned the latest updates from the ground while framing their questions.
Feinstein even urged restraint among reporters when faced with a barrage of questions on suspect leads and the possible involvement of a Saudi national. Despite initial reports, a Saudi man injured in the blasts whose apartment was searched by the FBI while he was in the hospital has been cleared as a suspect, CBS News reported Tuesday afternoon. He is cooperating as a witness, according to several media reports.
"He is not a suspect. That's as far as I know," Feinstein said. "See this is the problem in answering these questions."
"I have no idea," Feinstein added, as reporters pressed her further on whether she believed the attack was foreign or domestic. "I don't think anything yet, because we just don't know."
Other members of the Senate Intelligence Committee, who were scheduled to meet later in the day, were also reluctant to dole out speculation that could be interpreted as facts.
"Whenever we have an attack like this, it's difficult not to think that it is somehow involved in Islamic extremism," said Sen. Susan Collins (R-Maine).
"But I don't have evidence to back that up," she quickly noted. "That's just based on previous attacks that we've seen occur."
Sen. Saxby Chambliss (Ga.), the top Republican on the committee, said information could change quickly, and the Obama administration should simply continue with its response.
"We just want them to keep doing what they're doing. These things are always fluid," he said. "There's a lot that stirs around right after a serious incident like this. I think everybody's on top of it. I don't know that anybody's not doing anything they shouldn't be."
For the most part, senators didn't seem interested in waging political attacks in the wake of a tragedy. Collins questioned why Obama didn't immediately dub the incident an act of terrorism when he addressed the nation Monday, but she didn't dwell on the matter.
"I was puzzled yesterday that the president did not describe it as a terrorist attack right off the bat, since it was so evidently a terrorist attack," she said. "But we don't know yet whether it was a homegrown lone wolf American citizen or whether it was plot that originated overseas."
"It does appear that it was pretty carefully planned and coordinated and involved a number of devices, but that really doesn't answer the question about who was involved," Collins added.
Obama didn't use the word terrorism when he first responded to the bombings, even as he reassured the nation that anyone found responsible would "feel the full weight of justice." But in another statement on Tuesday, the president acknowledged the attack was an "act of terror."
"This was a heinous and cowardly act and given what we now know the FBI is investigating it as an act of terrorism," Obama said. "Any time bombs are used to target innocent civilians, it is an act of terror."
Feinstein defended the president for exercising caution.
"I think the president has done what this president does, and that's be very cautious, and that is a benefit," she said. "You want a president to be cautious in the use of his words."
Lawmakers on both sides of the aisle echoed Obama's call to simply wait until more details became available, as reporters began to question whether the attack was a failure of the intelligence community.
"I wouldn't say that," Rubio said in response to one such question. "Guys, we're just learning about it, let's reserve judgment until we learn more."
"The best thing to do now is just wait, as the president said, wait and see what comes out. Right now, we're all in a state of shock over something as horrible as this," said Senate Majority Leader Harry Reid (D-Nev.), noting the president pledged that the federal government was doing everything it could before repeating himself again.
"We just need to wait," he said.
Elise Foley contributed reporting.
Before You Go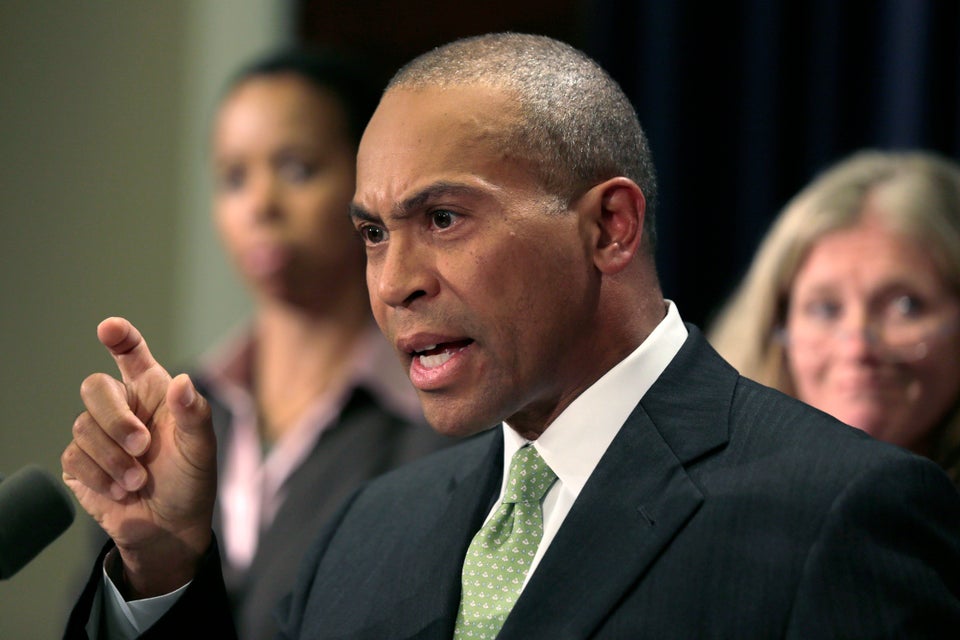 Politicians React To Boston Marathon Explosion
Popular in the Community