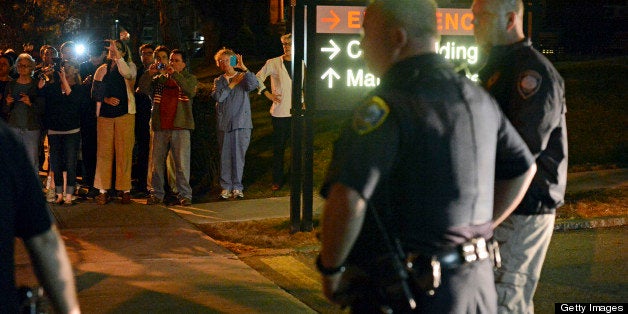 Over the course of the past week, we witnessed the power of real-time news reporting with a major story.
And unsurprisingly, one of the most interesting places of the week was Twitter with its real-time updates. CNET Senior Editor Dan Ackerman may have said it best, that Twitter is a place "you can get a lot of information from different sources at the same time." There were chaotic moments, there were rumors, there was a lot of noise, but in the end, Twitter was able to tell this story in a real effective way, especially if you followed many different accounts.
Here's a look back at 50 tweets, including 15 pictures, and five YouTube videos (one for each day) that tell the story of the Boston Marathon bombing, from beginning to end.
MONDAY - Explosions at the Marathon
Explosions at the Boston Marathonthebostonglobe
Explosions on Boylston St.Adam 12
I don't know wtf that was, but I'm shaking. Everyone is sprinting through Back Bay.Kristen Surman
God help us fb.me/18nZFvLIWSteve Silva
Explosion at coply pic.twitter.com/EqKbGeWhhaBoston to a T
Mass Casualty incident declared at the end of the Boston Marathon route. Explosion opposite the finish route. Not a drill.Alex Jones
BREAKING NEWS: Multiple people injured near the Boston Marathon finish line after explosionThe Boston Globe
#breakingnews RT @globedavidlryan: boston marathon explosion pic.twitter.com/5mLsw4oL4SBoston.com News
Holden and I were across the street from the second explosion at the Boston Marathon. We were thrown and have ringing ears but WE ARE OKAY!Chelsea Turner
Police react in aftermath of explosion #bostonmarathon #boylstonst (John Tlumacki photo) pic.twitter.com/pfgPjcPZAZBoston Globe Sports
As a STANDARD precaution, NYC and DC are on heightened level of security and White House's West Wing secured.TC McCarthy
TUESDAY - 'Act Of Terror,' 'No Claims Of Responsibility'
The White House flag flies at half-staff pic.twitter.com/u3sONvlIafDonovan Slack
'It was an act of terror. We don't yet know if it was a domestic or foreign act but we will find them and bring them to justice.' - ObamaThe Funny Gooner
President Obama Calls Boston Bombing an 'Act of Terror'pbsnewshour
DesLauriers: There are no claims of responsibility. ." The range of suspects and motives is wide open."Boston Globe News
FBI has received more than 2,000 tips already. At this time there are no claims of responsibility. #wbzKaren Anderson
Bigger than the game. Thank you! RT @yankees We stand united with the @RedSox: pic.twitter.com/o9LG4NEqTTBoston Red Sox
MT @evanmallen: Candles high in the air at Garvey Park. pic.twitter.com/LvSkfHyqo7The Boston Globe
WEDNESDAY - Suspect Arrested? In Custody? Confusion
CNN's John King stated that the FBI has arrested a suspect for the Boston marathon bombing.Sten
CNN Falsely Reports Suspect Arrested, Boston Marathon Bombingspeoplesunderground
BREAKING: Law enforcement official: Arrest imminent in Boston Marathon bombing, suspect to be brought to court.The Associated Press
Conflicting reports right now. AP: Arrest, CNN: Arrest, FOX: Arrest, Reuters: No arrest, NBC: No arrest, ABC: No arrest CBS: No arrestRachel DePompa
LATEST: "All we can say for certain, is that all of our sources say no arrest" - NBC's Pete Williams on Boston investigationNBC News
CNN backtracks on #Boston arrest reports: politi.co/113r28hPOLITICO
Federal courthouse in Boston being evacuated.CNBC
Breaking: Federal courthouse in downtown Boston evacuated. Boston Police Department confirms bomb threat is cause. pic.twitter.com/Ce4SWH0zQiABC News
Green Flag: all clear at Boston's Moakley Fed Courthouse...employees allowed to return.Patrick Healy
THURSDAY - FBI Releases Photos, MIT Shooting
The FBI is going to release video, images of potential suspects at 5pm news conference, a law enforcement official tells @BloombergNewsJared Keller
FBI Releases Images of 2 Men at Boston Marathonassociatedpress
Here are the two suspects the FBI is looking for. pic.twitter.com/qZ4vM3GoSSNick Bilton
There is a report of an active shooter in the vicinity of Bldg. 32 (Stata). Please stay clear of the area. emergency.mit.eduMIT
BREAKING: A police officer has been shot at MIT in Boston. An active shooter is still on campus. Everyone please stay indoors. RT!Michael Skolnik
30+ cruisers - state, transit, Cambridge, and K9 - visible outside Stata, helicopters overhead. MIT shooting report pic.twitter.com/YyBMvuOj7wEric Moskowitz
Police: A Massachusetts Institute of Technology police officer shot on campus - @WCVB bit.ly/116xR9cBreaking News
According to Middlesex DA press release, MIT police officer has died b.globe.com/177a4tzThe Boston Globe
FRIDAY: Watertown Shootout, Suspect #1 Killed, Suspect #2 Captured
Shoot out outside my room in Watertown. 62 Laurel st. #mit #boston #shooting pic.twitter.com/Lvk7rtx1gVAndrew Kitzenberg
Police shootout at Watertown MAgloballeaks
BREAKING: Sources confirm that suspect number 1 has died at the hospitalShani Schwaderer
Boston suspects are brothers; one is resident of Cambridge, sources tell @PeteWilliamsNBCNBC News
A no fly zone has been enacted over #Watertown Mass. This joins a no fly zone already in place over the bomb site.ABC News
IMPORTANT: ALL #MBTA Service on ALL MODES Suspended. Check here for updates.MBTA
Universities in Boston closed today: BC, BU, Harvard, MIT, Emerson and BentleyABC News
Boston a ghost town. RT @NBCNews: Photo: City on lockdown; an empty Kenmore Square in Boston. (via Andrew Golden) pic.twitter.com/cQoQOKcZDdAndrew Kaczynski
"Stay at home" request lifted. But be vigilant. #bostonDavid Wade
BREAKING: FBI believed to have cornered #Boston bomb suspect on boat parked on trailer at back of #Watertown residential backyard #CNNPiers Morgan
Boston bomber suspect 2 is believed to be wounded and hiding in a boat stored at 67 Franklin Street, Watertown... pic.twitter.com/JAWWwlE2hKGary Grasmoen
Pete Williams: 'there's a fire in the boat.' Don't know how big it is or why.HuffPost Media
the police are using gas to daze the suspect and flash bangs to disorient him.Michael Skolnik
Source: negotiator will talk to suspect now until he's tired, hungry, dehydrated...but still alive. #Watertown #wbzPaula Ebben
Photo of suspect in the boat where he was hiding in Watertown @CBSNews pic.twitter.com/UqjMImsxTqAbby Huntsman
#BREAKING -Boston PD: Suspect in custody, officer sweeping the area. Stand by for further info abcn.ws/brkNews pic.twitter.com/YJzgezTvk2ABC News
NBC: Suspect in custody; he's alive. "It's over."Steve Benen
Suspect in custody. Officers sweeping the area. Stand by for further info.Boston Police Dept.
CAPTURED!!! The hunt is over. The search is done. The terror is over. And justice has won. Suspect in custody.Boston Police Dept.
Spontaneous celebration in Boston from a friend on Facebook. #bostonmanhunt #manhunt #captured pic.twitter.com/ppV1cYgejkNΞØNTΛSTΞR
Related
Popular in the Community