See GRAPHIC video footage of the Boston Marathon explosion above and below.
The booming explosion from one of the explosions can be heard in the dramatic video above.
Video of the second explosion.
Footage from the Boston Marathon finish line.

Graphic video of the carnage from the explosion
From the Associated Press:
By JIMMY GOLEN
BOSTON — Two bombs exploded near the finish of the Boston Marathon on Monday, killing two people, injuring 23 others and sending authorities rushing to aid wounded spectators, race organizers and police said.

One runner, a Rhode Island state trooper, said he saw at least two dozen people with very serious injuries, including missing limbs.

About two hours after the winners crossed the line, there was a loud explosion on the north side of Boylston Street, just before the photo bridge that marks the finish line. Another explosion could be heard a few seconds later.

The Boston Marathon said that bombs caused the two explosions and that organizers were working with authorities to determine what happened. The Boston Police Department said two people were killed and 23 others injured.

Competitors and race volunteers were crying as they fled the chaos. Bloody spectators were being carried to the medical tent that had been set up to care for fatigued runners. Authorities went onto the course to carry away the injured while stragglers in the 26.2-mile race were rerouted away from the smoking site.

Roupen Bastajian, a 35-year-old state trooper from Greenville, R.I., had just finished the race when they put the heat blanket wrap on him and he heard the first blast.

"I started running toward the blast. And there were people all over the floor," he said. "We started grabbing tourniquets and started tying legs. A lot of people amputated. ... At least 25 to 30 people have at least one leg missing, or an ankle missing, or two legs missing."

A Boston police officer was wheeled from the course with a leg injury that was bleeding.

"There are a lot of people down," said one man, whose bib No. 17528 identified him as Frank Deruyter of North Carolina. He was not injured, but marathon workers were carrying one woman, who did not appear to be a runner, to the medical area as blood gushed from her leg.

Smoke rose from the blasts, fluttering through the national flags lining the route of the world's oldest and most prestigious marathon. TV helicopter footage showed blood staining the pavement in the popular shopping and tourist area known as the Back Bay.

A third explosion was heard about an hour after the first two after authorities warned spectators to expect a loud noise from a water cannon.

"There are people who are really, really bloody," said Laura McLean, a runner from Toronto, who was in the medical tent being treated for dehydration when she was pulled out to make room for victims of the explosions. "They were pulling them into the medical tent."

Cherie Falgoust was waiting for her husband, who was running the race.

"I was expecting my husband any minute," she said. "I don't know what this building is ... it just blew. Just a big bomb, a loud boom, and then glass everywhere. Something hit my head. I don't know what it was. I just ducked."

Runners who had not finished the race were diverted straight down Commonwealth Avenue and into a family meeting area, according to an emergency plan that had been in place.
HuffPost Readers: If you or anyone you know is in Boston today, we want to hear from you about what's happening there. Send your stories, eyewitness accounts, photos, videos, and anything else you want to share here. Include a phone number if you'd like to be interviewed. Let us know if you want to remain anonymous.
04/19/2013 2:30 AM EDT
GLOBE: Bombing Suspect In Custody, Another Remains On The Loose
One marathon suspect has been captured, according to an official with knowledge of the investigation.
Another remains on the loose in Watertown after a firefight with police. Authorities have established a 20-block perimeter as they search for him.
Read more here.
04/19/2013 12:44 AM EDT
Unconfirmed Photo Of Suspect 2 In Boston Marathon Bombing Emerges On Facebook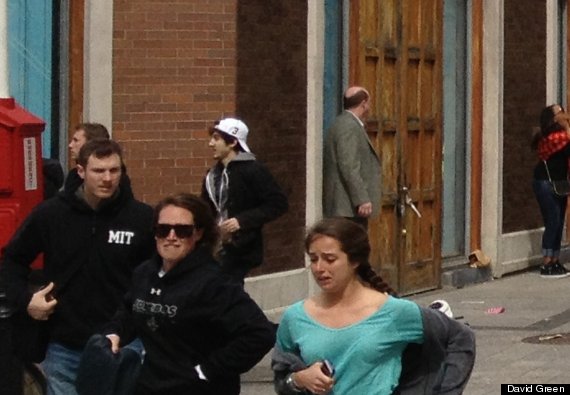 Just hours after the FBI released the first photos of suspects in the Boston Marathon bombing, a new photo of Suspect 2 may have emerged.
David Green, 49, of Jacksonville, Fla., had just completed his first Boston Marathon, when he snapped a picture with his iPhone 4S, taken at 2:50, just after the two blasts ripped through the finish line area, killing three people and injuring more than 180 others.
The FBI has not publicly confirmed this photo as Suspect 2, but Green told the Huffington Post that an agent told him, "this is probably the best we have right now."
The man who appears to be Suspect 2 is wearing a white hat with a "3" on the side as seen in the publicly-released photos.
Read more here.
04/18/2013 10:19 PM EDT
Boston Bombing Victim in Iconic Photo Helped Identify Attackers: Bloomberg
Minutes before the bombs blew up in Boston, Jeff Bauman looked into the eyes of the man who tried to kill him.
Just before 3 p.m. on April 15, Bauman was waiting among the crowd for his girlfriend to cross the finish line at the Boston Marathon. A man wearing a cap, sunglasses and a black jacket over a hooded sweatshirt looked at Jeff, 27, and dropped a bag at his feet, his brother, Chris Bauman, said in an interview.
Read more here.
04/18/2013 9:04 PM EDT
Federal Law Enforcement Says Suspects Stayed To Watch Carnage: CNN Reports
Federal law enforcement official says the 2 suspects stayed at scene to watch the #Boston carnage unfold. on.cnn.com/175CKDq

— CNN Breaking News (@cnnbrk) April 19, 2013
04/18/2013 7:26 PM EDT
Right Wing Journalist Goes Ballistic During Press Conference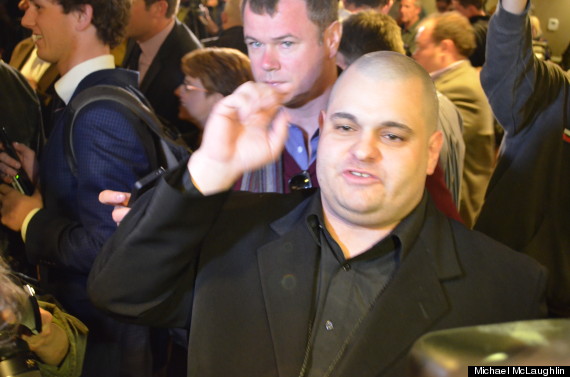 BOSTON -- Moments after the FBI revealed images of two baseball cap-wearing men wanted for questioning about the Boston bombings, the press conference descended into a sideshow.
A journalist from a far-right wing website called Info Wars shouted out a question accusing the government of carrying out the attack that killed three, and maimed or injured 170 others.
FBI Special Agent in Charge Richard Deslauriers ignored the allegation of a government conspiracy from reporter Daniel Bidondi, but the Alex Jones protege did not stop hollering.
"The FBI lies," Bidondi said. "We've got the proof," he said accusing the government of a "false flag" attack in which it staged the blasts and made them appear like the work of terrorists.
Bidondi found himself at the center of an media scrum with cameras and microphones pointed at his face after law enforcement officials left the podium in the Sheraton hotel.
Another reporter ridiculed Bidondi from across the room, telling him to shut up and calling him an asshole.
The excitement quickly dissipated as reporters returned to delivering the news about the official images of the suspects.
Bidondi has been a presence at other press conferences this week related to the bombing investigation.
--Michael McLaughlin / HuffPost Crime
CORRECTION: An earlier version of this story misspelled Bidondi's last name. We regret the error.
04/18/2013 6:46 PM EDT
Facial Recognition Expert Reacts To FBI Photos
Dr. Ralph Gross, a facial recognition expert at Carnegie Mellon University, said the FBI photos of two suspects in the Boston Marathon bombing are likely too grainy to be matched against a driver's license database or Facebook. But he thinks they may be just good enough for someone who knows the individuals to identify them.
"The resolution isn't particularly good. The one that's kind of best is unfortunately a side view -- and in general the face recognition software works best with frontal view," he said.
Research has consistently found, however, that people can spot people they know even in grainy, off-center photographs.
"Humans are actually very good at recognizing people that they are familiar with," Gross said. "Somebody that might know these guys, or might know the way they dress, might certainly be able to recognize them."
The FBI said the men should be considered armed and dangerous, and urged tipsters to call 1-800-CALL-FBI if they believe they have information that could lead to an arrest.
--Matt Sledge
04/18/2013 6:21 PM EDT
Daily News Doctored Photo
The New York Daily News reportedly doctored its front page photograph of the Boston bombings (see update below).
WARNING: LINK GOES TO GRAPHIC PHOTO
04/18/2013 5:37 PM EDT
Hi-Res Image Of People Of Interest

04/18/2013 5:30 PM EDT
FBI Website Down
CNN reports that, because of a flood of traffic, the FBI's site is temporarily down.
REAL LIFE. REAL NEWS. REAL VOICES.
Help us tell more of the stories that matter from voices that too often remain unheard.
BEFORE YOU GO
PHOTO GALLERY
Boston Marathon Explosion (GRAPHIC PHOTOS)