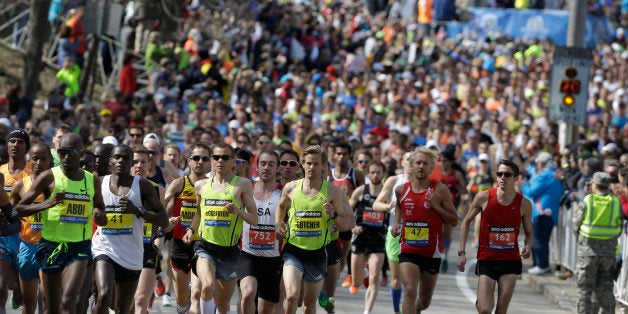 Two and a half years ago, I decided to run a marathon. Whether it was our senseless young-adult invincibility or our innate desire for adventure or our illogical perception of the race itself, I still cannot remember the exact reason why my two college friends and I finally registered.
And for the subsequent months, we trained -- although somewhat halfheartedly and most certainly insufficiently. We balanced our weekend long runs with our social lives and with our academic lives. We woke up (almost) every Saturday morning, met somewhere on campus, and ran however far we could manage. Our runs were filled with great conversations and destinations, but our pace and our distances certainly were never our priorities. We were seeking adventure.
And then, as I was 22 miles deep in pain with no end in sight, I realized why people take marathon training so seriously. And with a mile to go until the finish, as my training partner passed me in the blurry haze of nothingness runners call "the wall," shouting back "come on, don't stop now," I realized that we still could do it -- we could qualify for the Boston Marathon. And sure enough, we did -- for me, by truly a few sweet seconds. Before the race, we had talked plenty of times about the idea of running Boston, but we never had considered it a legitimate possibility. We knew our training should have been more serious. We knew that there exists a learning curve in marathon running. And then suddenly, less than 3 hours and 5 minutes later, it was there -- our Boston qualifying time. It was all we wanted -- an adventure, a brotherhood forming between a group of semiserious runners simultaneously pushing themselves past their perceived limits and barriers.
And suddenly, I was swept hastily into the craze of the race.
It became a beacon -- a one year in the distance event when I could join the elite and race alongside the best in the world in one of America's oldest annual sporting events and contribute my blood sweat and tears alongside the rest of my international running family.
Sadly, my goals changed a few weeks later.
I watched from the Student Union television as the race -- taking place in the patriotic Boston on its Patriot's Day holiday -- fell into complete disarray as Boylston Street exploded and peoples' lives were cut short or forever changed and the city of Boston was blindsided with an act of terror.
And then, instead, running the race became an honor. I wanted to be there the year after the bombing, so that I could pay homage to the fallen and the hurt. I envisioned myself laying a flower down on the side of Boylston Street as I ran past. I wanted to love my fellow members of the running community and be surrounded by those who felt the same. As I watched smoke rise from the helpless streets of Boston, I wanted to contribute.
But unfortunately, that is not what happened. Because of the bombings -- and the enormous swell of support that followed -- more and more people ran marathons that year. More and more people qualified. And more and more people registered for the race. And, because of the Marathon's lottery system, my few sweet seconds were no longer enough to grant me entry into the race.
Instead, I would have to watch the 2014 Boston Marathon from afar.
And so, rather than joining the thousands of runners preparing for the special moment that became the 2014 Boston Marathon, I signed up for my second North Carolina marathon. And I trained. This time, I really trained. By the time I began to taper for the race, I was in shape to run a pace 15 minutes -- not seconds, like the last time -- under my qualifying time. And this time, that was what hurt.
A hot day and a hilly course broke my body down. And for the last seven miles of the race I crashed and I burned as I watched, and certainly felt, my dreams of running Boston slipping out of my reach yet again. As I crossed the finish line, however, I miraculously saw myself again under the Boston qualifying time -- but by 2 seconds. A bittersweet 6 months ensued as I waited to see if my qualifying time would earn me entry into the race, and, unfortunately, a record number of registrations again took my place. And I was left with nothing but hopes for the next year.
Frustrated, I contemplated my options -- selecting yet another marathon to run, hoping to qualify yet again for the 2016 Marathon, or hanging up the idea of Boston altogether. Two years of racing with a goal of, qualifying for, and yet still missing the Boston Marathon had left me doubting the idea altogether, and, possibly even worse, doubting myself.
However, it was my last year of school with my training partners -- some of my now closest friends -- and we together decided to give it another shot. We picked the flattest Boston qualifying race we could find and shot for a training plan somewhere between my first and my second. And I ended up having one of the worst training seasons of my life. I was on the verge of injury a few times; I was squeezing weekend runs between final semester of college events and hangouts; and for some reason, it snowed or sleeted the morning of almost every long run. I cut my peak long run day -- around 21 miles -- in half, and I felt sick afterwards. And so I entered marathon morning 2015 concerned and anxious, with the goal of running whatever I could.
And I ended up running my fastest marathon of the three, this time qualifying by over 15 minutes.
Reactions to the bombings have come in waves -- first with shock and then with outrage and then with an overwhelming support. Stories of both tragedy and heroics have emerged from the mess of 2013. The 2014 Boston Marathon was a beautiful tribute to the fallen as an American brought home the victory for the first time in recent memory; 2015 will undoubtedly bring its own layer to the race's beautiful history; 2016 will as well, and I will be there. And if anything, these few years of the race have shown the beauty and depth of community -- within runners, within Boston, and around the world. The 2013 bombings inspired people, runners and non-runners alike, to do something. To help. To donate. To run a marathon themselves, and qualify for the precious race. It moved people physically, emotionally, and spiritually. I once took with frustration the significant increase in Boston Marathon registrations over the past few years, and I now take it with a little grace, a lot of warmth. It shows that people will rally over community and family -- they will run marathons with the tragedy as their inspiration and motivation.
It should have been my second marathon, and then it should have been my third. It should have been 2014, then 2015. It should have been the one the year after one of the great tragedies in American sports. But it was not. It took me two and a half years, almost exactly two years after the bombings, to do it. It took a lot of frustration and a lot of drive and a lot of getting up after being again knocked down and a lot of struggle. But it also took even more friendship and adventure -- it took the support of those around me to keep me motivated. It took countless early mornings with those who mean most to me, together traversing the crisscrossing network of hidden roads and trails around Chapel Hill. It took spending long runs deep in conversation about each other and about the future and about life. It took a whole lot of trial and error. And that is what I had wanted the whole time -- a little adventure and a lot of friendship.
But 2016 Boston, here I finally come, to pay the homage I have wanted all of this time.
REAL LIFE. REAL NEWS. REAL VOICES.
Help us tell more of the stories that matter from voices that too often remain unheard.