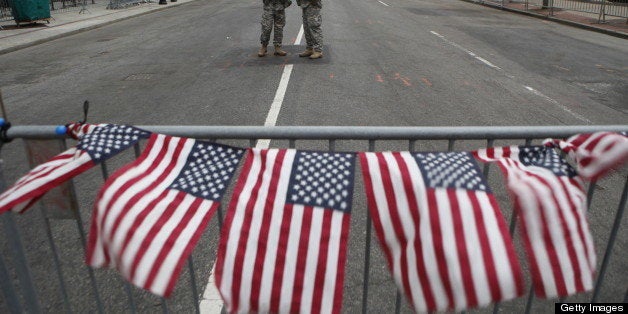 I knew shipping up to Boston to watch my very first Marathon Monday would be memorable. I knew I would feel inspired by the thousands of runners competing in a race that, to many (including myself), represents the unattainable. I knew I'd likely shed a few tears as I cheered on my friends (and total strangers) along the way, trying to give them an extra push of encouragement toward the finish line. And I knew, at the end of the day, there would be a story worth telling. But never in a million years did I know it would be a story of grief, chaos, and heartbreak.
After reading many first-hand accounts of Monday's tragic events at the Boston Marathon, I confess mine is not a terribly unique story to share here -- for which I feel incredibly grateful and lucky. All of my heart, my thoughts, and my prayers go out to those who were at the center of it all and unfortunately witnessed a much different perspective of the day.
As runners, and as decent human beings, we are all feeling the same emotions right now. Hell, at this point, even our emotions have emotions. And in addition to the sadness and anger, it all feels overwhelming and confusing and exhausting. Since Monday night, en route back to New Jersey, I've been writing. I've been jotting down little notes about how I feel, thinking, I need to write until this all makes sense. But I know something like this will never make sense. So I'm just going to write and write and write until I can adequately express how I feel -- with the hope that sharing these words can help bring peace and comfort as we continue to heal together.
It's Boston. Every runner out there knows Boston means something very different than other marathons. I obviously wasn't running in it -- not only because of my recent blood clot, but also because I'm wicked slow. But it's Boston. It felt like a running pilgrimage to just go and be a part of the crowd! It felt intimidating to even be a spectator among the local pros who've been doing it for years.
Boston is the big leagues. It's the quest for a BQ to even toe the line. It's the challenging course. It's Heartbreak Hill. It's the history. It's those awful accents. And someone messed with all of that. But if there's any city that's got the fight in them, if there's any marathon that will overcome this obstacle and restore the prestige that defines this race -- it's Boston.
The start to the weekend was perfect. My roommate Sam and I drove up to Boston on Saturday afternoon and spent the evening reminiscing and catching up with Fairfield U friends -- all with the secret plan to surprise Katie, another friend from college and first-time marathoner who would be running Boston with the Spaulding Rehabilitation Hospital team, later on Sunday afternoon. Thanks to our buddy Pat, the plan went off without a hitch and Katie was very excited to add two more to her cheering section on race day.
We spent the afternoon lunching, laughing, and distracting Katie from her pre-marathon jitters before it was time to part ways and let her rest up. Besides, we had lots of happy, neon-colored marathon signs to make for the morning.
When Marathon Monday finally arrived, it felt like Christmas morning. Since Pat lives only a few blocks off Boylston Street, we went up to the finish line area in the morning to see the amazing wheelchair racers and snap photos of the super-speedy elite runners. It was a thrill to cheer for Shalane and Kara as if they were my own friends. They are, aren't they?
Since it was pretty crowded in this area of the final stretch, we decided to head further up the road near Kenmore Square where we'd be able to get a better viewing spot and give the runners all the hoots, hollers, and cowbell-ringing we could around mile 25.5.
Our little, yet very loud section got tons of love from the runners -- lots of thumbs up, a few fatigued "thanks you" high-fives, and plenty of smiles. In between our personalized cheers for anyone wearing their name on their bodies, I kept turning to my friends and saying how lucky the runners were to get such perfect weather. High 50s/low 60s and partly cloudy -- you couldn't ask for more as a runner.
Soon after a female runner stopped to pose with Pat's brilliant "Why Do All the Cute Ones Run Away?" sign, we heard a very loud boom.
"What in the world was that?"
My initial thought was that it was some sort of celebration -- fireworks, pyrotechnics, or something of that nature. But it seemed like an odd time for them to go off. There wasn't much time to speculate before we heard another very loud, very deep boom coming from the same direction -- the finish line.
In no time at all, we saw every single police officer in our area lift up their radios to their ears, turn on their heels, and immediately start sprinting -- toward the finish line.
With that image of the marathon runners cruising down one side of the road and the police force and emergency vehicles speeding desperately down the other, we knew this was serious. Katie, who was still a few miles back, called and told us she heard there was a bomb at the finish line. Word circulated quickly that there were two explosions, but no one had any idea of how bad it was yet.
At this point, everything shifted. We went from yelling at the top of our lungs for runners to a dead, uncomfortable silence. The sun, which had been keeping us warm on the sidelines, went behind thick clouds and a bitter chill swept through the city. And the smiling faces of the runners coming down the chute turned to looks of fear, confusion, and disappointment as they learned their race would be ending abruptly at mile 25.5.
My heart was broken. Not only thinking about all of those down closer to the finish line and fearing for their safety, but for all of the runners right here in front of us -- disoriented, alone, cold, and cramping up. Many of them were still running, pulling out their headphones to hear the news for the first time. Some of them were screaming, as family members crossed on the course to signal them to stop.
As I searched my phone for updates, I came across the first photo on Twitter -- blood on the sidewalk visible even through the grainy image. When something like this happens, you can't help but immediately picture yourself there. Luckily I'm too slow to run Boston, but there are no speed requirements for being a spectator. We were only a block or two away from where this happened, just a couple of hours ago. The gruesome sight of blood in the photo sent chills down my spine. Since this blood clot showed up on the scene a few weeks ago, I've been casually making jokes about not being able to be in knife fights anymore. Or how my Mom wants me to wear a bracelet that says I'm on blood thinners in case I get hit by a cab or something, since there is a serious bleeding risk. God forbid, if I'd been down there, where apparently unforgiving shrapnel was flying like crazy, well, this would be a whole different kind of story I'd rather not think about.
Looking back at the chaotic scene that was forming at our mile 25.5 marker, I also saw some amazing things -- a husband scooping up his running wife in his arms and carrying her like a small child, friends taking off their coats to give to shivering runners, and strangers offering their cell phones to help runners get in touch with their families.
The guy who was borrowing my cellphone to call those who were waiting for him leaned into the fence. On his hands, he had written mantras -- "Finish Strong" and "All You Got." I also noticed his watch -- it was still running. He noticed too and stopped it. It read 25.69 miles.
My heart broke. I'm certainly no expert, but having run two marathons, I know what that mileage feels like. You are mentally gone. You're moving at a pace that your body is no longer controlling -- your heart is. You're already starting to think about your finish line poses (wait, just me?). The end is soveryclose, you can almost taste it. It's the culmination of everything you worked so hard to achieve during those long, grueling months of training.
My heart broke knowing that some of the first-time marathoners still out on the course, including Katie and my other friends Leah and Claire who were also making their 26.2 debut, were stripped of the opportunity to experience their first marathon in all its glory. They'd already made it well past Heartbreak Hill and it should have been all downhill to the finish. This was the exact opposite of what they should feel as a first-time marathoner.
My heart broke for those individuals who "squeaked their way in," some of them training years to hit that magic number -- their BQ. For many of them, this might have been their only shot to complete a lifelong dream.
My heart broke thinking about Boston's legendary race director, Dave McGillivray, who traditionally runs the entire course himself after all of the runners have finished, gathered their medals, and are off celebrating their own victory with family and friends. What must he be thinking right now?
As marathon runners, we prepare and over prepare for everything before we even hit the starting line -- what to eat, where to coat your body in Body Glide so you don't chafe, when to poop, how many layers to wear, etc. One of the things I love most about running is the fact that you are in control. If you don't prepare, there is no one to blame but yourself. But you don't prepare to be stopped at mile 25.5. You don't prepare to fear nearing the finish line. You don't prepare to act desperately to find a way to tell your family you are safe. Marathons may be scary things to some people, but no one prepares for a day of sheer terror.
Anyone who has ever been to a marathon -- running or spectating -- knows they are a place of genuine love and positivity. In my opinion, marathons are the perfect celebration of everything that is good about our world. Where else do you see total strangers acting like best friends or lines of little kids begging for high fives? Where else do you get to shout words of encouragement, tell someone they look strong (even when they don't), and bring a smile to someone's face just by saying their name to show them you believe in them? These races fill everyone involved with pride, inspiration, confidence, and strength. This year's Boston Marathon made us feel vulnerable, scared, confused, and weak. Marathons showcase the best things about our human nature. Monday's act of violence represented the very worst.
I really didn't want this to be a story focused on the terrible events that happened that day and more importantly why they might have happened. Of course, we all battle with wrapping our head around that "Why?" question. What type of human being would do such a thing? But you know what? That's for the professionals to figure out. All I know is that the person (or persons) responsible for this could not have possibly been a distance runner. They've clearly never known the magic of a long run or the triumph of crossing your first marathon finish line. And they certainly don't know what our running community is made of.
I have never wanted to sweat so much in my life. Even though I'm sidelined due to the blood clot right now, I've never felt closer to runners and I've never felt prouder to be a part of this tribe. After the long car ride back to Hoboken on Monday night and a hot shower filled with lots of tears, I went straight to my drawer and pulled out my race shirt from the New York City Marathon to sleep in. It felt like a security blanket and, well, sleeping in my sneakers sounded like a bad idea.
In the days since, my legs and heart are aching for a run. I've seen so many people out on the streets, getting in their #runforboston and I want to hug the sh!t out of every single one of them. After something this tragic, runners aren't sitting around and crying (okay, some of us are). They are getting out there and showing the world their resilience, as if anyone doubts it. Let's remember, we're the same people that run until we can't walk, lose toenails, get bloody nipples (well, some of us), take baths in ice, power through painful cramps, and are pounding the pavement in the wee hours of the morning while the rest of the world sleeps. And then, we get up and we do it again because, believe it or not, we actually like it.
So we'll keep running. I only hope that those runners out on the course on Monday who didn't get to experience the thrill of the victory will keep running. I'd hate to think this will somehow ruin running for them and pray they will want to try again. But honestly, even if they don't, I respect that and I want them to know, we are still so proud of you. As my sign at mile 25.5 stated, you are still "26.2 kinds of awesome."
I know this post didn't say anything that really helps us make sense of the day. But writing through all of these emotions does bring a little rest to the turmoil I'm feeling and I hope the same is true for you. I'll echo the words I read so frequently on Twitter in the days that followed: "As a distance runner, I feel like someone just attacked my friends. And as a human being, I'm completely horrified."
This felt personal -- to me, to other runners, to the city of Boston. But it only reinforces my firm belief that the world would be a better place if everyone ran. Laugh if you want to, but it's true. As we begin to heal from this unfortunate Marathon Monday, all we can do is keep running and keep supporting one another. Because, seriously, screw that guy who tried to stop us.
What a beautiful sight it was to see real New Yorkers yesterday sporting Boston gear. Boston, you are not my home. I really do not love "that dirty water" like so many of my college friends. And I think your accents are wicked annoying. But I love you. I'm proud of you. And I know, I'll be back to cheer for you again soon. Who knows, once I'm able to run again, maybe I'll even work toward the unattainable BQ, so I can someday be a part of the inspiring, tough, gritty group of runners who will continue to cross the iconic Boston finish line in the future. Shaving 50 minutes off my marathon time? Sounds unlikely, maybe even impossible. But I'm a runner -- we thrive on that sort of thing.
REAL LIFE. REAL NEWS. REAL VOICES.
Help us tell more of the stories that matter from voices that too often remain unheard.