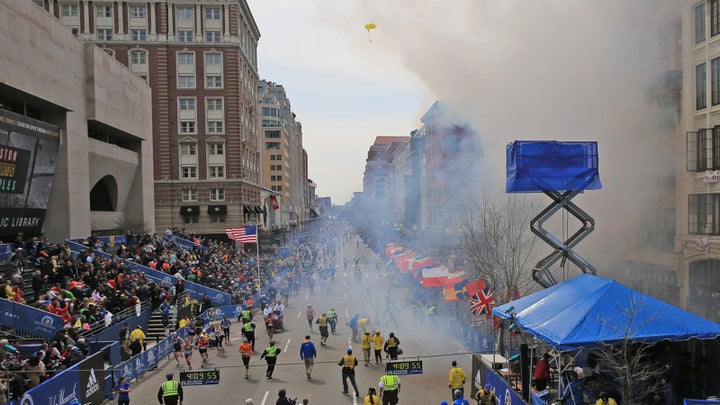 When New York Times reporter John Eligon got out the shower on Monday afternoon, he saw a text message from a friend asking if he was okay. Eligon had just returned to his hotel after running the Boston Marathon, so the question wasn't out of the ordinary. Eligon was a bit sore, but otherwise, felt alright.
It didn't take long before Eligon realized his friend wasn't just asking about his weariness after finishing a 26-mile race. Eligon saw a breaking news alert about the explosions, turned on the television and heard a voicemail from the Times instructing him to go back out and cover the explosions that killed at least three and injured 134. Eligon, a 30-year-old reporter based in Kansas City, hopped into a cab back toward the race.
"I love breaking news, so for me, all the thoughts of having just run the race and being sore left my head, and I put on my reporter's hat and went out to cover it as a news story," Eligon told The Huffington Post on Monday night.
Rezendes had completed about 25.5 miles before the police began telling runners there had been an explosion and ordered them in the other direction. Despite having run for hours, Rezendes shifted into reporter mode and reached the Globe's news desk by phone from a nearby bar.
"As soon as it was clear that this was a terrible event that had happened, I guess the adrenaline kicked in," he told The Huffington Post on Monday night.
Rezendes, a member of the L Street Running Club for the past decade, eventually made his way to the club for what traditionally had been a "very festive" post-race gathering. Rezendes borrowed a pen and found some spare paper to interview one woman who saw a man's leg blown off and another woman who crossed the finish line just as the bombs exploded. Rezendes then headed back to the Globe's newsroom to file his story.
Rezendes, an investigative reporter, said he has his "work cut out" for him on Tuesday and, likely, for some time in covering the unfolding story.
Loeb, interviewed on MSNBC, described how he finished the race about 15 or 20 minutes before the explosion.
"I heard what were unmistakably bombs," Loeb said on TV. "They were incredibly loud. It's normally a very soulful, relaxed crowd down around the Boylston Street after the marathon. It was beautiful weather. When the explosions went off, a hush went over the city. Almost instantaneously, there were just a symphony of sirens and they just got louder and louder. More and more police arrived, ambulances."
The Prudential Center, he said, quickly became "a crime scene."
Meyers, a technology reporter for Politico Pro, finished the marathon before filing a story on the aftermath. "Encased in foil and grasping medals, Boston marathoners stared at cell phones and peered at storefront TVs Monday as details emerged of two explosions near the downtown finish line," she wrote.
I kept walking but only took a couple of more steps when I heard it again: Boom!

Cheers were replaced by silence and confusion. Farther away, I could hear screams.

"Was that a bomb?" runners asked one another. Was someone shot? Someone pointed to a nearby construction site and suggested that perhaps a crane had fallen.

I was just far enough away that I couldn't see the gory scene unfolding a block away. There, injured and bloodied spectators who had cheered me on a few minutes earlier now were being rushed to medical tents originally set up for hobbled runners.
Nelson wrote that "on this marathon day, the finish line was the saddest place."
For Eligon, the experience of Monday's marathon was clearly much different than the four he'd run previously.
"I still don't know the name of the person who won the race," he said. "But no one's talking about that any more."