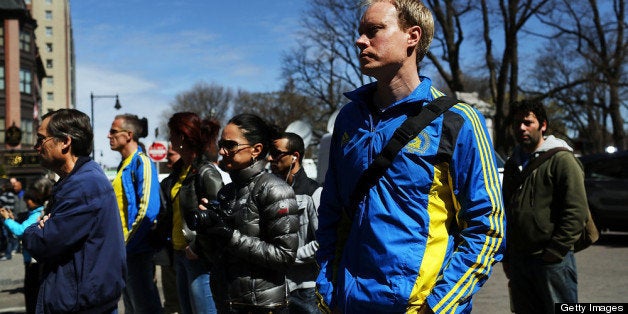 I live in Boston. Yes, Boston. I'm a doctor. Among other things, I teach patients meditation. Moment-to-moment awareness, or mindfulness, is what I've been trained to do. But yesterday was my day of mindfulness. Moment to moment. How quickly things can turn.
I was on vacation in Miami. The Wall Street Journal contacted me for a story on doctors prescribing meditation. Of course, I was thrilled. We did the interview via Skype at noon. It went live. My family and friends who saw the piece congratulated me on a job well done. I walked to the beach after it aired, almost gliding a few inches off the ground. I swam in the ocean, looked up at the vastness of sky, and said "thank you" with the utmost gratitude. I had intentionally left my cell phone in my room so I could savor the moment. In true mindfulness fashion, I reminded myself. I came back in, a little sunburned and very content. My phone was flooded with missed calls, texts, and emails. Good news travels fast, was my first thought. But as I read through the outpouring of love and concern, I was stunned. And just like that, the moment changed.
My joy turned into something else entirely. Something cloudy and dark and nameless. After a flurry of communication, I learned that all the members of my Boston tribe were safe. Then I turned on the TV. Senseless, horrific, tragic. There are so many words, and yet there are none. It's been an almost surreal experience watching the coverage. I have watched this video of the finish line more times than I care to admit. I cannot seem to tear my eyes away from the runners. What euphoria they must have felt at first sight of the finish line, and then, the intensity of their emotional rollercoaster.
A hometown tragedy is at once a painfully personal and strangely depersonalizing experience. The images on television aren't just places, they're my places. That's my street with the barricades. That's my library in the background. Those are my storefronts with the shattered windows. Those are my people who were harmed and killed. Yet as vivid as the TV images have been, when its your home, the images appear to be playing out onscreen and not in real life. Its unbelievable in the truest sense of the word.
What has left me in awe are the acts of kindness and courage. How people's first instinct was to go towards the smoke to help, not away in fear. How people who had just run the marathon, then ran to the nearest medical facility to donate blood. How people called my hospital, volunteering their time and service in any form they could. Hearing about these acts, I was reminded of my favorite poem, "The Desiderata": "For everywhere, life is full of heroism. With all its sham, drudgery, and broken dreams, it is still a beautiful world." Yesterday, I witnessed the beauty of our world through its broken dreams. Within a matter of hours, I had heard from family and friends across the U.S., India, Dubai, Singapore, and Australia. Our sense of community is so vast that you can't even see its borders. And yesterday, we were all Bostonians.