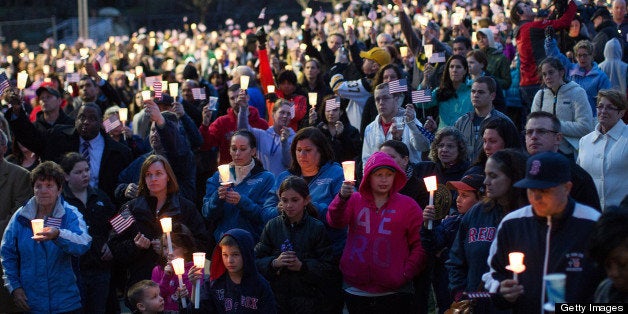 Columnists everywhere are carrying a message of American defiance in the wake of the Boston bombings. The consistent theme is: Don't let the monsters who did this know they hurt us. Get back to normal right away. Thomas Friedman declared, "We don't frighten easily anymore." The most poignant piece was an ode to Boston, "Messing With the Wrong City," by Dennis Lehane. He boasted of his neighbors, "When the authorities find the weak and terminally maladjusted culprit or culprits, we'll roll our eyes at whatever backward ideology they embrace and move on with our lives." This is Beantown after all, with atrocious winters, a long history of bitter intolerance, and forever-losing sports teams.
Yet the article moves on to sorrow, as the author grapples with how to answer his 4-year-old daughter's fearful, wide-eyed questions. How to explain pools of blood on a civilian street, what to say when you and she spot a woman sitting on the sidewalk, sobbing. Yes, the article ends, once again, on a defiant note, but in between there are the terrible gulps that one does to try and hold back tears, often unsuccessfully.
So let's admit we are hurting, at least at first, at least for a little while. Just because we really are. Although I've lived in California for more than two decades, I'm still a New Yorker at heart. On the day after 9/11, my university's health service sent faculty a checklist of stress symptoms to look for in our students. As I started reading the email I said to myself right away, "I've got that one. And that one. And that one." All the way down. Although I tried mightily, I'm not sure how much use I was to my students. Within the week, my wife went to mass for the first time in decades.
Five weeks later I went to the Alfred E. Smith Dinner in New York City. The attendees are powerful folk, movers and shakers who are used to having their way. The signs of PTSD were everywhere. People I barely knew were hugging me lavishly, telling me how glad they were to see me in frantic, overly-exuberant voices. Laughter was omnipresent and awkward, at comments that were not really funny. My best friend had memory lapses for years.
So give us a brief time to cry, to grieve. Something really bad happened. Let us work through our emotions. Then after that, spit in the eye of fate and the madmen, be proud of our cities and our nationality, and gain revenge in normality. Friedman's best idea was to hold another Boston Marathon, and soon.
But give me a little while to feel sorry first. Just a little.
Related