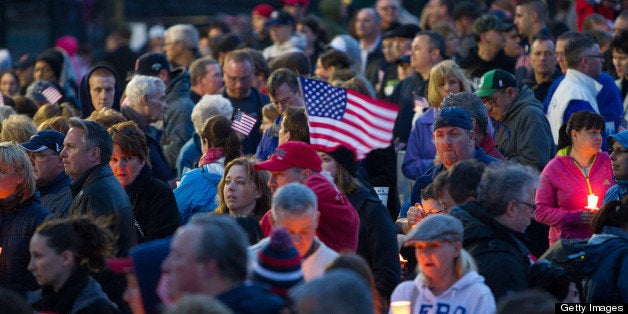 Monday was triumph, followed by terror. I ran the Boston Marathon in 2:54, a personal best. I hobbled back to my hotel to the news that there were two explosions at the finish line, just over an hour after I crossed it. In that moment you fear the worst. Over the course of the afternoon the news trickled in and the worst was confirmed. Two bombs, more than 140 people maimed and burned, and three dead, one of which was an 8-year-old boy named Martin Richard, who was waiting to give his father a hug as he crossed the finish line.
Three things stand out against the backdrop of these horrible events.
The first was the images just after the blast. Volunteers, first responders and runners, who gave up crossing the finish line, ran toward the blast. People removed their clothing to use as tourniquets. The response was overwhelming. There is perhaps no area more prepared for medical tragedy than the finish line of a marathon. There were ambulances, paramedics, police and firemen on hand to respond immediately. The simple fact that all of them, along with civilians, ran toward the blast to help the injured demonstrates the good the world possesses.
Next was the power of social media. Cellphone service went out immediately after the blast and when it returned the network was overwhelmed and it was very hard to make a phone call. But on my hotel's WiFi network, I was able to update my friends and family from Facebook and Twitter in an instant. The outpouring of concern in the form of likes, @ replies and comments was overwhelming. But what really stood out was the juxtaposition of updates. Amidst the posts of concern and grief were photos and updates from my friends on the other side of the country who spent the weekend at Coachella. Some might find it tasteless for people to be posting photos of themselves soaking in the sun, music and positive energy at this music festival, but I found it reassuring. It reminded me how lucky I am to live in America, a place where we have the freedom to live our lives in the way we see fit and a resilient spirit which ensures no act of terror will come between us and our pursuit of happiness.
Finally, my mom. Right after the race, before I heard about the blast, I posted the good news about my time and a thank you to everyone who supported me. It ended with this, "But most of all I want to thank my mom. My number 1 fan here in Boston. She taught me that life is worthless without helping others, and that if you put your mind to it, impossible is nothing." After we heard the news of the blast, my mom and I retreated to the comfort of our hotel rooms. We lay on my bed together and watched the TV updates. There was news of other blasts -- at the JFK Library (later confirmed to be unrelated) and of contained detonations of other suspicious devices. Thoughts of the hotel attacks in Mumbai came to my mind. Is this the beginning of a long string of attacks? Are we safe at this hotel?
Then we got news that all air traffic had been grounded at Logan Airport. We were set to leave the next morning at 7 a.m., and now we were stranded. Both my uncle and my friend Rich, who had come to Boston to cheer me on, texted me to say they were leaving the city and could take us with them. "Mom, we should leave now," I implored.
"Absolutely not," she said. "We stay and we go and give blood."
I felt instantly ashamed. Of course she was right. In situations like these we must embody the best of humanity. Life is worthless without helping others. Most who know my mom, know her as a proper, sweet British woman. Beneath the surface lies the tough, feminine fiber of a Margaret Thatcher. Simply put, she's the baddest bitch I know.
There was a Red Cross near our hotel. By the time we got there, they were overwhelmed by donors. They thanked us profusely and told us that they had sufficient stocks of blood. So we hung out at the bar of the hotel and exchanged stories with other shell shocked runners. Then we ate a victory meal on the floor of my hotel room. I cherished every sip of whisky and every bite of chicken. We were alive and we were together.
I've experienced enough tragedy in my life to know that the way through it is finding the light in the darkness. The bombing was awful. Three people were killed, many more lost there limbs and as a nation we were confronted once again by our vulnerability. But we were also reminded that we are all much more similar than we are different. We were united yesterday, not just as runners, Bostonians or even Americans. Monday, we were united as humans.
Calling all HuffPost superfans!
Sign up for membership to become a founding member and help shape HuffPost's next chapter